Townsend, Tennessee - Great Smoky Mountains National Park
Welcome to the Fishing Report. It is cloudy and warm in Townsend this morning. The temperature is 50 degrees. Today the high is supposed to be 67. Traffic was light but I came in early. I stopped at the swinging bridge. Little River looked inviting. I'm hearing through the grapevine that the river will be stocked with those big brood fish soon. These large rainbows are apparently culled from the hatchery for one reason or another and they bring them to Townsend. That happens most years in December. Fly fishermen and people fishing with conventional tackle take advantage of the late stocking. It doesn't draw a big crowd though. I've fished for them in the past, several years ago. A 20" plus rainbow is not uncommon.
Flow is getting closer to normal. Right now the river is flowing at 303 cubic feet per second. Median flow for this date is 211 cfs. The water temperature at 7:45 was 49 degrees. It will warm up even more during the day.
Fishing should be pretty good. The conditions are very good. You might get some dry fly action this week. Try some Blue Wing Olive or Parachute Adams dry flies. If that doesn't work, switch to nymphs.
You might even get a smallmouth bass to take a fly. The water temperature is reaching a point that they could get active. I would like to say that I will go smallie fishing on Wednesday. However, the rain that is approaching could cause the river to rise. We are certainly going to get some rain over the next three days and it could be heavy. We may get 2 inches or more before by Thursday. Then it is going to get cold again. Try to go fishing today if you can.
The big Christmas parade was held yesterday. It is an amazing event. Santa was riding on a wagon pulled by two of Rick's mules. They were really good looking mules. And Santa, it turns out, lives about ¼ mile from our house. He and his family moved here from Louisiana. I've eaten some of his Cajun food. He often does the cooking at the lunch held at the Police Chief's house on Wednesdays.
I told him, "You don't sound like you are from the North Pole". He said he was from the South Pole. That made more sense to me. Below is a photo of Santa taken yesterday.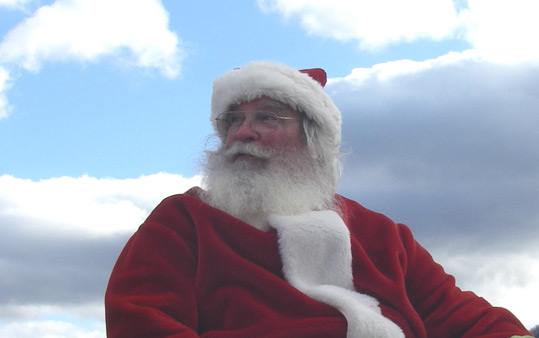 Other than that, nothing much is going on in our town. Our Planning Commission meeting was cancelled for some reason. The City Council meeting might be cancelled too. I can't remember if that is normal during the holidays, maybe it is.
I'm working on the Fishpond section of the online catalog. I downloaded all of their new photography from an FTP site on Sunday. I hope to have Fishpond finished by the end of the week. I use their photography instead of taking the pictures myself. That saves me days of work. Their photography is really good and it fits our website style.
Try to go fishing before this rain starts. Or wait until the rain starts and go fishing. The latter might be better.
Have a great day and thank you for being here with us.
Byron Begley
December 5, 2011
Respond to: Byron@LittleRiverOutfitters.com
FLY FISHING CLASSES
Our fly fishing classes will be offered from March to October 2011. To sign up just call the shop at 877-448-3474. You can read more on our website in the Schools Section. The fly fishing class schedule follows:

Saturday October 8 – Beginner Day One
Saturday October 22 – Beginner Day One
Sunday October 23 – Beginner Onstream Day Two
Respond to: byron@littleriveroutfitters.com