Townsend, Tennessee - Fly Fishing in the Great Smoky Mountains National Park, East Tennessee and Western North Carolina

Welcome to the Fishing Report from the Great Smoky Mountains. It is 6:54 am, dark outside and 40 degrees. We have a 40% chance for rain today and possibly snow or freezing rain tonight, after 1 am. The rest of the week will be sunny and cold with highs in the 40's and lows in the 20's. Saturday will be warmer.
Little River is flowing at 265 cubic feet per second (cfs) or 2.08 feet on the gauge. Median flow for this date is 215 cfs. The water temperature is 44 degrees.
Fishing may be on the slow side for most people this week as the water temperatures drop, especially after today. It would be slow for me. Jack told me last night he catches trout when there is ice in the guides of his fly rod. I know he is right. He must crawl nymphs along the bottom without any drag to do that. He's a better fly fisherman than I am by a long shot. I can tell you for sure, he doesn't use a strike indicator.
Trout don't eat much when the water temperature drops to below 40 degrees. That is the common wisdom around here. Their metabolism slows. They don't require much food if any. That's Mother Nature's way of letting the trout live when there is very little food. One difference here are the brown trout. They feed on other fish if they are old and large enough. Sluggish rainbows and minnows are probably easier to catch when the water is cold.
Smallmouth bass lay on the stream bottom in crevasses when the water is cold. I've seen underwater photos of that. In lakes they suspend deep.
I don't fish much when the water is cold. Maybe I need to go with Jack one cold day this Winter to see how he does it. I haven't fished in frigid water since Frank, Brad and I fished the Manistee River in Michigan, this time of year, several years ago. The water temperature was in the 30's every day during our three day trip. We were with a guide in a huge drift boat, fishing for lake run browns. We don't think we got one strike the whole three days. Brad did hook and land a nice zebra mussel. That was it. We still had a great time. "Fishing is about where you are and who you are with".
It is very quiet in town. We won't see visitors until Christmas week. The roads are lacking in traffic. Stores are lacking in customers. That's the way it is here, this time of year. One exception is Ace Hardware. I went there twice yesterday to buy plumbing supplies. Jack and I ran a water line from the house to the boat house. We used Pex. I've never used Pex water lines before.
At our Ace Hardware, this time of year, everyone you see, you know. It takes forever to get what you want. It's not because the folks who work there don't help you. They do. At one time yesterday I had three staffers helping me at once. It takes time because you want to talk to all the customers you see, or at least I do.
Yesterday, I saw Ronnie, our Police Chief. He's all excited about the new boat house. He built one too. I love his. We always talk about fishing. I ran into my neighbor "Santa Clause". He said he was tired. Santa was busy Sunday riding and waving in the Christmas parade. We talked about seafood and decided, if we ever win the lottery, we'll have fresh oysters, shrimp, softshell crabs, grouper, lobster and scallops flown in every day. The problems is, neither of us have ever bought a lottery ticket.
Kenny, the manager is a friend. He served as Townsend's Mayor for 16 years. Everyone who works there is friendly. I saw Fred. Fred comes to our store often. Going to the Ace Hardware, in a small town like this, is a social experience. I just thought of something else I need for this water line project and can't wait to go back.
Santa and I talked about the idea of Kenny putting some chairs outside for us to sit in. He probably doesn't need a group of us sitting outside in front of his store. We might scare customers off.
Jack, Paula and I were talking last night about mistletoe. Paula is into Christmas decorating, big time. So big in fact, one of our Christmas trees is 15 feet tall. So, Jack and I decided to get together sometime over the next few days, go back to the creek and shoot some down.
I pulled out my old .22 rifles that date back to my childhood to show Jack. The fist one is a single shot Remington, I got for Christmas when I was nine years old. I remember well, my mother went to the hardware store in 1959 to buy this rifle. She asked the owner, "What is the best .22 rifle to buy for a 9 year old?" He said, "Lois, they don't make one?" She bought one anyway.
I also pulled out an old Remington Nylon 11 that has a scope. I probably got that rifle when I was 11 years old. With that rifle, I kept a family, who lived near us, stocked with fresh squirrel and rabbit for years.
The last was a High Standard lever action .22 magnum single shot rifle. That's the one I shot while riding my pony, Mister Twister. "Mister" threw me and the rifle off his back, and ran to the barn fast, about a mile away when I shot. I didn't know that pony could run that fast. I never shot a rifle while riding a horse again. I walked with a limp, to the barn, thinking about the life lesson I had learned.
I guess he was "gun shy" like my English Setter, Savage Sam. Savage Sam was the sweetest bird dog I ever knew. Just like the pony, he would run back to the house whenever I fired a shotgun. He disappointed me for that reason, but I loved him anyway. We called him Sam, for short. I named him Savage Sam because at the time, it was that was one of my favorite movies.
I want to thank all of you who are ordering your holiday gifts from us. We are shipping gift cards and tackle all over America right now and frankly, you are keeping us alive. I am so grateful to you. We all are.
I've got a great little "Gift of the Day Idea" for you. Of course, it is from Fishpond, one of my favorite companies. This one is the Fishpond Westwater Pouch. It sells for $29.95 and it is one of our best selling Fishpond items. It keeps your small important stuff dry, in a boat, canoe, kayak or on your wading belt. It measures 6" x 4.5" x 2.75". You can learn more or order one online by clicking on the "Learn More" button in the box below. I bought one of these Saturday, as a gift for one of my buddies, who will remain nameless, because it is a secret. Shipping is Free, every day, all year long.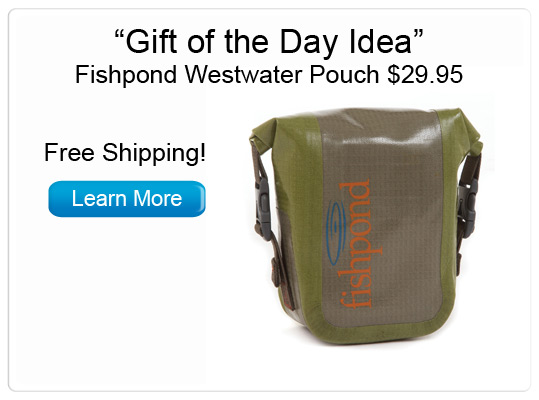 Have a great day and thank you for being here with us.
Byron Begley
December 9, 2014