If you do not see today's Fishing Report, please refresh your browser to empty your cache.
Welcome to the Fishing Report from Townsend, Tennessee in the Great Smoky Mountains. At 5:25 am, the temperature is 28.2 degrees.
It is going to be cold today, with a high temperature of near 33 degrees. Tonight's low will be around 20 degrees or colder. Saturday will be sunny with a high of 41 degrees and the low will dip into the mid 20's at night.
Rain will return Sunday night and continue through Wednesday. There is also a chance for snow, Wednesday.
Little River is flowing at 124 cubic feet per second (cfs) or 1.83 feet on the gauge. Median flow for this date is 233 cfs. The water temperature is 41.4 degrees this morning.
Fishing will be slow in the Smoky Mountains for at least a couple of days due to the cold water. If you go dress warm and keep a change of clothes in your truck, should you fall in. Use nymphs, weighted, and get the flies down to the bottom. You may see some post spawn brown trout and they could be active, despite the cold water.
It will be a nice day to be in the mountains if you don't mind the cold air.
Little River Road between Elkmont and Townsend is closed due to wildfire fighting efforts. Highway 441 is closed for the same reason. The Middle and West Prongs of Little River, and their tributaries are accessible, as well as Laurel Creek and Cades Cove, so Abrams Creek is an option.
Fishing for trout on a tailwater may be a better option for you. In many cases, the water will be warmer and the trout, more active.
The InciWeb Incident Information System reported 11 hours ago that the Chimney Top 2 wildfire is now 91% contained. The estimated containment date is December 20th.
Total personnel fighting the fire was 322 at that time the report was released. The size of the affected area is 17,006 acres. The cause of the fire was human. Two juvenile suspects are in custody in Sevier County. They have been charged with setting the fire on November 23rd.
The fire is not growing. More rain is expected this week, next week and the week after.
The U.S. Drought Monitor was updated yesterday. You can see it by CLICKING HERE. Then, you can click on your region, then click on your state for a more detailed view. Look at the statistics, pertaining to the percentage of the area affected by drought and you will see if those numbers have declined in the designations, compared to weeks before.
At first glance it still looks bad, but, much of the South got some rain and the Monitor shows improvement. Our county improved by one intensity level from a D4 Exceptional down to a D3-D4 Extreme designation.
Areas in Alabama and Georgia are still listed as being in an Exceptional Drought, though that area is smaller than last week. 4% of the State of North Carolina was listed as being in an Exceptional drought last week. As of December 6, 0% of the State is designated at that level.
Things are looking up. It appears more good news is in our future pertaining to this drought.
Gatlinburg will re-open today to the public. Many stores, attractions, hotels and other accommodations are open for business. The town will be welcoming you. Everyone there will be glad to see you.
The Townsend Christmas Parade will be held Sunday afternoon. It was postponed from last Sunday. Our fire department personnel are essential to the parade. They were busy last weekend helping in Gatlinburg. They will enjoy the parade more than most folks. You could get trapped in town or outside town for a couple of hours to 3 hours, as Highway 321 will be closed for the parade. You can take Highway 321 to Pigeon Forge to avoid the parade if you come into town from the Park side. Or, just park your car or truck and watch. Our parade is like going back in time. It is an unbelievable parade.
Our store is stocked "to the gills", so to speak. It has not been stocked this well in years. Business in December, so far is very good. The shop looks great. They guys are re-arranging the fly tying department, making room for new items. We are going to have some cold, wet, fly tying weather now.
I am taking a few days off. Yesterday was one of them. What did I do? I went to the shop. I plan to be off often over the next few weeks. I will get up early and write this report every day, so Daniel doesn't have to do it.
Have a great day and thank you for being here with us.
Byron Begley
December 9, 2016
Respond to: Byron@littleriveroutfitters.com

.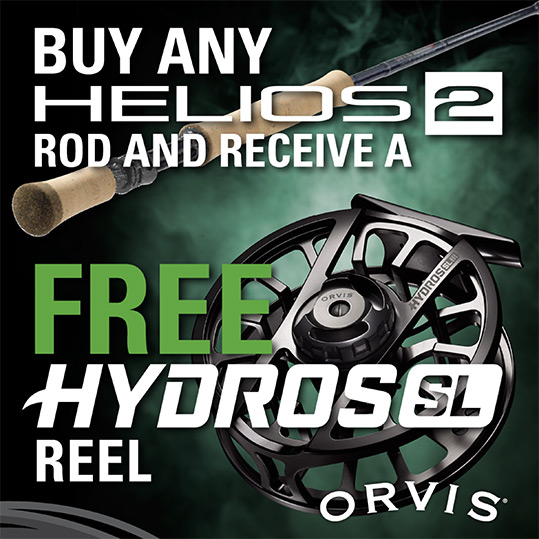 If you buy an Orvis Helios fly rod, between now and Christmas Day, you will get a free Hydros SL reel to match the rod. This offer applies to sales in our store and through our mail order business.

We do not stock all of the Orvis Helios Rods. If we don't have the one you want, we'll have it drop shipped directly to you with the Hydros SL reel. Or, we will special order it for you, for delivery to our store. If you purchase an Orvis fly line, we'll rig it for you, before it ships. You can see the Orvis Helios 2 freshwater and saltwater rods on our online store by CLICKING HERE. And, you can look at the Orvis Hydros SL reels on our store by CLICKING HERE. You may also call us to discuss the rods and reels, or to order, at 865-448-9459.
This offer cannot be combined with other Orvis promotions. Ground Shipping is Free! The offer ends December 25, 2016.