Townsend, Tennessee - Fly Fishing in the Great Smoky Mountains National Park, East Tennessee and Western North Carolina

Welcome to the Fishing Report from the Great Smoky Mountains. It is barely after 6 am, dark outside and 38 degrees. It was supposed to be colder than that last night. They were calling for rain turning to snow. According to the Great Smoky Mountains Road Report on Twitter, Newfound Gap Road is closed due to ice and snow. And that has not been updated since 20 hours ago. Either they forgot to update the Twitter page, or it is in fact closed.
I worked on our website all day yesterday and kept checking the weather radar. A light band of precipitation, hovered over the Park all day and into the night. We didn't get any frozen precipitation down here. We barely got any precipitation at all. Anyway, I'm reporting what I'm reading so there must be snow in the Park. After daybreak, if the mountains are not fogged in, I'll know for sure.
Little River is flowing at 247 cubic feet per second (cfs) or 2.03 feet on the gauge. Median flow for this date is 218 cfs. The water temperature is 43.8 degrees this morning.
It is going to be cold the next few days until Sunday with lows in the 20's at night. Highs will be in the 40's. It will be cloudy today and sunny the rest of the week.
You could probably fly fish in the Park today depending on the road conditions. The water temperature is fair but on the chilly side. If you go, use nymphs. If you see any surface activity and you could, switch to a Blue Wing Olive, Caddis or Midge. Rising trout might take one of the three or all. But, I would start and probably finish with nymphs.
It town, fishing has been good. The water is stocked with rainbows. Some are very large, up to 26" long. Most will be 16" or smaller from what I've seen. Use nymphs under indicators or streamers.
The post spawn brown trout in the Park will be hungry. They are hard to catch. Fishing is not what I would call good but you can catch some fish if you work hard and try different techniques. Don't go, expecting spring-like fishing. That won't happen.
I worked on the online store all day yesterday. Today is usually my day off. I think I'll just work instead, mostly here at home. I've got some photography to do at the shop. I need to do some bookkeeping too.
I hope to have all of our online Fishpond work finished by the end of the week. Since we are building a new online store, while maintaining our older one I have to do everything twice. The photos are different sizes for each site. Then, we also have a website called fishpondflyfishing.com. I have to make all the changes on that one too. After the work is done, I'll go back and check each item on all three sites. This is taking a lot of time.
We do sell a lot of Fishpond gear and much of it is sold through mail order. We sell a lot of Chota products by mail order too. I notice that a lot of those orders go to the western United States and to New England. I have no idea why. I watch all of our mail order activity from home where I work most of the time these days. I saw one large order, nearly $1,000, that Daniel marked as "failed". It was a credit card problem, not a match with the information. We have a company that verifies all of that stuff. Then, the order was placed again and Daniel marked it as "Processed". So, I guess it went to New Zealand.
The holidays are coming quickly. We are selling a lot of gift cards through the mail. That will continue until the last minute because everyone knows, we can also send an e-mail gift certificate. You can send a gift and it will arrive in a few minutes. But, there is plenty of time to order and get a solid plastic gift card.
I was thinking last night about today's Gift of the Day Idea and came up with one of my favorite Fishpond items that is fairly inexpensive and one that almost any fly fisherman would want to own. It's called the Flatiron Tool Pouch. Fishpond has been selling them for at least 10 years, maybe longer. I think they designed it with the fly tyer in mind. It is perfect for holding and transporting your fly tying tools. But, it can be used for other things, even non-fishing related uses. Check it out by clicking on the Learn More button below. This would make a nice gift, we've got plenty in stock and shipping is free.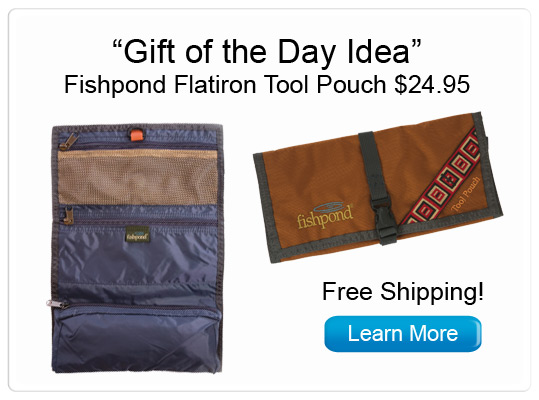 I'll be glad when I can tell you about great fishing stories on this report. It's hard to write about fly fishing during the winter months.
You can be assured of one thing, it won't be long. Maybe in 2 to 2 ½ months, I can write about bugs popping off the water and trout slurping them down. I can talk about anglers visiting from the northern states, where winter is still holding on there, but it is spring here. I can talk about quill gordons and blue quills. I hope to be able to tell you about Lynn Camp Prong. That stream has been closed for 6 years. Hopefully it will be open and you can catch brook trout all day long, just a short drive from our shop.
I can't wait to tell you about the smallmouth bass fishing, striper fishing and carp fishing.
I am looking forward to reporting on the tailwaters and lakes, where anglers are having big days fighting big fish. I spend a lot of time on this fishing report and enjoy every minute of it. But, I've got to tell you, it's not easy during the winter.
Townsend is a beautiful place, not far from where millions of people live. Townsend is not expensive to get to or stay at. We've got great water all around us, with fishing opportunities that will rival anywhere I have been. We have diversity here. Choose your species. We've got a lot of them. We have mountain freestone streams, lowland rivers, tailwaters and lakes everywhere you look. You can bring your waders, kayak, canoe, jon boat, bass boat, raft or drift boat. There is a place nearby for you to enjoy. We'll just have to wait a while. But, it won't be long.
Have a great day and thank you for being here with us.
Byron Begley
December 10, 2014