If you don't see today's Fishing Report, please refresh your browser to empty your cache.
Welcome to the Fishing Report from Townsend, Tennessee in the Great Smoky Mountains. At 4:29 am, the temperature is 18 degrees, in Townsend, at the Kinzel Springs weather station.
Today will be sunny with a high temperature of near 40 degrees. Tonight's low will be in the low to mid 20's. Tomorrow will be warmer, with a high near 50 degrees. Warmer air will remain through Wednesday.
Rain will move into the area Sunday night and remain through Wednesday. The chance for rain ranges from 50% to 100%. No estimates of total rainfall are predicted at this time.
The long term forecast calls for rain most days through December 24th.
Little River is flowing at 96 cubic feet per second (cfs) or 1.71 feet on the gauge. Median flow for this date is 231 cfs. The water temperature is 36.7 degrees this morning.
Due to the cold water, fly fishing in the Smoky Mountains will be slow. One exception may be the post spawn brown trout. They are somewhat active through December, despite cold water conditions. So, it may be worth going. Bundle up and enjoy your day in the Park. You will be able to visit areas, you have not been able to be, over the past couple of weeks.
I would use nymphs and get them down. Using a strike indicator may not be a good idea. You need to keep your flies near the bottom of the stream. Most trout will be lethargic until the water warms again. They don't usually travel far to grab a meal. Their metabolism has slowed, and they don't require much if any food. What you want to do, is make it easy for them to eat your fly. Also, the water is very clear. Cold water loses its ability to hold dissolved solids. Be careful not to be seen by the trout.
It will be cold today. Throw an extra change of clothes in your truck, in case you happen to fall in. I would not fish too far from my vehicle today. If you get wet, you want to be near your truck.
The wildfires in the Park are mostly contained and not spreading. The ground and fuel are moist. It is cold. The Chimney Tops 2 fire is listed as 94% contained. The affected area of that fire is 17,006 acres. The Cobbly Knob fire is 96% contained and that affected area is 756 acres. Both fires are considered "smoldering" and being monitored. The expected rain beginning tomorrow night will improve the situation.
An emergency flow gauge, to measure discharge on the West Prong of the Little Pigeon River, has been installed by USGS, to notify emergency personnel if flash floods due to exposed ground occur. Mud slides are a concern.
Two juveniles are being held and charged with aggravated arson, connected to the Chimney Tops 2 fire.
The East Miller Cove fire is not shown as active on recent reports. As of December 1st, it was listed as being 95% contained.
ROADS OPEN - Little River Road, between Sugarlands Visitor Center and Townsend is open. Highway 441 between Gatlinburg and Cherokee is open. The Gatlinburg Bypass is open. They opened yesterday.
Gatlinburg was opened to the public yesterday. Traffic and visitation was high. Business is good. Some roads around Gatlinburg are closed to allow for utility work being done.
The Townsend Christmas Parade will be held tomorrow afternoon. The main road through town will be closed. I think the roads close at 1:00 or 2:00 pm. Access to and from town is limited for approximately 3 hours. During that time, access to our store is possible from Wears Valley Road and Great Smoky Mountains National Park. And, some years, that is limited. So, if you visit Townsend, during that time, you may be trapped for a while. If you are, park and enjoy the parade. It really is something to see. I will be working at home so I'll miss it this year.
That kind of sums up our situation. Fishing may improve next week. The streams will be warmer. There should be more water, hopefully not too much.
Every year, at this time, we start planning for Spring fishing at the shop. The Spring hatches and great fishing can come early, sometimes in late February. Don't count on that, but it does happen.
Rainfall totals in December are above normal for now, about double what we normally get. The rainfall deficit at the Knoxville Airport was cut from over 10" for the year, to currently at 3.96" deficit for the year, over a period of just a few days. The drought in the South has improved in many areas. That is great news for fishermen. We hope it continues.
Have a great day and thank you for being here with us.
Byron Begley
December 10, 2016
Respond to: Byron@littleriveroutfitters.com

.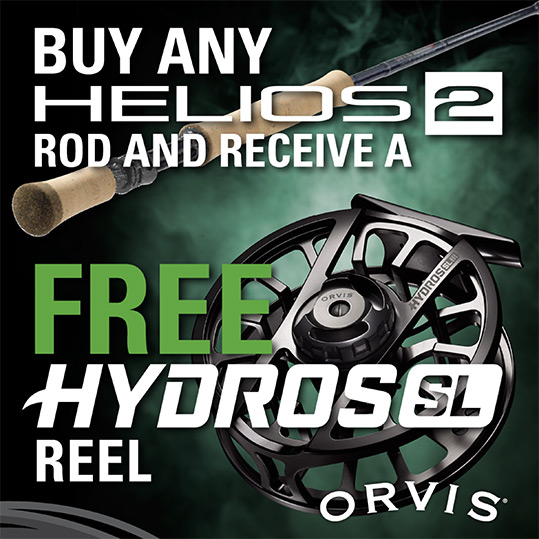 If you buy an Orvis Helios fly rod, between now and Christmas Day, you will get a free Hydros SL reel to match the rod. This offer applies to sales in our store and through our mail order business.

We do not stock all of the Orvis Helios Rods. If we don't have the one you want, we'll have it drop shipped directly to you with the Hydros SL reel. Or, we will special order it for you, for delivery to our store. If you purchase an Orvis fly line, we'll rig it for you, before it ships. You can see the Orvis Helios 2 freshwater and saltwater rods on our online store by CLICKING HERE. And, you can look at the Orvis Hydros SL reels on our store by CLICKING HERE. You may also call us to discuss the rods and reels, or to order, at 865-448-9459.
This offer cannot be combined with other Orvis promotions. Ground Shipping is Free! The offer ends December 25, 2016.