Townsend, Tennessee - Fly Fishing in the Great Smoky Mountains National Park, East Tennessee and Western North Carolina

Welcome to the Fishing Report from Townsend, Tennessee in the Great Smoky Mountains. At 5:35 am, the temperature is 48.2 degrees. The high temperature today is expected to be 71 degrees. Forecasters predict tomorrow's high will be 75 degrees. Lows at night this weekend will be in the 50's.
Little River is flowing at 202 cubic feet per second (cfs) or 1.86 feet on the flow gauge. Median flow for this date is 228 cfs. The water temperature is 49.5 degrees this morning. Yesterday that number climbed to over 50 degrees.
Fishing in the Smoky Mountains is good. And, it will probably get even better tomorrow and Sunday due to the warmer water. The trout will be active.
I think nymphs will work best but don't rule out dry flies. What we have now is what we normally see in the early Spring, when the trout fishing really picks up. Often, unless there are large hatches of aquatic insects on the surface, the trout are feeding below the surface and "not looking up". That may be the case this weekend. Be ready to adjust and be willing to try anything.
Temperatures after this weekend and through Christmas are predicted to be cooler with some warm days thrown in. We may see a high in the 70's next Tuesday. Right now the Christmas Day prediction indicates a high of 54 degrees and a low of 38. This weekend will be the high point, but fishing may be fair to good through Christmas Day.
Tennessee Valley Authority plans to generate all day, today, full bore, at Norris and Cherokee dams. I hope they shut down the generators during the day this weekend to allow wading anglers to fish. Both the Clinch River below Norris Dam and the Holston River below Cherokee Dam are excellent trout fisheries. It would be a shame if fishermen could not be fishing on those rivers, on this beautiful upcoming weekend.
I plan to work all weekend, and didn't take a day off this week because I'm trying to finish a big web project I've been working on for two months. So, I won't be fishing. I will be thinking about it, that's for sure.
I saw a lot of wildlife outside my home office window yesterday. Paula took the photo below from the loft upstairs using her iPhone. The young deer you see in the foreground is very interested in the squirrel that is on the ground, 20 feet from our back door. The deer finally got too close to the squirrel and it fled. In the background you can see this young deer's mother, licking a mineral block we put out for them.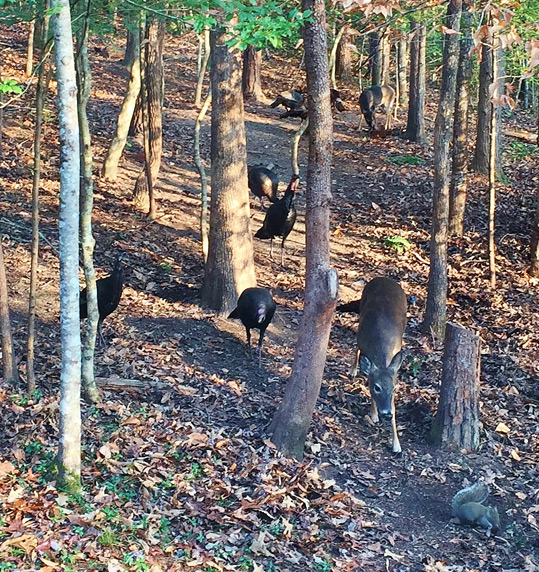 I was watching the turkeys when the deer arrived. They walked through our carport to join the turkeys.
These two deer visit often. This Spring, the young fawn had spots on it's back that have now faded. The second photo below, is of the same two deer, I took earlier this Fall. It is actually a screen shot from a video. The spots are fading but still visible.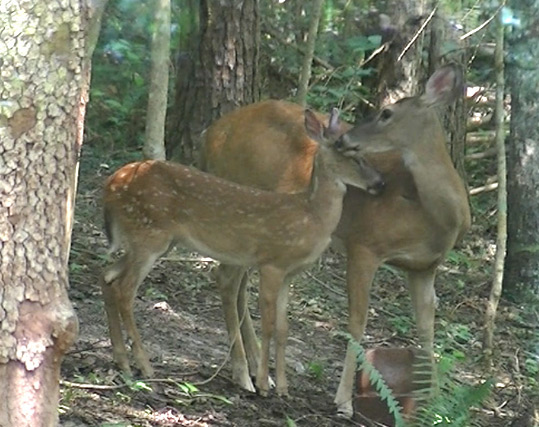 You can't tell from the photo, but there are actually 26 wild turkeys in this flock and they are all hens. They roost on our neighbors land so we see them often, around the house and in the fields. There is also another smaller flock, that do not mix with this one.
A couple of days ago, I saw a coyote standing right where the mother deer was licking the mineral block yesterday. We see bears wander through, especially just before dark. We haven't seen one in a couple of months. I was standing out there one evening this Summer, and two bears walked by me about 30 feet away. That is too close for comfort. We try not to be that close to bears. Sometimes, it just happens before you know it.
In all the years I've fished and lived here, I have never been threatened by a bear, though I've been close to them many times.
I did have a coyote attack our dogs, while I was walking them on a leash. The animal came running through the woods growling. I yelled. When it saw and heard me, it stopped and ran the other direction.
On another occasion, I was walking the dogs after dark. We had a full moon so I didn't take a flashlight. I heard a noise behind me, turned to look, and saw a pack of coyotes following me and the dogs, about 20 feet away. They looked huge. I had never been that close too a pack of coyotes. When I turned toward them, yelled and waved my arms, they ran.
Come to the shop tomorrow and meet Mike Bryant and Rob Fightmaster. They will be giving simultaneous fly tying demonstrations in the shop, in separate areas. They will be there from 10 am until 2 pm.
Mike lives in Townsend. He is President of the Little River Chapter of Trout Unlimited. Mike has fly fished all over the country. He spent a month in Alaska a couple of years ago. He loves fly fishing in the Gulf for saltwater species. He is an excellent fly tyer and angler.
Rob is a professional guide and fly fishing instructor. He guides in the Smoky Mountains and floats clients down the area tailwaters. He also teaches classes at our school. He is a very personable guy, who clients love to spend the day with. He stays busy. You can visit his website by CLICKING HERE.
This event is Free. Just show up at the shop. You don't have to be a fly tyer to learn and enjoy what these guys will be doing. They will also be talking about their fly fishing experiences.
Have a great day and thank you for being here with us.
Byron Begley
December 11, 2015