If you don't see today's Fishing Report, please refresh your browser to empty your cache.
Welcome to the Fishing Report from Townsend, Tennessee in the Great Smoky Mountains. At 5:18 am, the temperature is 21.2 degrees.
Today will be sunny and warmer, with a high temperature in the mid 40's. A warm front bringing rain will arrive tonight. We have a 70% chance for rain tonight and a 100% chance tomorrow. It will be warmer tomorrow and Tuesday, with highs in the mid 50's and lows in the mid 40's.
Little River is flowing at 76 cubic feet per second (cfs) or 1.61 feet on the flow gauge. Median flow for this date is 215 cfs. The water temperature is 34.7 degrees this morning.
This will not be a great fishing day in the Smoky Mountains. The water is very cold. The trout will be lethargic. We will see the water warm some today and over the next few days.
You may want to go fishing anyway, just to be outside and enjoy the forest and streams. If you go, your best choice would be nymphs, weighted to get down near the bottom of the streams. Using a double nymph rig is a good idea. Post spawn brown trout could be active.
The water will be very clear. Take an extra change of clothes with you, stored in your vehicle, in case you get wet. I would wait for a while today before going, until the water warms some, if it does.
A tailwater may be a good option. The water will be warmer in most cases. I would go just to be going, and hope for the best as far as catching trout is concerned. Dress warm. You may do well.
Little River Road from Townsend to Sugarlands is now open. Highway 441 from Gatlinburg to Cherokee is open. Gatlinburg, is open for business and enjoyment. Some roads in and near Gatlinburg are closed for utility repair. Those roads are mostly located in residential areas.
Access to our store and much of Townsend will be limited this afternoon. Santa Clause is in town for the Townsend Christmas Parade. Highway 321 through town will be closed from approximately 1:00 pm until 4:00 pm. I am not sure about those times but they are close. During the parade, from our shop, you can usually access Wears Valley Road from Old Highway 73. From there you can drive to Pigeon Forge or through the Park. Or, pull over, park and watch the parade. It is always a lot of fun. You can get trapped in town in certain areas, during the parade. I'm working today at home, so I'll miss this one.
An article on USA Today's website released more information about the two teens who are charged with starting the Chimney Top 2 fire in Great Smoky Mountains National Park. The fire swept through part of Sevier County, including Gatlinburg on November 28th. 14 people died due to the fire, and 2,400 homes and businesses were damaged or destroyed. 17,000 acres were burned in this fire.
Two teens are in custody. According to the article. Some of the information provided came from an unidentified source. The 15 and 17 year old friends were allegedly hiking on the Chimney Top Trail, and "horsing around" by throwing lit matches along the trail. Another hiker took a photo showing the teens walking away from smoke on the trail. They allegedly live in Anderson County. Additional charges are being considered, including moving one or both to an adult trial, if felony murder charges are brought on the teens. You can read more by CLICKING HERE and visiting the USA Today Website.
Mayfly Outdoors, owner of Ross Reels and Abel Reels, is working with the City of Montrose, Colorado, to develop a manufacturing, retail, residential, and office complex, geared to outdoor sorts and lifestyle manufacturers in the City. Mayfly president David Dragoo says the company has purchased over 125 acres along the Uncompahgre River in town. The company plans to build a 35,000 square foot manufacturing, distribution and office building to house Ross and Abel. They are seeking partners in the outdoor industry to move their headquarters to the new development in Montrose.
Abel Reels was moved to Montrose from California to share space with Ross Reels. Ross Reels was founded in 1973 and Abel opened for business in 1988. We have been a dealer for both brands for over 20 years and we are currently a dealer for both. Mayfly acquired the companies in addition to Charlton Reels. I don't believe Charlton is actually manufacturing new reels right now. I don't know what the plans are for Charlton in the future.
You can read an article about this development on the Montrose Press website by CLICKING HERE.
I found an interesting article on Bloomberg's website, released this Spring, titled, "Here's Why You Should spend $800 on a Fly Rod". You can read it by CLICKING HERE. The article features the Orvis Helios 2 fly rod. The sub-title reads, "The Orvis Helios 2, a feat of craftsmanship and technology, will change the way you fish forever".
We are part of a nationwide promotion, that expires on Christmas Day. If you buy a Helios 2 fly rod, new, you will receive a free Hydros Reel. That represents a savings of between $198 and $259. You can read more about this offer below this report.
Jack came over yesterday. He needed some fly tying hooks so we drove 3 miles to Little River Outfitters. What we saw is, the guys are re-arranging the fly tying department, to bring in new items. They are getting ready for the "fly tying season", which kicks into high gear when the weather is not exactly, angler friendly, like it is this morning.
Daniel and Dave are bringing Fly Tyer's Weekend back next November. They will do all the planning and I will update the website. They are talking about renting heated tents, and holding the event at the shop, like we did in 2005 and 2006. We moved Fly Tyers Weekend to a large indoor facility in 2014 and 2015. The event was not held this year, due to the passing of Wilson Reynolds, the facility's owner.
Have a great day and thank you for being here with us.
Byron Begley
December 11, 2016
Respond to: Byron@littleriveroutfitters.com

.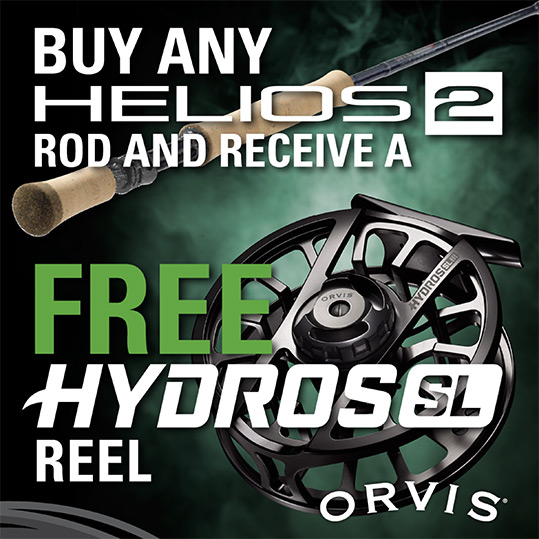 If you buy an Orvis Helios fly rod, between now and Christmas Day, you will get a free Hydros SL reel to match the rod. This offer applies to sales in our store and through our mail order business.

We do not stock all of the Orvis Helios Rods. If we don't have the one you want, we'll have it drop shipped directly to you with the Hydros SL reel. Or, we will special order it for you, for delivery to our store. If you purchase an Orvis fly line, we'll rig it for you, before it ships. You can see the Orvis Helios 2 freshwater and saltwater rods on our online store by CLICKING HERE. And, you can look at the Orvis Hydros SL reels on our store by CLICKING HERE. You may also call us to discuss the rods and reels, or to order, at 865-448-9459.
This offer cannot be combined with other Orvis promotions. Ground Shipping is Free! The offer ends December 25, 2016.