Townsend, Tennessee - Fly Fishing in the Great Smoky Mountains National Park, East Tennessee and Western North Carolina

Welcome to the Fishing Report from the Great Smoky Mountains. At 5:18 am, the temperature is 50.2 degrees. The high recorded temperature yesterday in Townsend was 73.9 degrees. Last night, I was walking around outside wearing a t-shirt, and this is December. We can thank one of the strongest El Ninos ever, for this warm weather.
It will continue. Today is predicted to be warm, 75 degrees. Tomorrow will be more of the same with a high of 73 degrees.
Little River is flowing at 184 cubic feet per second (cfs) or 1.80 feet on the flow gauge. Median flow for this date is 279 cfs. The water temperature is 52.3 degrees this morning.
We are enjoying great fishing weather. Trout are active in the Smokies streams. The water will warm further today and tomorrow. Fishing will only get better. If you do not go fishing in the Smokies this weekend, you are missing a rare opportunity.
Nymphs will probably work best. I say that only because, in the Spring, before the major hatches occur, the trout are not anticipating surface activity. The water may be warm, like it is now. The trout are looking down. Once the bugs appear on the surface, the trout feed on adult insects. Sometimes it takes a few days for the trout to figure that out.
I say that, and I'll probably hear reports of crazy dry fly fishing all weekend. So, be prepared for both. Try dry flies. They may work well. I would try a Parachute Adams, Yellow Stimulator or Yellow Neversink Caddis. Who knows what will work. I don't remember fishing conditions this good in December. This is new ground for me. I will be working all weekend. So, you will have to let me know what happened.
Tennessee Valley Authority plans to generate, full blast, all day today at Norris and Cherokee dams. I hate that! Why not turn them off today? Let fishermen wade in these fine trout rivers? Maybe tomorrow. I hope so.
Marinas on the lakes are expecting a brisk business this weekend. I'm sure golf courses expect the same.
We will be busy at the shop, I think. I guess it could go either way. Rob Fightmaster and Mike Bryant are holding free fly tying demonstrations today, at the store, between 10 am and 2 pm. All you have to do is show up. When these events are planned, they are intended to give you something to do on a cold winter day. "The cold winter day" did not happen. So, we'll see how this turns out.
We may see a lot of customers buying flies and leaders. They will be going fishing. There will be some Christmas shopping going on. We will be selling lots of gift cards. During the week, the guys have been shipping orders to customers near and far. We are having another good month.
I saw something yesterday I've never seen in the wild, a bobcat. After all these years, of tromping around in the woods, it's about time. The beautiful cat walked by my office window at 9:30 am, in broad daylight. I jumped up to turn on the video camera, I keep ready on a tripod at the window. By the time I got the thing turned on and pointed in his direction, he vanished in the dense forest. The cat was about 20 feet from the window at the edge of the forest.
Later, a cooper hawk flew into the woods to grab a mourning dove for lunch. The frustrated hawk missed. He flew up onto a stump. I ran for the video camera again. Too late.
Our neighbor, Herb, took a great photo of a bobcat from inside their house. We can't see their house from ours, but our properties join. The photo is below. I think he took this picture about 3 years ago, maybe longer. He told me the other day, he sees a lot of bobcats and coyotes on his trail camera, located somewhere on he and his wife's property.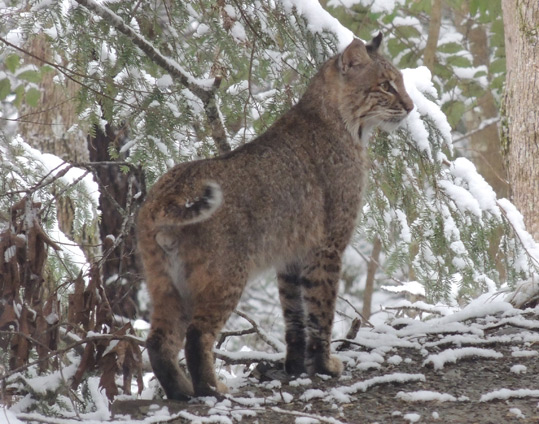 This bobcat visited their house often with it's mate. Herb told me, when they left, they always headed toward our property.
We have a lot of caves around here. Some have water gushing out and others are dry. This is a perfect place for a couple of bobcats to be headquartered.
I hope you can go fishing today. I know, it is close to the holidays, there is plenty to do, but, this weekend is an opportunity like you may never see again in December.
Have a great day and thank you for being here with us.
Byron Begley
December 12, 2015