If you don't see today's Fishing Report, please refresh your browser to empty your cache.
Welcome to the Fishing Report from Townsend, Tennessee in the Great Smoky Mountains. At 5:16 am, the temperature is 50.5 degrees.
It has been raining since 2:25 am. During the past 3 hours, rainfall at a personal weather site near Kinzel Springs is recorded at .25".
Rain will continue today, tonight and much of tomorrow. Today and tomorrow will be warm, with highs in the low to mid 50's. Lows will dip into the high 30's tonight and tomorrow night.
Much cooler air will enter the area Wednesday night. The high temperature Thursday is predicted to be in the low 30's with a low temperature at night in the mid teens. It will likely be warmer by the weekend, with more rain expected.
Little River is flowing at 73 cubic feet per second (cfs) or 1.59 feet on the flow gauge. Median flow for this date is 273 cfs. The water temperature is 41.2 degrees.
The streams will warm some over the next two days. Fishing probably won't be great but you should be able to catch a few trout if you work hard at it. Use nymphs, weighted, and get them down. Watch for brown trout out in the open. You may see some and you could catch one.
We should also see an increase in flow due to the rain. That depends of course on how much we get.
One weather website predicts rainfall of half an inch today. It may be more than that. We already have a quarter of an inch and it is pouring out there right now. The heavier rain is moving north and to the west of the North Carolina state line right now. Hopefully it will drift eastward. Western North and South Carolina could use some rain.
If you don't mind fishing in the rain, try a tailwater today. Some of the generation schedules look to be wading angler friendly. Check the TVA website to see if their schedule works with yours. Some of the best fly fishing I have experienced on tailwaters, especially for brown trout, occurred in December.
Fishermen in Kentucky should try Hatchery Creek. I bet there are some big browns and rainbows in there right now. I checked Brad Redmon's Facebook page, and the fishing for spawners was very good in November. Brad guides on Hatchery Creek. You can view his Facebook page by CLICKING HERE.
It is not too late to order Christmas presents from us. Of course you can also visit the shop to buy them. You may also order gift cards, which we sell a bunch of, this time of year. CLICK HERE to learn more about our gift cards. They can be redeemed at the shop, when ordering online, or when ordering on the phone. They don't expire. You can use them multiple times, until the balance is depleted.
I got up early yesterday and wrote the Fishing Report, like I do every day. Then, I designed another e-mail to go out tomorrow morning. You can see the web version by CLICKING HERE. We will send out two more advertising e-mails before Christmas, then we'll let up some. What you will see most of in January and February, will advertise our Free Saturday Fly Fishing Demonstrations, which begin after the first of the year.
I keep up with fly fishing industry news but this one slipped by me. Bill Keough, breeder and processor of fine capes and saddles, used for hackle, acquired Hareline Dubbin. Hareline's owners retired. Bill's partner is a dairy farmer and business man living in Michigan. This was announced in March on the Midcurrent website. You can read the article by CLICKING HERE.
I noticed Hareline Dubbin had a much larger catalog this Fall. We buy a lot of fly tying materials from Hareline. They are great people to work with.
Well, if you live here, enjoy your rainy day. I hope all of you in the South get some of this rain.
I just checked one of the local personal weather stations online. The temperature has dropped to 46.9 degrees and rainfall since early this morning has risen to .65 inches. It is 7:04 am. If you want to see the personal weather station I check most, CLICK HERE.
This report has a lot of "Click Here's" this morning.
Have a great day and thank you for being here with us.
Byron Begley
December 12, 2016
Respond to: Byron@littleriveroutfitters.com

.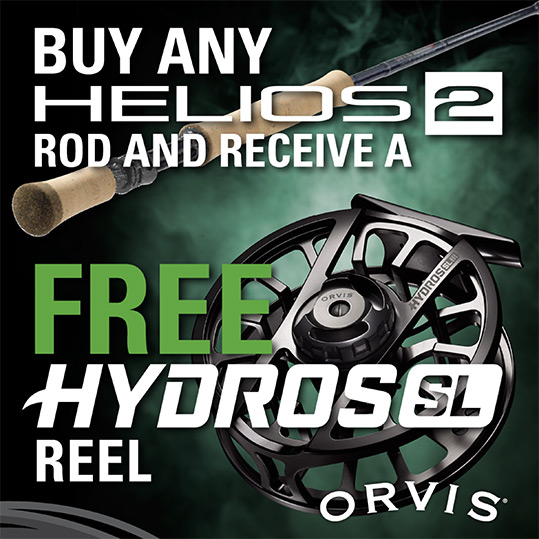 If you buy an Orvis Helios fly rod, between now and Christmas Day, you will get a free Hydros SL reel to match the rod. This offer applies to sales in our store and through our mail order business.

We do not stock all of the Orvis Helios Rods. If we don't have the one you want, we'll have it drop shipped directly to you with the Hydros SL reel. Or, we will special order it for you, for delivery to our store. If you purchase an Orvis fly line, we'll rig it for you, before it ships. You can see the Orvis Helios 2 freshwater and saltwater rods on our online store by CLICKING HERE. And, you can look at the Orvis Hydros SL reels on our store by CLICKING HERE. You may also call us to discuss the rods and reels, or to order, at 865-448-9459.
This offer cannot be combined with other Orvis promotions. Ground Shipping is Free! The offer ends December 25, 2016.