If you don't see today's Fishing Report, please refresh your browser to empty your cache.
Welcome to the Fishing Report from Townsend, Tennessee in the Great Smoky Mountains. At 5:31 am, the temperature is 30.0 degrees.
Today's high may reach 33 degrees. Tonight's low is predicted to dip into the mid-teens. Tomorrow will be a warmer and rain will arrive in the evening. Saturday will be very warm, maybe 60 degrees with rain in the afternoon. Rain chances increase to 100% Saturday night and Sunday. We may get some snow Sunday afternoon and evening. Snow accumulation is expected to be light and mostly in the higher elevations.
Little River is flowing at 141 cubic feet per second (cfs) or 1.90 feet on the flow gauge. Median flow for this date is 255 cfs. The water temperature is 42.6 degrees.
I think fishing will be slow today and tomorrow. The water temperature is on the cool side now and it will certainly drop, especially tonight. When the water temperature gets close to 40 degrees, fishing slows.
Fishing could improve Saturday. It will be warmer. I don't know how much the water will warm. That is hard to predict. I guess we can just hope for the best and see what happens. If you go, use nymphs. It might be a good idea to use a large stonefly nymph on a dual rig with a small nymph. Put on some weight and get the flies down.
Dress warm and have plenty of extra dry clothes in your truck, in case you get wet. It is going to be cold.
The rain we are expecting this weekend is welcome news. We are trying to get out of a drought.
We have had 3.83 inches of rain so far in December, as recorded at the Knoxville Airport. Normal for the period is 2.15", so we are up 1.69" from normal. One of the local weather sites I watch on Weather Underground, which is located in Kinzel Springs, has recorded 6.62 inches this month. The ground at our house is soggy.
The updated U.S. Drought Monitor will be issued this morning, hopefully in a few minutes. You can visit that page by CLICKING HERE. Surely we will see more improvement in the drought situation this week. There was improvement in last week's report, in the South.
As of yesterday, the Chimney Top 2 fire in the Great Smoky Mountains is 94% contained. 80 firefighters are working this fire. The Cobbly Knob fire is 96% contained. 28 fire fighters were working on that fire yesterday. From what I can tell, both fires are mostly smoldering and not spreading.
To our south it is much worse, in the Nantahala and Chattahoochee National Forests, as well as other areas nearby. There are many fires that have consumed thousands of acres. Many are contained. The information I can find on these fires has not been updated since December 3rd. As of that date, there were 15 active fires in the area.
We are busy at the shop this month, thanks to mail order. Lots of people are ordering Christmas presents and Gift Cards from all over the country. I saw one order going to England last week. Not many people are fishing in the Smoky Mountains right now. We will end the year up from last year, by quite a bit.
After New Years, it is slow in Townsend and slow in the fly fishing business. I mean, "It is really slow". We will hold free fly tying demonstrations on Saturdays during the Winter. We also hold fly tying classes.
The guys are stocking the fly tying department for Winter and it will be maintained well during those months.
Then, we wait for Spring. We wait for the water temperature to reach and surpass the mid 40's. When the water temperature is sustained for a few days at 50 degrees, the bugs start hatching in big numbers, mostly Quill Gordon, Blue Quill and Blue Wing Olive. Sometimes that happens in late February. Other years it happens in March. March is more likely.
You may fish the tailwaters on nice days during the Winter and sometimes you can do very well. You can fish in the Smokies during that time. Fishing is usually slow in January and February. It is nice to spend time in the mountains during the Winter. You will not see many people.
Have a great day and thank you for being here with us.
Byron Begley
December 15, 2016
Respond to: Byron@littleriveroutfitters.com

.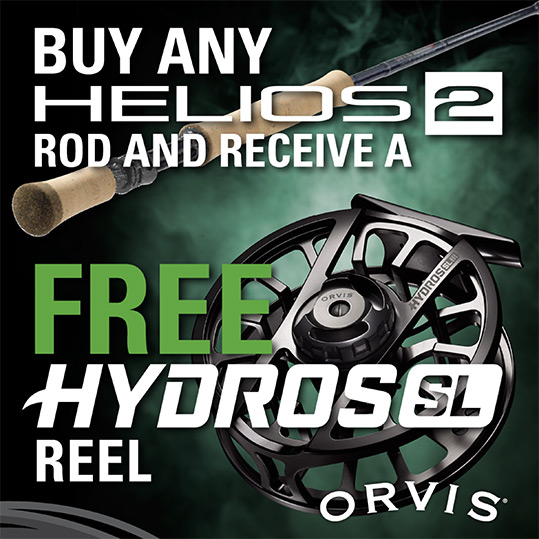 If you buy an Orvis Helios fly rod, between now and Christmas Day, you will get a free Hydros SL reel to match the rod. This offer applies to sales in our store and through our mail order business.

We do not stock all of the Orvis Helios Rods. If we don't have the one you want, we'll have it drop shipped directly to you with the Hydros SL reel. Or, we will special order it for you, for delivery to our store. If you purchase an Orvis fly line, we'll rig it for you, before it ships. You can see the Orvis Helios 2 freshwater and saltwater rods on our online store by CLICKING HERE. And, you can look at the Orvis Hydros SL reels on our store by CLICKING HERE. You may also call us to discuss the rods and reels, or to order, at 865-448-9459.
This offer cannot be combined with other Orvis promotions. Ground Shipping is Free! The offer ends December 25, 2016.