If you don't see today's Fishing Report, please refresh your browser to empty your cache.
Welcome to the Fishing Report from Townsend, Tennessee in the Great Smoky Mountains. At 6:13 am, the temperature is 21.4 degrees. It is warmer than predicted. It is still cold.
Today will be sunny and warmer with a high in the low to mid 40's. We have a wind advisory tonight and tomorrow morning. It may rain tonight and tomorrow. The high temperature on Saturday will rise to near 60 degrees and the low will only dip to the mid 40's.
The chance for rain increases tomorrow night and Sunday. One to two inches of rain are possible during the period. The rain may transition to snow Sunday and Sunday night. Light accumulations are expected in the higher elevations.
It is going to be a wet and warm weekend.
I read a report on the Weather Channel. According to them, 2016 will be the warmest year on record, worldwide, and this is the third year straight, that record has been broken.
They also predict the South will have a very warm winter. They didn't say anything about wet. Tennessee was not shown on the map, indicating a warmer than usual winter. The states were all to the south.
If you live in the South, don't put your fishing gear up for the winter. I got an e-mail and photo yesterday from Jim in the Florida Panhandle. He caught a 28" redfish and he was wade fishing in shorts. I am jealous.
Little River is flowing at 112 cubic feet per second (cfs) or 1.78 feet on the flow gauge. Median flow for this date is 267 cfs. The water temperature is 36 degrees this morning.
Fishing will be slow today, due to the cold water. We will see the water warm through the weekend. If we don't get too much rain, fishing may be fair to good. It is hard to say how warm the water temperatures will be. My guess is, in the mid 40's Saturday. It could be warmer. If it rises to near 50 degrees, go fishing.
The tailwaters are probably fishing well. I know some are. You may want to wait until the wind dies down tomorrow before you go. Of course, you need to check the TVA website to make a determination on when and where to go. We have many trout tailwaters to choose from, here, in Middle Tennessee and upper East Tennessee. The high temperature may be 60 degrees tomorrow. Take a rain jacket.
Anthony Hipps, Daniel and my e-mail in-boxes were active yesterday. We are planning Fly Tyer's Weekend. The event will be held Saturday November 4th and Sunday the 5th 2017. I'm sure you are happy to know, the event is returning to Townsend. It moved to near Cherokee, North Carolina last month, under a different name. It will not be held there next fall.
Fly Tyers Weekend began in Townsend, at our shop, in 2004. It was held in Townsend in 2004, 2005, 2006, 2014 and 2015. Fly Tyers Weekend has always been free to the public. It is always well attended.
My job will be marketing the event, and working in the shop during the weekend. I can't wait to get started. We still have our web pages from the last event on our site. You can view them by CLICKING HERE. I'll start rebuilding the web pages early next year.
Daniel, Dave and Anthony have big ideas and they are making plans now.
Christmas will be here soon. Get your gift cards. CLICK HERE, call us at 865-448-9459 or visit the shop.
Have a great day and thank you for being here with us.
Byron Begley
December 16, 2016
Respond to: Byron@littleriveroutfitters.com

.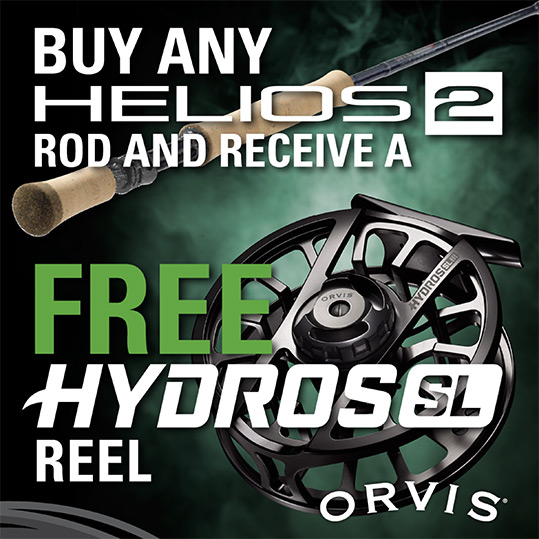 If you buy an Orvis Helios fly rod, between now and Christmas Day, you will get a free Hydros SL reel to match the rod. This offer applies to sales in our store and through our mail order business.

We do not stock all of the Orvis Helios Rods. If we don't have the one you want, we'll have it drop shipped directly to you with the Hydros SL reel. Or, we will special order it for you, for delivery to our store. If you purchase an Orvis fly line, we'll rig it for you, before it ships. You can see the Orvis Helios 2 freshwater and saltwater rods on our online store by CLICKING HERE. And, you can look at the Orvis Hydros SL reels on our store by CLICKING HERE. You may also call us to discuss the rods and reels, or to order, at 865-448-9459.
This offer cannot be combined with other Orvis promotions. Ground Shipping is Free! The offer ends December 25, 2016.