Townsend, Tennessee - Fly Fishing in the Great Smoky Mountains National Park, East Tennessee and Western North Carolina

Welcome to the Fishing Report. It is overcast and 50 degrees in Townsend this morning. We have had 1 ½" of rain in 48 hours at the shop. The Airport reported 1.27" yesterday, a record for that date. The streams in the Park and surrounding National Forests have plenty of water right now.
Little River is flowing at 2.64' which equates to 445 cubic feet per second (cfs). Median flow for this date is 268 cfs. To put this flow into our perspective, we don't take beginners on the streams when the flow is 2.4 feet. However, plenty of people fly fish in Little River at higher readings. Just be careful. The current is strong. The water temperature is 49 degrees this morning at 8:05 am. We have a 90% chance for rain today but the precipitation will be scattered and light.
Fishing should be good today. Nymphs or maybe dry flies will work in the Smokies. Overcast skies are an advantage for you. The water is fairly warm, that will help. The water is slightly turbid. That is good. We have plenty of flow. If the water temperature were to reach 55 degrees today, I think the fishing would be excellent. All the conditions would be good. I don't think the water will be that warm though the high temperature today in the valley is expected to be 62 degrees.
I would pick my usual nymphs, Tellico, Prince or Pheasant Tail. For a dry I would use a #16 Blue Wing Olive, probably a parachute fly. The barometric pressure is low and dropping. That may affect the trout's feeding behavior. I don't know.
Overall, it looks like a good day to be fishing in the Smoky Mountains.
There is more rain and possibly snow in the forecast starting Thursday.
I saw the Townsend Santa Claus at the IGA Saturday. What a thrill that was. He's a great guy and a neighbor of ours. He said he had been walking around the entries to the grocery store handing out candy for two days. The candy was left over from the Christmas parade and supplied to him by the City. Santa was dressed in period clothing he probably wore 100 years ago. He said Mrs. Claus made the suit for him. He looked great.
He gave me a very small candy cane. A good looking young woman walked up, Santa reached into his bag and handed her a huge lollypop. I said hey, "You gave me this tiny candy cane and she got that big lollypop. Was that because she is so pretty?" He said, "No, you have been a baaaaaad boy". The girl who checked me out at the cash register said she didn't get anything and she is pretty too. Maybe he really does know. I patted him on the back and told him to keep up the good work. Before becoming our Santa, he was a Louisiana Santa. We are all glad he moved here.
I am leaving the story and photos below that I wrote and posted yesterday. We don't get a lot of readers on Sunday. I wanted to give more people the opportunity to see this.
Stan Smartt called me yesterday afternoon. One of the bald eagles that have been hanging around town and fishing in the river for months was perched in a dead tree at the Townsend Shopping Center. I grabbed a SLR camera, snapped in a 200 mm lens and drove to the shopping center. Sure enough, there was one of the eagles perched in a tree. Stan, Jerry and others were looking up.
I did not have a tripod. The photos I took are not very sharp. They had to be cropped to get what you see below. But, this was the best view I've had of these birds since they arrived about 3 months ago. What a magnificant bird!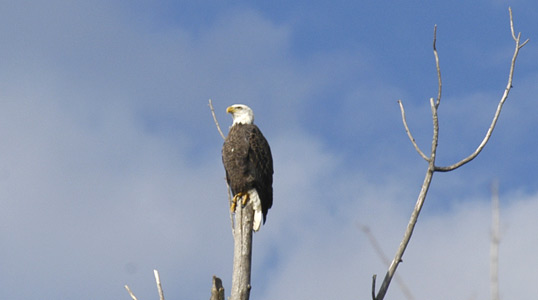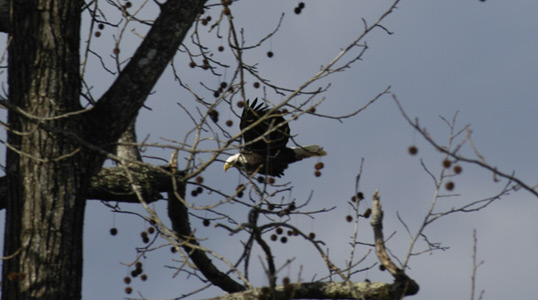 Jerry, who owns the Townsend Shopping Center told me there are actually two of them. Occasionally he sees both at the same time. They are a pair. Bald eagles pair for life unless one dies or there are reproductive problems. They sometimes find a new mate during their life. These two spend much of their time flying over Little River from Townsend down to Walland looking for fish. Stan saw one of them swoop down and pick up a dead animal from the road right in front of him. They may spend time in the Park. I see bald eagles on the Little Tennessee River occasionally. For all I know they are the same birds we see here. The Little Tennesse River is about 20 miles from here, as the eagle flies.
John Oliver was at the shopping center watching the bird. He is a direct descendant of the same John Oliver who, with his wife, were the first European settlers in Cades Cove. John asked me to e-mail my photos to him.
I told John that one of my best friends in the world is a Gregory. He is a descendant of Spencer Gregory who owned Gregory Bald and Spence Field. John said he is related to the Gregory family.
Like the clear skies at night where you can see the stars without light pollution to the bears that hang around our house, these eagles reinforce the notion that Paula and I live in a special place. I am forever grateful that I was determined to move to Townsend decades ago. I bought property here 25 years ago when I was 36 years old. I moved here and built a home on that property 20 years ago at age 41. Paula and I married after that. We are truly blessed.
I am hearing thunder right now. The rain is coming down fairly hard. Maybe this would be a better fly tying day.
Have a great day whatever you do and thank you for being here with us.
Byron Begley
December 17, 2012

Respond to: byron@littleriveroutfitters.com