If you don't see today's Fishing Report, please refresh your browser to empty your cache.
Welcome to the Fishing Report from Townsend, Tennessee in the Great Smoky Mountains. At 5:31 am, the temperature is 56.3 degrees.
It is breezy and light rain is falling this morning. We are under a wind advisory today. Winds of 20 to 35 miles per hour with gusts to 50 miles per hour are possible. The chance for rain today is forecasted to be 60% but in our case, it is raining now. Today's high temperature is predicted to exceed 60 degrees.
Heavy rain is a possibility Sunday, with amounts from 1 to 2 inches. Rain will transition to snow tomorrow night as low temperatures may drop into the high 20's.
Little River is flowing at 98 cubic feet per second (cfs) or 1.72 feet on the gauge. Median flow for this date is 278 cfs. The water temperature is a chilly 38.1 degrees this morning.
The water temperature is rising rapidly. Fishing is probably very slow right now, but later today and tomorrow, with the warming water, fishing will improve in the Smoky Mountains.
You don't want to be in the forest today, until the wind dies down and it may not do so until tonight. Tomorrow, if we get the heavy rain that is predicted, stream flows could increase significantly. So, if you hope to go fishing in the mountains this weekend, you should wait to see what happens. Watch the water temperature on the USGS website. Click the Little River link below. When you are fishing, watch for quickly rising water.
Again, fishing a tailwater for trout is another option. Check the TVA website for up to date generation schedules.
Hey, snow is in the forecast Sunday December 25th, "A White Christmas". If that happens, it won't stick for long. The high temperature is predicted to be 55 degrees. I'm not going to count on that. Maybe it will be colder by then.
Townsend will host many visitors later this week, as Christmas gets closer. Some spend the week here, through New Years weekend. After the New Year Holiday, it is quiet here. Just about everyone you see, you know. If you don't know them, they are new.
I drove to the bank, post office and the shop yesterday. On my way, I drove by Santa Clause's house on Old Cades Cove Road. He lives a few hundred yards from our house, as the crow flies. He was walking from his truck into the house. I haven't talked to him in a few weeks. I missed the Townsend Christmas Parade, where he is the center of attention, riding in a mule drawn wagon. Yes, he does live here and when I said "mules", that is what I meant to say. Reindeer are rare in Townsend. We do have many mules.
One of our neighbors, who live on the other side of the creek from us, had a mule that was a television star in the 90's. The mule was ridden by a doctor or a preacher in the TV series. For the life of me, I can't remember the exact name of the show. I think it was something like, Christy. That was it. I checked on the web. The show was filmed here in 1994 and 1995.
The mule could also rack, a gait you don't normally see a mule do.
Paula and I saw some of the stars of Christy, around town from time to time, but we never actually saw the film crews working with the actors. We met Kellie Martin, the star. The only star I personally knew, and had contact with several times, was the mule, and I forgot his name. The mule was owned and trained by Will, who is a banker. He is also one of our volunteer firefighters and swift water rescue experts.
Anthony Hipps contacted a lot of fly tyers yesterday by e-mail. He is taking on the job of organizing them for Fly Tyers Weekend, which will be held November 4th and 5th, 2017. I'm looking forward to that. I'll get to see many friends that weekend, while also learning how to tie new fly patterns.
We are busy at the shop. People are still ordering Christmas presents. We are having an awesome December. We are also selling a lot of gift cards. They will be next week's hot item. Customers can order them online or by phone, and we can send a temporary cards by e-mail. This is done for last-minute shoppers and it works.
Have a great day and thank you for being here with us.
Byron Begley
December 17, 2016
Respond to: Byron@littleriveroutfitters.com

.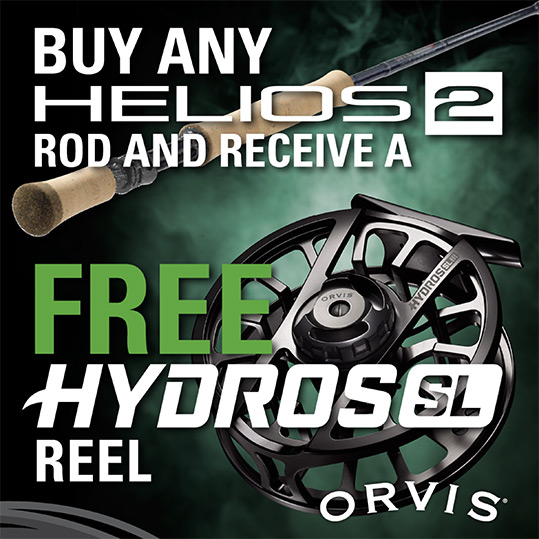 If you buy an Orvis Helios fly rod, between now and Christmas Day, you will get a free Hydros SL reel to match the rod. This offer applies to sales in our store and through our mail order business.

We do not stock all of the Orvis Helios Rods. If we don't have the one you want, we'll have it drop shipped directly to you with the Hydros SL reel. Or, we will special order it for you, for delivery to our store. If you purchase an Orvis fly line, we'll rig it for you, before it ships. You can see the Orvis Helios 2 freshwater and saltwater rods on our online store by CLICKING HERE. And, you can look at the Orvis Hydros SL reels on our store by CLICKING HERE. You may also call us to discuss the rods and reels, or to order, at 865-448-9459.
This offer cannot be combined with other Orvis promotions. Ground Shipping is Free! The offer ends December 25, 2016.