If you don't see today's Fishing Report, please refresh your browser to empty your cache.
Welcome to the Fishing Report from Townsend, Tennessee in the Great Smoky Mountains. At 5:37 am, the temperature is 74.7 degrees. That seems impossible. I checked other local websites. The temperature varies from site to site but the readings are all in the low 70's.
It is windy. We are under a high wind warning. Moderate to heavy rain will arrive soon. There is a 100% chance for that. We may get 1" to 1.5". The temperature will drop like a rock. Then, the rain is supposed to transition to freezing rain, sleet or snow. This is going to be an interesting day.
Little River is flowing at 154 cubic feet per second (cfs) or 1.95 feet on the flow gauge. Median flow for this date is 260 cfs.
The water temperature is 50.4 degrees, right now. That is amazing.
You should go fishing today. Or, maybe you should not. The water temperature is perfect, like early Spring. The wind however, is a threat. Wind speeds of up to 40 miles per hour with gusts to 60 miles per hour are warned by the National Weather Service. There will be falling branches and trees in the park. We may have thunderstorms. They may be severe.
Later today, you might encounter icy roads in the higher elevations.
All of this may or may not happen.
I would not go. Stay home and tie flies or watch a football game, or both. Go to your local fly shop and do some shopping. I can't help but say that.
This is going to be "Gift card Week". Sure, there will be people shopping in the store until Christmas. And, if you order merchandise from the store, we can probably get it to you on time. We may have too charge extra for expedited shipping, depending on where you live and when you order. Ground shipping is always free.
But there is not doubt, we will be selling a lot of gift cards.
If you are buying a card for someone, you can opt to have us send an e-mail version to you or them. They will be delivered right away. You can do that online by CLICKING HERE or call the shop at 865-448-9459. The e-mail version has a number, that can be used like money.
If we can get the recipients mailing address, we will send a plastic card too. It will take longer for that to arrive. But, your recipient can begin using the e-mail version with the number, when buying online, calling the shop or showing up in person.
This system has proven over the years to be very popular, for last minute shoppers, like me.
Here is an interesting fly fishing industry story. I can relate to this guy. His name is Neville Orsmond. He is young and loves fly fishing. He bought the rod maker, Thomas and Thomas in 2014. He grew up in South Africa. When he bought the company, he lived in a motel for a year. Then, his wife and two young daughters moved from South Africa to Greenfield, Massachusetts. They all live there now, and he runs the company. You can read the story on the American Fly Fishing Trade Association website by CLICKING HERE.
We are currently not a T & T dealer. We were at one time.
I grew up in Kentucky, not South Africa. I have loved fly fishing since 1962. When I opened a franchised printing shop in Nashville, I lived in a motel for 6 months, before making the permanent move from Kentucky. So, Neville and I do have that in common. I know what it is like, living in a motel. I don't recommend it. I was 23 years old at the time. I could handle adversity much better back then.
I remember well, the days when Thomas and Thomas was a mail order tackle company. Of course they made beautiful bamboo fly rods, and I think they produced graphite rods too, at the time. I became a customer of theirs in the late 70's or early 80's.
They sent out a beautiful catalog, filled with images of rods, reels, fly lines, fly tying supplies and rod making components. Their silver and wood reels seats were the best. I have several old fly rods, I made from blanks, using those reel seats.
Thomas and Thomas has been in business since 1969, the year I graduated from high school and joined the Army. I did go to college while I was in the military. T & T has a rich history in the fly fishing world. Who knows, we may become a dealer again.
One of my best friends while I was in the Army, is now a retired 2-star, Major General. We have stayed in touch, mostly through Christmas cards. I just got one from him. In it he wrote, he called the shop last week to talk to me. The guys told him, "We don't see Byron very often anymore". I work at home now.
So, I'm going to write him a letter, and exchange contact information this week. I want to stay in closer touch with him. He was a soldier's soldier. He is a born leader. He was a very close friend. We had some great times together.
I've known and still know a few military Generals. We have a retired 2-star, Major General Marine, living in the valley. I talk to him occasionally. I saw another friend of mine, who I served with, who retired as a Major General. He came by the shop a couple of years ago to see me. I recognized him immediately, though we have not laid eyes on each other for decades. Our Chamber of Commerce was run by a retired Air Force Major General before he passed away. I served on the Chamber board under him.
They all have one thing in common. They are nice guys. They are also great leaders. They are smart.
My only regret in life, is leaving the military. I could have stayed in the active reserve and still run a business. It was tough to do. I tried it for a while. I missed out on some great times and working as a team with some awesome people. I was in a basic combat training division. After I left, the division was changed from ground infantry training to armor training. That would not have worked for me. I have claustrophobia. I hate tanks.
Have a great day and thank you for being here with us.
Byron Begley
December 18, 2016
Respond to: Byron@littleriveroutfitters.com

.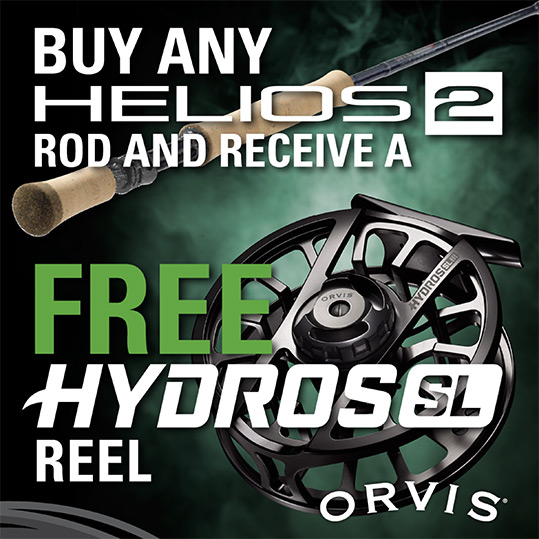 If you buy an Orvis Helios fly rod, between now and Christmas Day, you will get a free Hydros SL reel to match the rod. This offer applies to sales in our store and through our mail order business.

We do not stock all of the Orvis Helios Rods. If we don't have the one you want, we'll have it drop shipped directly to you with the Hydros SL reel. Or, we will special order it for you, for delivery to our store. If you purchase an Orvis fly line, we'll rig it for you, before it ships. You can see the Orvis Helios 2 freshwater and saltwater rods on our online store by CLICKING HERE. And, you can look at the Orvis Hydros SL reels on our store by CLICKING HERE. You may also call us to discuss the rods and reels, or to order, at 865-448-9459.
This offer cannot be combined with other Orvis promotions. Ground Shipping is Free! The offer ends December 25, 2016.