If you don't see today's Fishing Report, please refresh your browser to empty your cache.
Welcome to the Fishing Report from Townsend, Tennessee in the Great Smoky Mountains. At 5:52 am, the temperature is 32.2 degrees. We have some light frozen precipitation on our deck. I think it is sleet.
It rained most of the day yesterday. We got .85" in Townsend. The Knoxville Airport reported .89". Rainfall at the Airport this year, through yesterday is recorded at 43.07". Normal is 46.08" for the period, or a deficit of 3.01". So far in December, rainfall there has amounted to 4.87" compared to normal of 2.72" or a surplus of 2.15".
Today and tomorrow will be mostly sunny with highs in the 40's and lows in the mid to high 20's. The chance for rain is low.
Little River is flowing at 246 cubic feet per second (cfs) or 2.25 feet on the gauge. Median flow for the date is 238 cfs. Yesterday, the river rose to near 3 feet or close to 500 cfs. The water temperature is 43 degrees this morning. The water temperature yesterday climbed to over 50 degrees.
Fishing will be fairly slow due to the cold water in the Smoky Mountains. You can go and you may catch a trout or maybe more. I would use nymphs, weighted, and drifted deep. Little River is flowing high, but fishable. Don't expect too much activity. Just enjoy your day outside.
Jack and Donna were here at our house for dinner last night. Jack is one of the best brown trout fishermen in the Smokies. He loves to fish for browns after the spawn. He was lamenting the fact that he was not able to fish yesterday. Fishing was probably very good. It was not as windy as predicted early yesterday morning. Little River did rise to a point, where wading would have been possible but the water was swift.
Winter is a good time to fish for trout in our tailwaters. I mention that almost every day. Give it a try. You might be surprised.
Trout Unlimited is accessing the effect of wildfires on trout in the Southeast United States. An article published a few days ago, sheds little light on the subject, mainly because, most wildfires occur in the Western United States these days. I read the article this morning. It will take more time to determine what damage to the trout populations in the streams involved, due to the recent fires. You can read the article on the Angling Trade Magazine's website by CLICKING HERE.
These fires and the potential for more in the future, do support the importance of expanding the brook trout's range in Southern Appalachia. That has been and is being done.
This is Christmas Week! There are 6 days left. Retailers are busy. We are too. People are shopping in our store and many are buying gifts from us using our mail order service. Now, we will be selling more gift cards than anything else. I was amazed at how many people ordered gift cards Saturday. Saturdays are usually a very slow day on our online store. Most people buy on weekdays. I have not looked at yesterday's activity.
It is not too late to buy gift cards from us. We can even e-mail a temporary gift card and we will be doing that all week.
Next is News Years Day. After that, I always start thinking about Spring fishing. I bet most people do.
Spring fly fishing for trout begins very early here, compared to other areas in America. Sometimes the water temperature in the the Smokies streams reach that magic 50-degree mark, in late February or early March. When that happens, the bugs begin hatching in big numbers. We start fly fishing again. Anglers from the north, travel here to fish.
We celebrate the new year, knowing what will happen soon. It gives us something to look forward to. We prepare for your arrival. It won't be long now.
Have a great day and thank you for being here with us.
Byron Begley
December 19, 2016
Respond to: Byron@littleriveroutfitters.com

.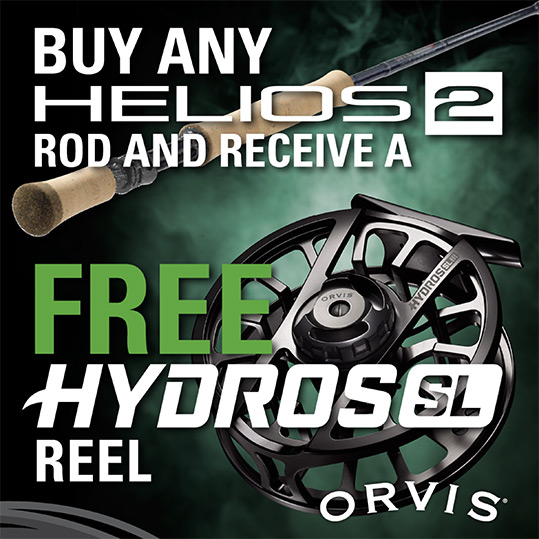 If you buy an Orvis Helios fly rod, between now and Christmas Day, you will get a free Hydros SL reel to match the rod. This offer applies to sales in our store and through our mail order business.

We do not stock all of the Orvis Helios Rods. If we don't have the one you want, we'll have it drop shipped directly to you with the Hydros SL reel. Or, we will special order it for you, for delivery to our store. If you purchase an Orvis fly line, we'll rig it for you, before it ships. You can see the Orvis Helios 2 freshwater and saltwater rods on our online store by CLICKING HERE. And, you can look at the Orvis Hydros SL reels on our store by CLICKING HERE. You may also call us to discuss the rods and reels, or to order, at 865-448-9459.
This offer cannot be combined with other Orvis promotions. Ground Shipping is Free! The offer ends December 25, 2016.