If you don't see today's Fishing Report, please refresh your browser to empty your cache.
Welcome to the Fishing Report from Townsend, Tennessee in the Great Smoky Mountains. At 5:03 am, the temperature is 32.9 degrees.
Today will be sunny with a high temperature in the high 40's. The low tonight is expected to be in the high 20's. It will be warmer through Saturday, with high temperatures in the 50's. A chance for rain begins Friday and there is a greater chance Saturday.
Little River is flowing at 184 cubic feet per second (cfs) or 2.06 feet on the flow gauge. Median flow for this date is 220 cfs. The water temperature is 40.6 degrees this morning.
I believe fishing will be slow in the Smoky Mountains today, due to the water temperature starting the day at near 40 degrees. We may see some water temperature warming as the week progresses, so fishing may improve some.
If you go, use nymphs, and get them deep. Most trout will not be very active, with the water temperature in the low 40's. They do not need to eat much if anything at all, under these conditions.
We are all wondering what affect the Chimney Top 2 fire will have on the streams in the Smoky Mountains. Another question is, which streams will be affected?
I have read, we can expect the ph to rise in streams in the affected watershed or watersheds. Though temporary, that is probably good, not bad. We can expect more nutrients to enter the streams. That could cause an algae bloom in lowland river, but I don't think that would be the case in these high gradient streams. The down side would be more siltation due to runoff and possibly mud slides. That would not be good.
Below is a map I downloaded from the internet. I marked Little River inside a gray area. It is hard to tell how much of the fire was inside the Little River drainage, if any, from this map. I've tried to find maps that have the fire marked, with good detail and I can't find one. Your input would be very much appreciated. People keep asking me, and I don't know how to answer.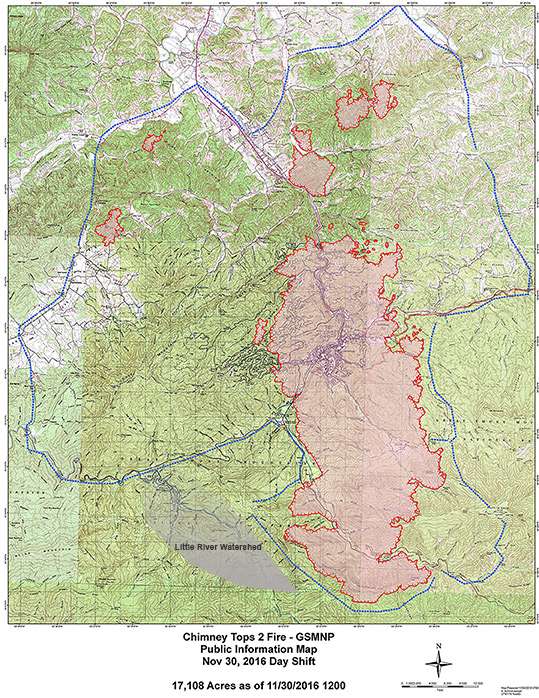 Someone who has a better understanding of maps and terrain could figure this out quickly, I think. You would need a higher definition map and compare it to this one or the original I downloaded.
Have a great day and thank you for being here with us.
Byron Begley
December 20, 2016
Respond to: Byron@littleriveroutfitters.com

.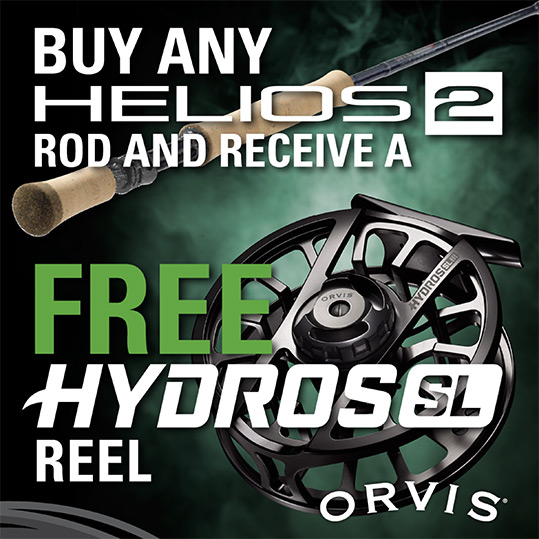 If you buy an Orvis Helios fly rod, between now and Christmas Day, you will get a free Hydros SL reel to match the rod. This offer applies to sales in our store and through our mail order business.

We do not stock all of the Orvis Helios Rods. If we don't have the one you want, we'll have it drop shipped directly to you with the Hydros SL reel. Or, we will special order it for you, for delivery to our store. If you purchase an Orvis fly line, we'll rig it for you, before it ships. You can see the Orvis Helios 2 freshwater and saltwater rods on our online store by CLICKING HERE. And, you can look at the Orvis Hydros SL reels on our store by CLICKING HERE. You may also call us to discuss the rods and reels, or to order, at 865-448-9459.
This offer cannot be combined with other Orvis promotions. Ground Shipping is Free! The offer ends December 25, 2016.