If you don't see today's Fishing Report, please refresh your browser to empty your cache.
Welcome to the Fishing Report from Townsend, Tennessee in the Great Smoky Mountains. At 6:15 am, the temperature is 27.9 degrees.
They say, today will be sunny with a high temperature in the mid-50's. The forecast is about the same through Friday. Highs will be in the 50's and lows in the 20's to 30's. Rain is expected Saturday. Christmas day should be warm, in the low 50's.
It was supposed to be sunny yesterday. It was not sunny here. Fog settled in for the day. By evening, the fog began to lift. Just before dark I saw the lower elevations of the mountains. They were solid white. The fog froze to the trees. I don't know if the higher elevations are covered with frozen fog. I suppose I'll find out soon, at daybreak.
Little River is flowing at 159 cubic feet per second (cfs) or 1.97 feet on the flow gauge. Median flow for this date is 216 cfs. The water temperature is 38.1 degrees.
Fishing today will be slow due to the cold water. We will see the water temperatures rise some this week. How much, I don't know.
It is certainly possible, that we may have some fairly good fishing this weekend. If you are traveling here for the holidays, by all means bring your gear. One weather website predicts one half inch of rain Saturday. It will be warm too. Sunday will be warm. It could be good!
Yesterday, I talked about, and wondered if the Little River drainage was affected by the Chimney Tops 2 wildfire. People are asking me and I did not know what to say. The maps I have are all low resolution images I found on the internet. The burned areas are clearly marked, but the lack of detail made it hard to see exactly where the fire line was located.
I got an e-mail yesterday from Betsy. She and her husband live in Townsend. I know where they live. They have a commanding view of the Smoky Mountains. They could see the fire from their home, the night of the firestorm that swept into Gatlinburg. They are hikers. They know the terrain. She also said they have a detailed map, showing the fire lines.
She wrote, according to her map, the fire did crest Sugarland Mountain, maybe not much, but enough to affect the upper reaches of Rough Creek. Rough Creek is a tributary that enters Little River above Elkmont. I checked my e-mail this morning, and saw that Betsy did send me the PDF, high resolution version of the map. I will look at it later, and see if I can put it on our server, for you to view in the future. I need to make sure there is no chance for copyright infringement before I do it.
So, there may be some affect from the fire, in the Little River drainage. To what extent, I don't know. There are positive results from runoff after forest fires. The ph will be elevated for a while, which is good. The down side would be siltation and mud slides. After we get some heavy rain, we will find out.
Hey Betsy, thank you for your help!
Paula found an article on a travel website, called "The Crazy Tourist". The article is titled, "15 Best Small Towns to Visit in Tennessee. You can view the article by CLICKING HERE.
Townsend is #1. I clicked through the pages and found many small towns I have visited in our state. Gatlinburg and Pigeon Forge are among them. I am looking forward to reading this. There are some really cool small towns in Tennessee, as described in this article.
Have a great day and thank you for being here with us.
Byron Begley
December 21, 2016
Respond to: Byron@littleriveroutfitters.com

.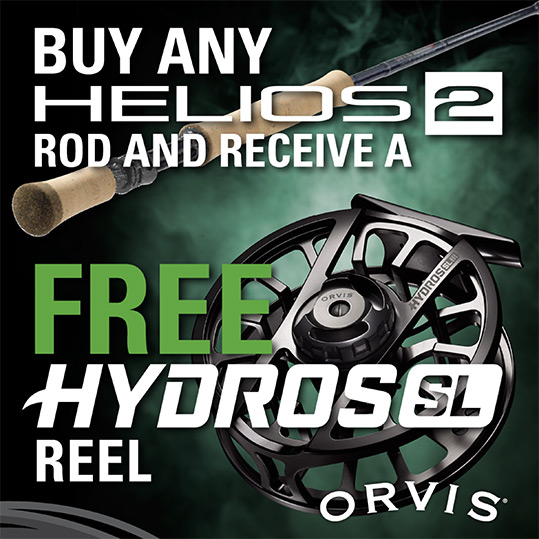 If you buy an Orvis Helios fly rod, between now and Christmas Day, you will get a free Hydros SL reel to match the rod. This offer applies to sales in our store and through our mail order business.

We do not stock all of the Orvis Helios Rods. If we don't have the one you want, we'll have it drop shipped directly to you with the Hydros SL reel. Or, we will special order it for you, for delivery to our store. If you purchase an Orvis fly line, we'll rig it for you, before it ships. You can see the Orvis Helios 2 freshwater and saltwater rods on our online store by CLICKING HERE. And, you can look at the Orvis Hydros SL reels on our store by CLICKING HERE. You may also call us to discuss the rods and reels, or to order, at 865-448-9459.
This offer cannot be combined with other Orvis promotions. Ground Shipping is Free! The offer ends December 25, 2016.