Townsend, Tennessee - Fly Fishing in the Great Smoky Mountains National Park, East Tennessee and Western North Carolina

Welcome to the Fishing Report. The sky is clear and the temperature is 24 degrees in Townsend this morning. The air is very clear. Traffic is extremely light. I slept late and left for work at 8:15 am. That felt good. I guess it's the Christmas spirit and I'm glad. I stopped at the Townsend Shopping Center to buy a newspaper and talked to Jerry for a few minutes. Glenn beat me to our store. I am always the first person here except for today.
Little River is flowing full of very cold water. Flow is currently 299 cubic feet per second (cfs). Median flow for this date is 263 cfs. The water temperature is 36.5 degrees.
I think fishing will be slow in the Smoky Mountains. Bumping some weighted nymphs along the bottom of the streams might yield a trout or two but don't expect much. Trout normally shut down when the water temperature drops to 40 degrees. The water is colder than that. You might do well fishing for the stocked trout in town. Anglers are reporting good catches. The stocked trout are hungry. They will feed when the water is cold. They are used to massive regular meals.
We are in for a significant warming trend. Rain is coming too. Snow is possible Wednesday night. But, for the Christmas holidays expect temperatures ranging from near 40 at night to 55 degrees during the day. Bring rain gear if you are spending the holidays in Townsend. You will need it.
Townsend is a great place to spend the holidays. We are known as the "Peaceful Side of the Smokies". I have to admit, it is very peaceful here. Nothing much happens here. We like that.
There is something that is happening quietly for now. People are talking about it. It is all Jerry and I talked about this morning. We need something to talk about. I call it Eagle Mania. No, Joe Walsh is not here on a fishing trip. Glenn Frey or Don Henley are not staying at Blackberry Farm. Well, they may be. I wouldn't be surprised. And Timothy Schmit is not singing at the Firefly Café.
Two bald eagles have taken up residence in Townsend and everyone is excited about it. Stan Smartt and Mike McKinsey came in yesterday. The had been looking for the eagles. They found one and Mike got a good picture of it. They left and a few minutes later I got a call from Stan. Another eagle or maybe the same eagle was perched in a tree behind the Townsend Shopping Center again.
Now that the word is out, I really do expect to see more photographers in town this Winter. These birds don't seem to mind people taking their picture. Bear pictures are common. I know people who see bears at their house every day. We had two bears almost break a window at our house while I watched this Summer. We are used to living with bears. Bald Eagles hanging around in a small river town is something totally different. It is rare.
These eagles showed up when Tennessee Wildlife Resources Agency started their Fall trout stocking program three months ago. They are here because they have a reliable food source, rainbow trout. A restaurant owner saw an eagle swoop down and grab a trout out of the river then flew into a tree and ate the fish. I don't advocate creating a non-sustainable and artificial habitat for wildlife. That is not a good idea. But, stocking a few thousand trout in the river to keep those birds here would be good for our tourism economy, not to mention the fishermen.
Stan called me over a week ago and told me one of the birds was in a tree at the shopping center. I grabbed a camera and drove to the store. Below is one of the photos I took that day. You may have seen this photo on this report before.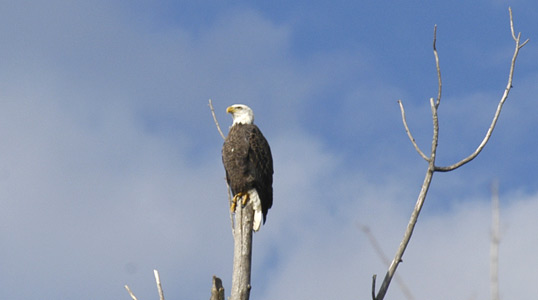 Two days later I got a call from Iva Butler at The Daily Times. She said she heard I took some photos of an eagle. I sent her the three best shots and told her in the e-mail to use them if she wanted to.
This morning I opened The Daily Times website and there was one of my pictures. I couldn't read the article because I'm not a online subscriber. That's why I stopped at Jerry's store to buy a newspaper. Sure enough, there was that photo I took in the newspaper with the words, "Photo Courtesy of Byron Begley".
So, now that I am a published wildlife photographer, I am making a list of items I would like to own when Nikon calls. I'm sure they will. I hope they call today, just before Christmas. I wonder if they have to work on Sundays like I do.
Nikon must give free gear to published wildlife photographers. My list includes 2 new D 600 bodies, a 20mm 2.8 lens and a 500 mm 2.8 lens. I'm not going to be greedy. The street value of these pieces of equipment is only $15,000. What a great Christmas gift. I'll be watching the caller ID window every time the phone rings today.
We will be open until 5:00 pm today. Paula and I will have the store open tomorrow from 9:00 am til noon. We will be closed Christmas Day. I will be home playing with all my new free cameras.
Have a great day and thank you for being here with us.
Byron Begley
December 23, 2012
Respond to: byron@littleriveroutfitters.com