If you don't see today's Fishing Report, please refresh your browser to empty your cache.
Welcome to the Fishing Report from Townsend, Tennessee in the Great Smoky Mountains. At 5:45 am, the temperature is 36.5 degrees.
The warming trend begins and will continue through next Thursday. Rain is coming too. High temperatures today through Sunday will be in the high 50's to high 60's on Sunday. Lows at night will dip into the low to high 40's tonight and through the weekend. Sunday's high might come close to 70 degrees. No white Christmas is expected here.
It will rain tomorrow. Weather websites agree on a total of ½ inch. Rain will return next Tuesday through Friday. It will be very warm next week too, until Friday. Snow is a possibility on Friday January 6th.
Little River is flowing at 129 cubic feet per second (cfs) or 1.85 feet on the gauge. Median flow for this date is 271 cfs. The water temperature is 41.5 degrees.
The water temperature is right where it was yesterday morning. It will get warmer over the next few days, starting today. Rain will fall tomorrow and it will be warm. That will make a difference. It is not supposed to rain too much.
I think we are set for some much improved and maybe very good fly fishing in the Smoky Mountains this weekend and next week. How can that not be? I can't think of a reason why it won't. There will be lots of warmer water, flowing down the mountains. Trout will be active. They will think it is Spring.
The animals are mixed up too. I was working here in my office at home yesterday, designing new ads for our website. I looked behind me, out the window, and saw a flock of turkeys close to our house. One gobbler was fanned out, and trying to pick a fight with another gobbler. I see turkeys back there every day, each Winter. I've never seen one do that in December. We have not seen a bear at our house in over a month. I would not be shocked at all to see one sometime over the next few days.
If you are traveling here for the holidays, bring your fishing gear. If you live here, go fly fishing in the Smokies when you can. Nymphs will work for sure. Dry flies may work too. This weather is much more angler friendly than we normally see during the Christmas holidays.
If you can go, try your local trout tailwater. They may be fishing well too.
Tomorrow is Christmas Eve. We will be closing the shop at noon. I will write a Fishing Report and I'm looking forward to seeing the numbers tomorrow morning. We will also be closed on Sunday, Christmas Day. I won't write a report that day. I'll be too excited to see what Santa brought me.
According to WBIR's website, the campfire ban in Great Smoky Mountains National Park will be lifted tomorrow. You can read the article by CLCIKING HERE. People will be camping in the Smokies this weekend. This is great news for them.
The updated U.S. Drought Monitor was released yesterday. You can see it by CLICKING HERE. Click on your region for more detail. Then, click on a state for even more detail. There has been much improvement in the Southeast United States. Our county was downgraded to a "Severe Drought", two levels of improvement from what we saw recently. And, there is more rain on the way. There are still some very dry areas in Georgia and Alabama, but the size of the area is shrinking. I hope the states to our south get the predicted rain this weekend and next week.
I know, because I looked. Many of you will be receiving gift cards Sunday. Part of my job will be helping you decide what to redeem them for. Our manufacturers have brought many new fishing gear items to the market this Fall and there is more coming early next year. I spent much of yesterday designing ads to put on this page and our home page, to help you decide.
See the ad to the left, depicting the new Orvis Disc reel? Now that is a bargain. The prices start at $149. Look that over closely, when making a decision. Click the "Learn More" button on the new Chota Hybrid boot. There is also a felt soled version. These wading boots are awesome. Again, they are a bargain.
Check out the new Fishpond luggage. I've been touting this new lineup since late Summer. I knew it was coming and I was pumped. We finally got the collection in late November. You will be impressed. A lot of people are. We've sold a ton of the new waxed cotton luggage. It may be less than a ton, but it's a lot.
I plan to visit our store on Saturdays this Winter to attend the Free Fly Tying Demonstrations. The guys at the shop may try to charge me. If they do, I'll ask for an employee discount. Walter Babb and Ray Ball will kickoff the new year free events. That is going to be fun. I can't wait.
I have worked with Walter for over 20 years. We designed fly tying books for students and taught classes together. He still teaches classes at our store. We are very good friends. We have been on long, fishing trips together. One trip, we spent 30 hours together in a truck. He always catches five to ten trout to my one. I've watched him tie more flies than you can count. There is no way, I will ever be able, to tie a trout fly like he can. His flies are beautiful. He makes it look easier than it is. He is like a "machine". And, he always makes me laugh.
Ray makes me laugh too, constantly. He is an unbelievable fly fisherman. Ray is one very kind man. He grew up next to the Park. His fly patterns are time tested, and there is a reason behind his tying and fly fishing methods. Maybe I'll go fishing with him next year, and watch him catch five to ten trout to my one.
I fish with Jack Gregory often and almost everywhere. He always catches five to ten of any species to my one. What's wrong with me? I've been fly fishing over 50 years. I have been tutored by the best fly fishermen and women in the world.
Maybe I don't care. Maybe that is not why I'm there. Maybe I'm there for other reasons. I'm there to relax and enjoy what we have. I'm there to be with friends or my wife. I'm also mesmerized by water and beautiful scenery. It puts me into a very enjoyable and undeniable mental zone, where I like to be. I'm kind of getting there right now, just thinking about it.
Have a great day and thank you for being here with us.
Byron Begley
December 23, 2016
Respond to: Byron@littleriveroutfitters.com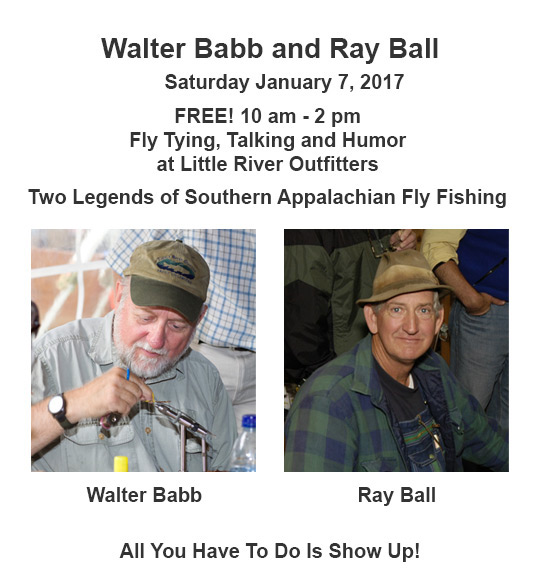 When you talk about true living legends, who gained a reputation by spending their lives fly fishing in the Southern Appalachians, Walter Babb and Ray Ball will come up in the conversation. There are others. Not many.
If you want to meet these guys, you can on January 7th. Maybe you know Walter or Ray or both and want to spend time with them. You can. And, you will probably see other friends of theirs and yours.
Walter will be tying and talking. Ray may be tying, but he will be talking, telling stories and some jokes.
Whatever they do, you will enjoy this day.
This is the kickoff of our 2017 Free Fly Tying Demonstrations that we hold each Saturday during the Winter months. All you have to do is show up at the shop, grab a cup of coffee and pull up a chair. They will be here at 10 am until 2 pm.