If you don't see today's Fishing Report, please refresh your browser to empty your cache.

Welcome to the Fishing Report from Townsend, Tennessee in the Great Smoky Mountains.
It is Christmas Eve. This is the beginning of Hanukkah. The temperature at 5:34 am is 53.4 degrees. That is an interesting set of numbers. It will warm into the high 50's today. The low tonight will be in the low 50's. The high temperature tomorrow will be near 70 degrees.
Rain is on the way and it will continue all day. They say it will rain about a quarter of an inch. This warm air will be with us through Wednesday. More rain is expected Tuesday.
Little River is flowing at 105 cubic feet per second (cfs) or 1.75 feet on the flow gauge. Median flow for this date is 278 cfs. The water temperature is 43.9 degrees this morning.
The warm air and warm rain will raise the water temperatures in the Smokies streams over the next few days. I would not be surprised to see 50-degree water, like we had December 18th. Fishing is going to get much better and possibly very good, all because of the warm water.
Trout will become active and they will be seeking food.
Normally, nymphs work best this time of year. During this period, trout may take dry flies, if aquatic insects are active and on the surface. That may be a long shot but maybe not. Many Americans will be off for a few days. That break could not come at a better time, during the Winter, for fly fishermen, in our area. If you can, take advantage of this warm weather and go fishing.
The shop will be open today from 9:00 am until noon. We have always opened for a short time on Christmas Eve. Visitors have been arriving for the holiday weekend. Sometimes they like to buy last minute gifts and gift cards.
You can order Gift Cards, delivered via e-mail today until noon. The best way to do that today is to call the shop at 865-448-9459 to order. Or you can drop by the shop this morning. After noon today, we will be closed until 9:00 am Monday morning.
I drove home from Townsend yesterday and made my usual turn onto Old Cades Cove Road where we live. About ¼ mile from our private road, cars and trucks were pulled off, onto the grass. Adults and children were looking down a hill into a ravine. Some were pointing. At first I thought there had been an accident. But, everyone was smiling.
It was a bear-jam. I've never seen one on our road. We don't see many tourists where we live. I've seen bears cross the road. We see them at our house often. I could tell the observers were tourists by looking at the license plates on their vehicles.
We think these bears are hibernating. Don't count on that. I move our bird feeders into the back of my SUV every evening, even during the Winter, for that very reason. When Spring comes, the bird feeders are put away until Fall. We had a bird feeder destroyed by a bear just a few weeks ago. If a bear sees a bird feeder, they will tear it down. That has happened at our house, more than once. We lost another two years ago. I actually saw that bear come back and check on the damage the next day. I just happened to be looking outside when he returned. The feeder was just 10 feet from our back door.
We hope you have a very happy holiday weekend with friends and family. We celebrate Christmas at our house. Other people will be celebrating Hanukkah.
God bless you all.
Have a great day and thank you for being here with us. Thank you for supporting us all year and over the past 22 years.
Byron Begley
December 24, 2016
Respond to: Byron@littleriveroutfitters.com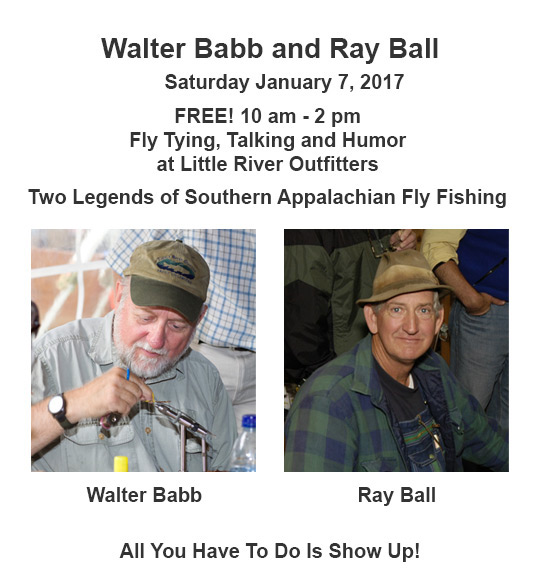 When you talk about true living legends, who gained a reputation by spending their lives fly fishing in the Southern Appalachians, Walter Babb and Ray Ball will come up in the conversation. There are others. Not many.
If you want to meet these guys, you can on January 7th. Maybe you know Walter or Ray or both and want to spend time with them. You can. And, you will probably see other friends of theirs and yours.
Walter will be tying and talking. Ray may be tying, but he will be talking, telling stories and some jokes.
Whatever they do, you will enjoy this day.
This is the kickoff of our 2017 Free Fly Tying Demonstrations that we hold each Saturday during the Winter months. All you have to do is show up at the shop, grab a cup of coffee and pull up a chair. They will be here at 10 am until 2 pm.