If you don't see today's Fishing Report, please refresh your browser to empty your cache.
Welcome to the Fishing Report from Townsend, Tennessee in the Great Smoky Mountains. At 5:59 am, the temperature is 47.7 degrees.
Today will be another nice one, with a high in the mid 60's. The warm air will remain through Thursday. Rain will begin tonight and last through tomorrow. The chance for rain tomorrow is 80%. We appear to be moving into a wet period over the next fifteen days. I see two in the forecast after today, with no rain expected.
Little River is flowing at 109 cubic feet per second (cfs) or 1.77 feet on the flow gauge. Median flow for this date is 305 cfs. The water temperature is 49.3 degrees.
Fishing must have been good this weekend in the Smokies. I can't imagine why it would not have been. The water temperature exceeded 50 degrees yesterday. I worked at the shop Christmas Eve, talking to customers and friends. I met one young man who lives very close to our home.
He and his father are just now getting into fly fishing. He began by fishing for the stockers in Little River recently, since the fall stockings. Then he ventured into the Park. He caught two trout, either Friday or Saturday, on a Parachute Adams. Imagine that.
If you can, go fishing today or this week. You may not get a chance like this for a while. The water temperatures will begin dropping this weekend. So try to go before then. I would use nymphs, at first. Catch a few trout then switch to a dry fly if you want to. Heck, you might do better using a dry. A Parachute Adams sounds like a good choice to me. I would use a small one, probably a #16. You may see some unusual things happening in these rivers this week. You might hook a big brown trout too.
Mother Nature is acting odd this December. Yesterday morning, I heard a wild turkey gobble behind our house. Paula said she heard one too. I could not see him. He was too far back in the woods. But, he was close. Four gobblers were hanging around our house Friday. I saw one "fan" and try to pick a fight with another gobbler. You don't see that often in December. I have never seen that in December and I look at wild turkeys every day. Most days, I see more turkeys than people.
I saw new vegetation sprouts in the woods yesterday. Terrestrial insects have been flying around. I talked to my sister last night. She said wasps have hatched in Kentucky.
A bear had tourists stopped near our house on Old Cades Cove Road Friday. Several vehicles had pulled off the road. The people were all outside, looking down in a ravine, at the confused bear. I've been putting our bird feeders in the back of my Suburban at night. I know those bears are wandering, instead of denning. They are probably males.
To get a better understanding of our town and this valley, read this article on the Daily Times website by CLICKING HERE.
Ronnie Suttles, our Townsend Police Chief is retiring, effective Saturday. When I saw the headlines this morning, my jaw dropped. He has talked about retiring from time to time. He decided, now is the time. Everything you read in the article is true. It tells the story of Ronnie and depicts Townsend as we are, small, peaceful and friendly.
Here, wildlife causes problems that have to be addressed by the police department. But, the wildlife problem is caused by people, who don't understand how to live in a place where there are so many bears. Traffic causes problems during the tourist season. Our town grows by thousands during the peak times. We have a free flowing river running through town. There are river rescues during the tubing months that require action from police and the fire department.
What we don't have much of here is crime, unless you call speeding a crime. I guess it is.
Ronnie has done a great job and he has been a huge influence on our community, in a good way. I won't miss him. I'll probably see and talk to him as often as before, or more. He's a friendly man, and loves to talk to people. He is my friend. I have had his cell number for years, in case I needed him.
We talk mostly about fishing. He will be fishing more. I'll probably go with him now that he will have more time to go. Ronnie loves fishing the lakes for walleye. I'm not very good with a spinning rod, but I'm learning.
I don't know who the City Council will hire to replace him. I hope one of the other officers step up to the plate.
Read that article. It tells a story about him and us.
Have a great day and thank you for being here with us.
Byron Begley
December 26, 2016
Respond to: Byron@littleriveroutfitters.com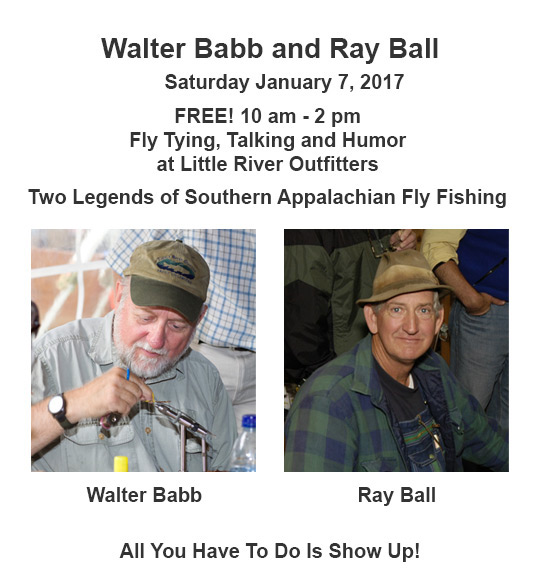 When you talk about true living legends, who gained a reputation by spending their lives fly fishing in the Southern Appalachians, Walter Babb and Ray Ball will come up in the conversation. There are others. Not many.
If you want to meet these guys, you can on January 7th. Maybe you know Walter or Ray or both and want to spend time with them. You can. And, you will probably see other friends of theirs and yours.
Walter will be tying and talking. Ray may be tying, but he will be talking, telling stories and some jokes.
Whatever they do, you will enjoy this day.
This is the kickoff of our 2017 Free Fly Tying Demonstrations that we hold each Saturday during the Winter months. All you have to do is show up at the shop, grab a cup of coffee and pull up a chair. They will be here at 10 am until 2 pm.