Townsend, Tennessee - Fly Fishing in the Great Smoky Mountains National Park, East Tennessee and Western North Carolina

Welcome to the Fishing Report from Townsend, Tennessee in the Great Smoky Mountains. It is another warm morning. At 5:43 am, the temperature is 57.4 degrees. Today's high temperature will be around 74 degrees. It will be cooler this week but still much warmer than normal for the last week of the year.
The ground is saturated. Record rainfall Christmas Day caused flooding in our area, including lower Little River. More rain is expected tomorrow night. Strong winds are likely, with gusts in the mountains up to 60 miles per hour. Officials are concerned in our County and in Great Smoky Mountains National Park.
Little River is flowing at 1,240 cubic feet per second (cfs) or 3.54 feet on the flow gauge. Median flow for this date is 275 cfs. The water temperature is 56.5 degrees this morning.
Little river is flowing high and wading in most spots is not advised. You may find some small streams that are fishable today. If you go, be careful. They are all swift. I don't recommend people fish the Park when the water is this high. You may find areas to fish, but I don't like to be the one to say it is a good idea. I wouldn't go. You may find fishable streams and catch trout. I don't know because I have not fished in the Smokies when the water is this high, in a long time.
The water levels will recede today so tomorrow may be an option. The ground is saturated. The water may recede slowly.
Generation at Norris and Cherokee dams will be sporadic today. Wade fishing for trout may be possible. I don't fish the tailwaters often. If you are experienced on these rivers, check the TVA website and see if the schedules will work for you, especially if you fish from a boat.
The secondary lake levels are higher than TVA likes to see them during the Winter. I think they are letting them rise temporarily, until they can lower the impoundments on the Tennessee River. TVA is generating and spilling at Fort Loudoun Dam, the first impoundment on the Tennessee River.
Today, fishing conditions are not good anywhere in our area, that I can find. It is not fun writing a fishing report with conditions like we have now.
On a positive note, we will end the year with above average rainfall. That will prove to be beneficial in a couple of months when Spring fishing begins. And, for all we know, Spring fishing may begin very early, if this warm weather keeps up. I'm seeing a lot of terrestrial insects around our house right now. I'm been working a lot this Fall and early Winter, so I have not been fishing at all.
I spent 10 hours processing and sizing photographs of flies and writing this report yesterday. I'll be doing that again today. I have somewhere between 200 and 300 photographs to work through and more to take. Our fly photography has improved over the years. Now, we use studio lighting and a DSLR with a macro lens. When I take a photograph, the lens is about 5 inches from the fly.

Below is an example of a Royal Trude. I had to reduce it by 66% to fit it on this page. Imagine what the original looks like. All of these photographs will appear on our new online store. Dan and Daniel are working on this new store and they hope to have it finished by March. With three of us working on it at once, I think it may be possible.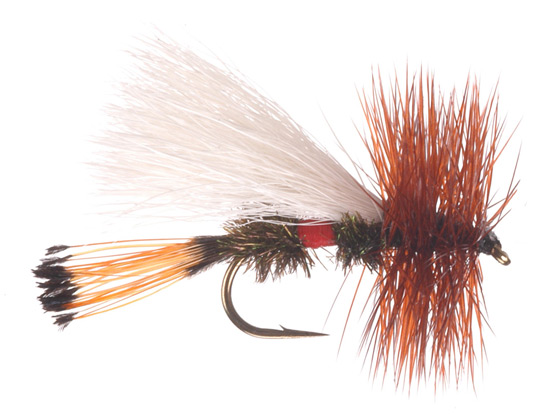 This Winter, as usual, we will be concentrating on fly tying.
First, we will be offering the new Free Fly Tying classes. These classes are taught by Dan Munger. They are an introduction to fly tying and last about 2 hours. We provide the materials and tools. All you have to do is make a reservation and show up. You can read more and see the schedule by CLICKING HERE. I suspect, due to popular demand, we will be offering more of these, than you see on the schedule, this Winter.
On Saturdays, we will hold Free Fly Tying Demonstrations, like we do every Winter. Some days there will be two fly tyers demonstrating. Other days there will be one. All you do is show up, between 10 am and 2 pm. It's a lot of fun and you will learn a lot about fly fishing, even if you don't tie flies. This is a great way to spend a Saturday during the Winter. We have not listed the dates and fly tyers on our website but that will be done soon.
Then, if you really want to jump in, we offer several all-day fly tying classes taught by Walter Babb and Brian Courtney. The cost for a full day class won't break the bank. You will be taught to tie trout flies by experts. Walter and Brian teach Beginner, Intermediate and Advanced trout tying classes. Take all three, and by Spring, you will be an accomplished fly tyer. You will have to practice at home. You can read more about these classes by CLICKING HERE. We supply the tools and materials. We also provide catered lunches.
So, if you are interested in fly tying, we've got a lot of options for you this Winter.
Winter is a fun time at Little River Outfitters, especially on the weekends. It's not so much fun when snow is blowing sideways and the roads are slick. We get a lot of website work done, but don't see many customers when that happens. Maybe that won't happen this year. That sound you hear is me, knocking on wood.
Have a great day and thank you for being here with us.
Byron Begley
December 27, 2015