If you don't see today's Fishing Report, please refresh your browser to empty your cache.
Welcome to the Fishing Report from Townsend, Tennessee in the Great Smoky Mountains. At 5:27 am, the temperature is 38.3 degrees.
Today will be sunny with a high in the mid-50's. We have an 80% chance for rain tonight. ¼" to ½" is possible. Thursday will be cooler, at about 50 degrees. Rain will linger through the morning. It is going to be much colder Thursday night through the weekend. More rain is expected Saturday night and Sunday.
We got .57" of rain in Townsend yesterday. The Knoxville Airport reported .33".
Little River is flowing at 156 cubic feet per second (cfs) or 1.96 feet on the flow gauge. Median flow for this date is 314 cfs. The water temperature is 50.2 degrees this morning.
Fishing will remain pretty good today and tomorrow. Colder air will drop the water temperatures beginning tomorrow night. Fishing will slow some by the weekend. It may slow a lot. That all depends on the water temperatures. When the water temperature drops to 40 degrees, fishing will be slow.
I would start today with nymphs. Add some weight and get them down. Most reasonable patterns will work. Try a Pheasant Tail, Hare's Ear, Prince or a rubber legged version of either. Squirmy Wormies are working right now. They always seem to be working.
Dry flies may produce. I would use a small #16 Parachute Adams or a Blue Wing Olive pattern. You never know, give them a try.
I went to the shop yesterday for a while and browsed through the fly tying department. The guys are doing a great job getting that department in good shape for the fly tying season. The materials have been re-arranged. The arrangement makes sense. I liked it. The store was busy.
If you want to get yourself or someone else interested in fishing, go to the Takemefishing.org website. There, a beginner can learn about all types of fishing and boating. CLICK HERE to visit the site and go from there. Experienced anglers and boaters will enjoy this website. You can always learn more.
Yesterday, I talked about a private airplane, that lost contact with the Gatlinburg – Pigeon Forge Airport traffic controllers Monday afternoon. The plane was flying over Great Smoky Mountains National Park with three people on board. At the time I wrote this report, the fate of these people was not known.
Yesterday was foggy and raining until late in the afternoon. Aircraft could not be used to search for the plane and its passengers. Ground crews searched, but could not find any evidence of a crash. Late yesterday, an Army helicopter found the plane in the Park. Paramedics were lowered to the crash site from the helicopter. They found all three people had died in the crash. One was an 8-year old boy. That was awful news. You can read the story on the WBIR website by CLICKING HERE. The victims will be recovered today. So sad.
I saw the schedule yesterday, for our Free Saturday Fly Tying Demonstrations to be held next year. This is going to be a fun winter at the shop. When the guys at the shop send me the list, I'll post it on our website. The first will be held January 7th, and feature Walter Babb and Ray Ball. You don't want to miss that one. They will be at the shop between 10 am and 2 pm. Just come by and enjoy the day. It's Free!
Have a great day and thank you for being here with us.
Byron Begley
December 28, 2016
Respond to: Byron@littleriveroutfitters.com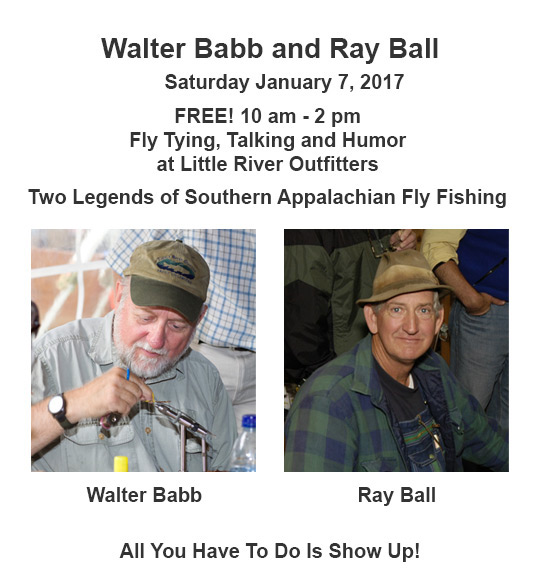 When you talk about true living legends, who gained a reputation by spending their lives fly fishing in the Southern Appalachians, Walter Babb and Ray Ball will come up in the conversation. There are others. Not many.
If you want to meet these guys, you can on January 7th. Maybe you know Walter or Ray or both and want to spend time with them. You can. And, you will probably see other friends of theirs and yours.
Walter will be tying and talking. Ray may be tying, but he will be talking, telling stories and some jokes.
Whatever they do, you will enjoy this day.
This is the kickoff of our 2017 Free Fly Tying Demonstrations that we hold each Saturday during the Winter months. All you have to do is show up at the shop, grab a cup of coffee and pull up a chair. They will be here at 10 am until 2 pm.