Townsend, Tennessee - Fly Fishing in the Great Smoky Mountains National Park, East Tennessee and Western North Carolina

Welcome to the Fishing Report from the Great Smoky Mountains. It is 46 degrees outside at 6:07 am. This is the last day of really warm temperatures in the Smokies. We may see rain this morning. It will be cool tonight. We'll start cooling off more tomorrow. Through Friday, expect highs in the 40's and lows in the 20's.
The forecast for the higher elevations is of course colder. It may snow in the mountains Thursday night and Friday. Expect highs in the 30's up there later this week.
The water temperature in Little River is almost 50 degrees. That is a special number for anglers. The trout will be active. That won't last too long and the water will cool later this week. Today would be a good day to go fishing.
Little River is flowing at 331 cubic feet per second (cfs) or 2.25 feet on the gauge. Median flow for this date is 317 cfs. The water temperature at 6:07 am is 49.5 degrees.
If you go today, take a rain jacket and fish with nymphs. You may also see some surface activity. Trout may be feeding on Blue Wing Olives, midges or other aquatic insects. Last night, I saw terrestrials flying around the outside lights.
Townsend will be somewhat busy this week. It's another holiday. Cabin rental companies will have a good week. People love to rent cabins and spend the New Year holiday in the mountains. We will be with our closest friends this week, at our house. I love the New Year. Every day we are one day closer to Spring fishing.
I'm tying Knuckleheads as samples to send to a fly tying factory in Shri Lanka. I'm taking notes, measuring components to the 1/16th of an inch, and counting fibers. Since we are having our black and chartreuse Knuckleheads tied overseas, I'll construct at least 2 dozen of each and select the best 6 of each to send as samples. I want this done right. We should have these flies in the store to sell by April 1st. Those professional tyers are much better than I am.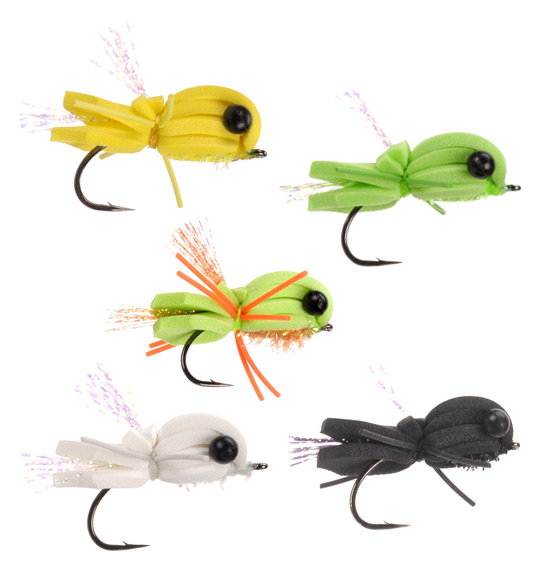 See the fly in the middle with 8 orange legs. Eight legs don't work. The fly spins even on 8 pound tippet when you cast. The files with 4 legs don't spin.

The Knucklehead has proven, since 2011, to be an excellent smallmouth bass, largemouth bass, bluegill, shellcracker and rock bass fly. I've even caught trout on them. Other people have caught trout on them. I've been tying flies for over 50 years and this is the first one I actually developed and designed myself. That took a lot of time and trips to the river after work to see how the prototypes floated and drifted in the stream. I did drop tests into a pan of water, hundreds of tests. I wanted to see how often they landed upside down. Some of the prototypes landed upside down too often. Changes were made.
At first, I secured the eyes in the foam using super glue. The Mono Eyes are connected to each other by a nylon stem. The super glue caused the stem to be brittle and it broke a few times. The eyes fell out. I stopped using the glue. It wasn't needed anyway. No more stem breakage.

You would think, those big mono eyes would cause the fly to sink. They don't. Mono eyes float. I left some in a glass of water for several days. They never sank.
The wing makes it easy for the fisherman to see the fly. At first I made the wings longer. Over time, I found that wind would blow the fly over on it's side. I shortened the wing and that problem was solved.
We've sold several hundred and customer feedback has been excellent. These flies will probably be sold in other fly shops too. I may tie them in yellow this year to sell at our shop. For some reason, yellow Knuckleheads proved to be a great fly for smallmouth bass on the Holston River this year one day. Those bass were all over them that day. They wanted yellow. I think yellow will be popular but we're not ready to place big orders for that color yet. We will wait one more year. These flies will be sold to us and other shops by Holly Flies, a manufacturer in Pennsylvania. They are one of our larger suppliers of flies.
Holly Flies came up with our best selling dry fly, the Yellow Neversink Caddis. This is a caddis imitation with a yellow foam wing or body. It works so well in the Smokies, because it also resembles the Yellow Sally Stonefly. There is no telling how many thousands of these we have sold over the years. They keep on working and we keep on selling them.
When we recommend a fly, it better work. Our reputation is on the line. We want our customers to catch fish.
The Green and Pink Weenies are also highly recommended by us, especially during the warm months. I know people who use them year-round. It is a simple fly to tie and trout eat them up. Ours are tied locally, in Tennessee. The Green Weenie is the first fly we teach beginner fly tying students to tie.
There are no new news releases from the National Park, not one since December 12th. Still no word on the opening of Lynn Camp Prong. Maybe today will be the day.
I'll be at the shop today doing bookkeeping chores. Then, I'll probably go home and tie more Knucklehead samples.
Have a great day and thank you for being here with us.
Byron Begley
December 29, 2014