If you don't see today's Fishing Report, please refresh your browser to empty your cache.
Welcome to the Fishing Report from Townsend, Tennessee in the Great Smoky Mountains. At 6:22 am, the temperature is 32.9 degrees.
It is going to be much cooler today with a high in the low 40's and a low tonight in the 20's. Tomorrow will warm some, with rain beginning later in the day. Rain is expected Sunday through next Friday and it will be warm again through Wednesday. Then, it will be cold again. The first week of 2017 will be wet. It may snow next week, Thursday and Friday. One weather website predicts several inches of snow during those two days. That could change of course.
Little River is flowing at 146 cubic feet per second (cfs) or 1.92 feet on the flow gauge. Median flow for the date is 290 cfs. The water temperature is 43.3 degrees this morning.
Fishing will be slower today and tomorrow due to lower water temperatures. You may catch trout. I just won't be great fishing. Fishing should improve early next week as the water warms.
We will have visitors this weekend in Townsend. There will be more traffic than usual this time of year, but our New Year holidays are pretty quiet in town. You will not find bars and night clubs with live music in Townsend. Most New Year parties are small and held in rental cabins, with a handful of close friends and family.
There will be visitors who are relaxing, sightseeing, hiking and fishing. Townsend is a great place to do that.
We will be open New Years Eve, but closed January 1st.
Our store stays open all winter. Some businesses here, close for two or three months. Maybe, closing during the off season is a good way for a business to cut its losses. I don't know. We have never tried it. I've never thought about doing it.

We stay open, hold on, and hope for an early spring. That has been our MO for over 20 years. I can't imagine us not being there for a customer, though there may be only a handful on some days during the off season. If the weather is bad, there may be none.
We do get things done. We are preparing for Spring. Winter is a busy time for me. I can always find plenty to do. My list is a mile long right now. I am really looking forward to January through March. I am preparing and expecting a big year for Little River Outfitters, in 2017.
The guys at the shop are thinking the same thing. Daniel and Paul tell me they have set high goals for next year. David has high goals too. I know his is thinking about schools and events. They need January and February to prepare, just like I do.
If you don't have a goal and and plan, you won't get there. I learned that a long time ago. In business, you can't just sit there and wait for things to happen. They won't.
Have a great day and thank you for being here with us.
Byron Begley
December 30, 2016
Respond to: Byron@littleriveroutfitters.com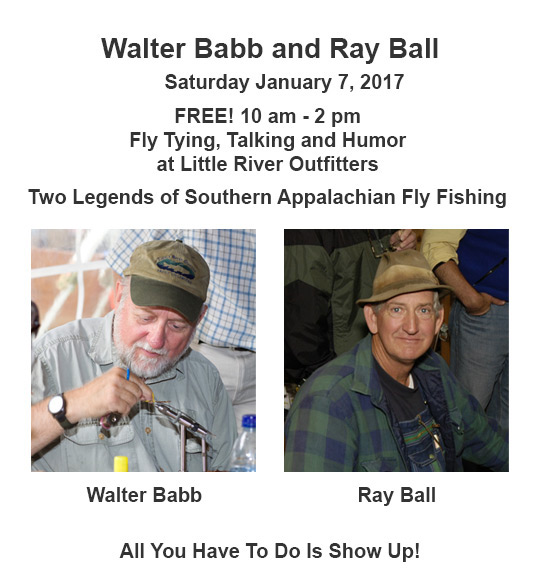 When you talk about true living legends, who gained a reputation by spending their lives fly fishing in the Southern Appalachians, Walter Babb and Ray Ball will come up in the conversation. There are others. Not many.
If you want to meet these guys, you can on January 7th. Maybe you know Walter or Ray or both and want to spend time with them. You can. And, you will probably see other friends of theirs and yours.
Walter will be tying and talking. Ray may be tying, but he will be talking, telling stories and some jokes.
Whatever they do, you will enjoy this day.
This is the kickoff of our 2017 Free Fly Tying Demonstrations that we hold each Saturday during the Winter months. All you have to do is show up at the shop, grab a cup of coffee and pull up a chair. They will be here at 10 am until 2 pm.