If you don't see today's Fishing Report, please refresh your browser to empty your cache.
Welcome to the Fishing Report from Townsend, Tennessee in the Great Smoky Mountains. It is New Years Eve...the last day to hit the stream and catch the last trout of 2016. This year seems like it has flown by too quickly. Many things have gone on from great fishing to drought to forest fires. We have had a good year and are looking forward to an even better one next year.
This morning it is 32 F right now in Townsend. The high is going to be in the mid 40's. Rain is coming later today and over the next several days. The lows for the next few days is only going to be in the 50's which means water temperatures will rise and fishing will get much better.
Current gauge readings for Little River are 1.85 feet or 129 c.f.s. The normal flow for this date is 299 c.f.s. Water temperature is down to a chilly 38.7F.
Fishing will be slow today due to cold water temperatures. The best time to be out will be from around 11am till 2pm. The warmest part of the day is the time to be on the stream. Nymphs with plenty of weight fished slow along the bottom would be my choice.
Squirmy worms continue to produce fish. All the classics, Tellico Nymph, Prince Nymph, Pheasant tails, etc are all good choices also. Don't forget to try some larger stonefly nymphs like the Pat's Rubberlegs.
Our Free Fly Tying Demos will begin next weekend. Walter Babb and Ray Ball will be here. They are both llving legends of fly fishing. In fact both are on the list of possible inductees to the Southern Trout "Legends of the Fly" Hall of Fame. You can vote for them at this link. Everyone on the list is deserving so it is hard to only choose 6 to vote for.
2017 is going to be a great year here at Little River Outfitters. We are going offer some more and different classes. There will be more of the popular Nymphing Tactics class. Also, Brad Cook is available to do an Aquatic Entomology for Anglers on June 10. We will be offering Free Fly Fishing and Fly Tying 101 introductory classes. In November, Fly Tyers Weekend will be back.
We are going to keep making the Shop better to. I'm stocking up the fly tying department right now. It might not seem like much but we are waiting on something that will make mailordering fly tying materials easier and better. We ordered a cordless phone system. The new phones will allow us to be looking at the wall to let you know what is in stock and colors that are available right when you are on the phone. I know Paul is going to be happy about less trips up and down the stairs.
There is some new items we are excited about too. Chota's new Hybrid 14 and Hybrid 15 wet wading boots are great items and I know are going to be good sellers. They look perfect for wet wading adventures in the mountains and elsewhere. Korkers new Hatchback boot is going to make putting wading boots on so much easier for those that have a hard time bending down to tighten laces.
New fishing accessories and gadgets that have come in are the AirLock strike indicators, Smith Creek Products and the Three-in-one Threader/Knot tyer (if you haven't seen this...you need it). Oh...almost forgot about the Sunday Afternoons hats. They are fantastic hats. Felt fedora hats and also ventilated wide brim fishing hats. They look great, feel great and are only $50.
If you have suggestions for us.....tying materials...gear....classes....give me a call 865-448-9459 or send an email info@littleriveroutfitters.com We want to make the Shop better for you....cause you all are why we are here.
We really appreciate ALL of you our great customers. Have a great day and thank you for being here with us this year and next!
Daniel Drake
December 31, 2016
Respond to: Byron@littleriveroutfitters.com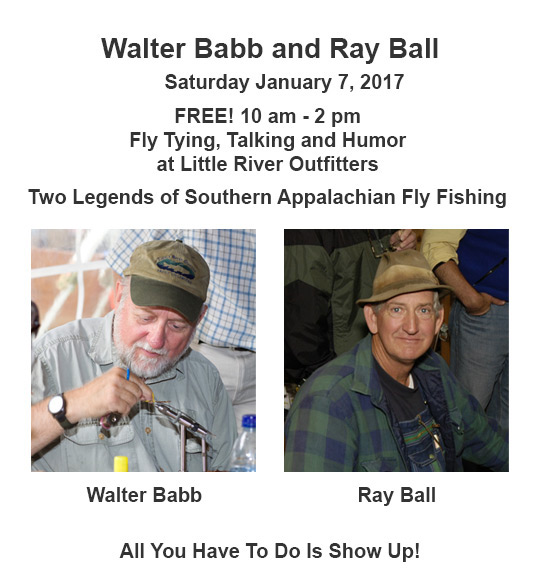 When you talk about true living legends, who gained a reputation by spending their lives fly fishing in the Southern Appalachians, Walter Babb and Ray Ball will come up in the conversation. There are others. Not many.
If you want to meet these guys, you can on January 7th. Maybe you know Walter or Ray or both and want to spend time with them. You can. And, you will probably see other friends of theirs and yours.
Walter will be tying and talking. Ray may be tying, but he will be talking, telling stories and some jokes.
Whatever they do, you will enjoy this day.
This is the kickoff of our 2017 Free Fly Tying Demonstrations that we hold each Saturday during the Winter months. All you have to do is show up at the shop, grab a cup of coffee and pull up a chair. They will be here at 10 am until 2 pm.