Last weekend my nephew and I went to Deep Creek to fish. The water was low and clear. We got there early at day light. We walked up the creek about a mile before we started fishing. We caught several small fish. The total was 15 fish we caught before dinner. The water temp started to rise so we quit fishing. I really liked this creek. Deep Creek has some really nice holes. It also has real good runs and some white water to fish.
We caught 9 rainbows and browns. The rainbows were caught on #8 male adams and #8 yellow plamers. and green body flies. The browns were caught on #6 crow flies with a peacock body with some weight. Most of the rainbows were 6 to 9 inches long. My Nephew caught a rainbow that was 10 inches. The fly he used to catch this fish was a green body fly with a black hackel on a #8 hook. The largest rainbow of the day. The browns were in the 8 to 10 inch range. I caught one brown that was 11.5 inches.
We didnot see any other people fishing but on the way out we did run in to a lot of tubers. Man, I thought that I was at Splash Country. I have never seen so many people on one creek before. People were waiting in line just to get in the water to start their ride down the creek. It was a mind boggling experience. I understand why every one told me to walk in a mile or so before I started fishing. I thank you for the info. But in fairness these people have a right to enjoy the creek too.
I hope to return in the fall to fish this creek. Hopefully the conditions will be better. We took a few pics with a camera phone. (Not the best quality) Enjoy.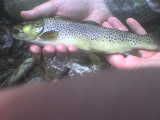 Bill