Left the house at 5:00 a.m. with my buddy Jim. Our intentions were to hit a small stream for rainbows and browns. We were in the water by 7:00. However, we were disappointed to see the just how low the water was since our last trip 2 weeks ago. After spending about 2 hours at our original destination catching one rainbow and spooking at least 30 fish we decided the low water just wasn't worth it. We either needed to find a little better water somewhere else or call it a day. Jim had never caught a N.C. brookie, so I decided we would head out to a small stream that doesn't get fished much. I figured the water there would be equally as low, but it might be a little easier to get a few brookies. When we got to our next destination, the water was also very low, but still very cool. I don't carry a thermometer but I can't imagine this water was over 60 degrees. Jim tied on a small EHC and immediately started getting bites, which made me switch from my nymph to a EHC as well and I started having more success as well. Even the brookies were more spooky than I have ever seen them, but we managed to catch a few. All the fish we landed were small, but Jim missed one on the EHC that was in the 7-8" range. At the end of the day I tied on a Helgramite, added some split shot and tossed it in at the base of a little water fall that was probably 6-7' deep. I got a bite, set the hook and pulled a brookie up to the surface that I'm confident was 10", but he flipped off before I could get him in the net. It was the biggest brookie I have ever seen. It was a great day, with a few fish caught, but I wouldn't classify the fishing as excellent right now, just average in my mind. Enjoy the pictures.
Jim's bow at our first destination.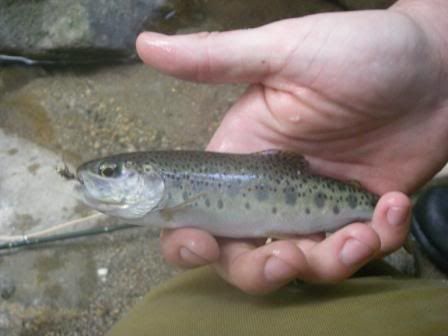 A few of the brookies we caught.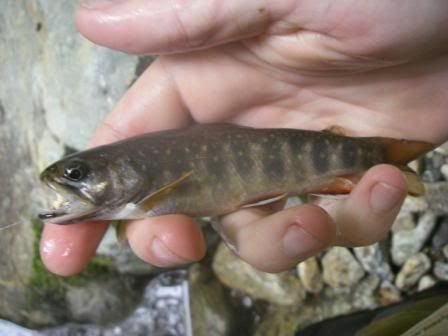 As usual, Jim stalks a little hole in his Business Cas. attire. Unfortunately the fish just didn't respond to it today the same way they have in the past.
Hopefully we'll get some rain soon. If things continue like this I can't imagine what will be left of these streams in August. It was still a great day on the water. Jim has now completed the N.C. slam, just not in the same day.
Matt