Deiccded to try one of my favorite wild trout streams in the Pisgah National Forest Saturday. I was relieved to find when I arrived around 1130 that noone was in the water. The fishing was excellent. Stayed in from 12-530 and brought probably 40 fish to hand. I caugth several 9 inch rainbows and one brown that was close to 10. The guy i was fishng with caught this pretty guy who was somewhere in the 12 inch range.
My fly of choice happened to be a Wulff tied with a yellow band and a yellow orange hackle. They couldn't resist it. Sunday I decided to venture to one of my favorite streams in the park. One other man was fishing and that wass to be seen......for a few hours... This had to be one of the best days I have ever had in the park. To not catch the full out evening hatch I was tickled to death with the size and quantity. I landed around 25 fsih and almost all of the m were 7+ The only exceptions being the first fish I caugth which was a 4 inch speck and the last one that was 6.5 inch bow. I was using the same yellow Wulff with a #12 BHPT as a dropper. Unfortunately I left my memory card in my tower and all i uold take was 10 pictures that my camera would hold internally.Here is a brown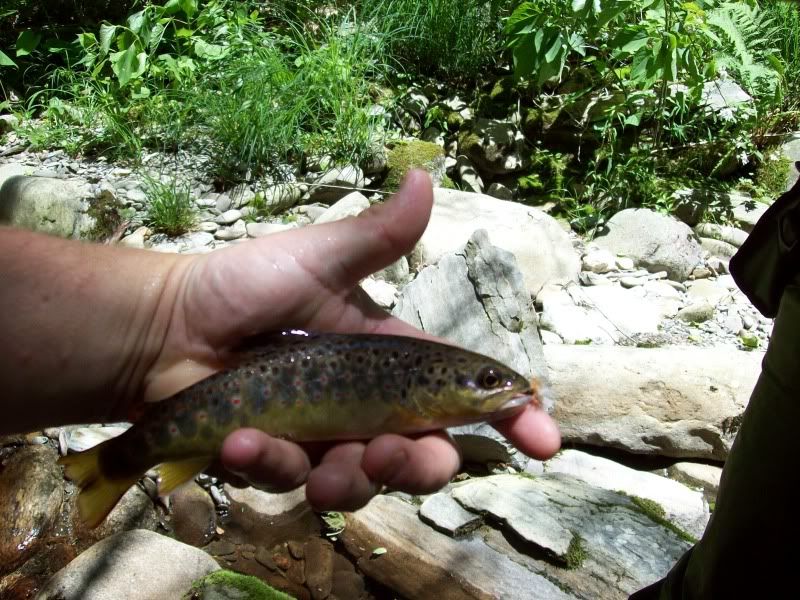 here is a better brown.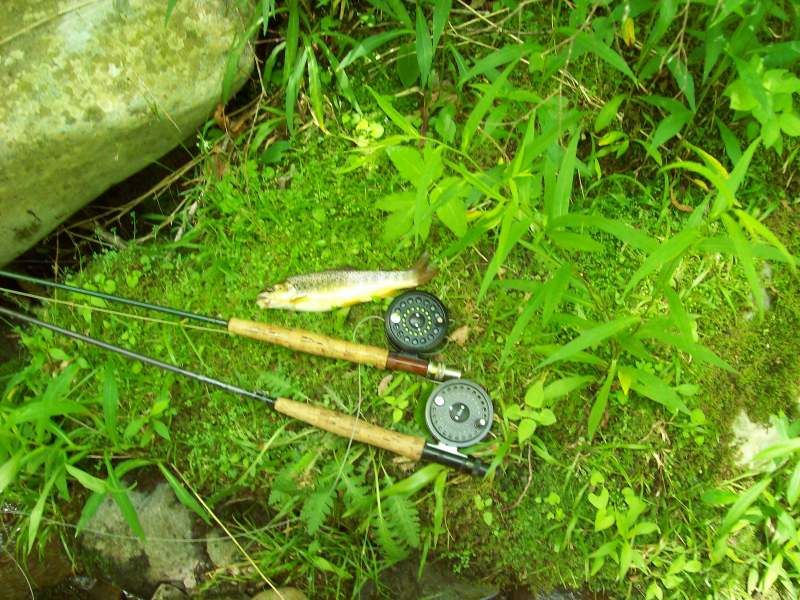 It seemed that every hole the BHPT landed in a 10 inch rainbow swallowed it. I broke off on a fish that I never saw, but he felt great and probably will be thrown at tomorrow
I ended up with the biggest fish of the day being a rainbow a little better than 11.Here he is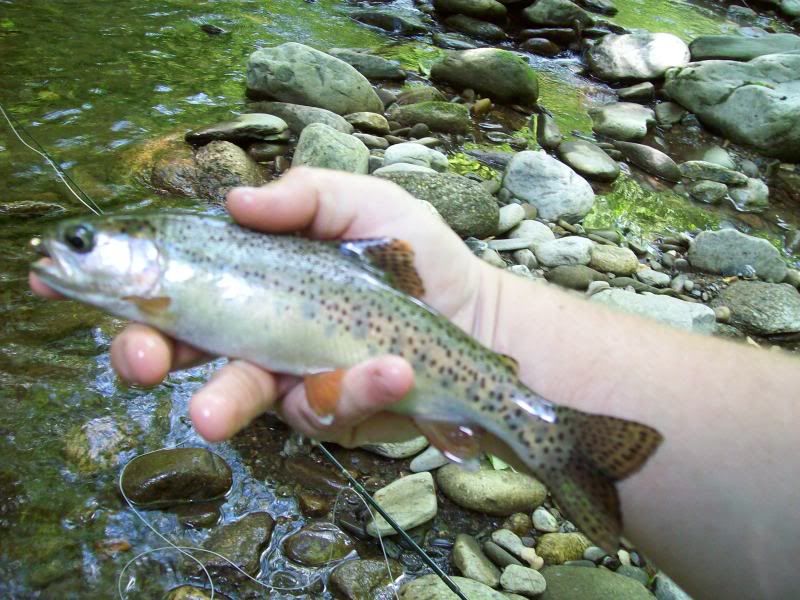 Several browns were close on hi heels. But, back t the crowds hitting the creek. We fished our way up to a pulloff and saw what looked to be a man and woman breaking down camp. My partner told me to stop fishing all of a sudden and I was wondering why. I looked upstream and 40 yards ahead of me on the same side of the creek was a bear making his way down to the coolers and stufff the man and woman had sitting there. The guy, who had been at his car came walking back down to get another arm load and I tried top stop him but he couldnt hear me over the creek. He came on over to me and m firend and informed us tat he and his girlfriend had to go stay at a motel because a mother bear and cub were in their things the night before. upon doing this, I let him know one had returned. He grabbed a coller and got it over towards his car. meanwhile, the bear stopped around 60 feet and was winding, I assume, the coolers, but keeping his eyes on us. He told his girlfiriend and she came over to see the bear....brilliant...she then decided it was still okay to wash her pan in the creek and while she was doing that another bear popped out on the riacks about 50 yards upstream. At this piont, i was a little freaked out to be honest, and started yelling at the bears. The one in the back started moving down the creek towards us and I decded right there that these people being idiots was not going to get me mauled. I made my way to the road and safely got them and their coolers between me and the bears. All in all it was an eventful day but it was an experience I won't forget. It just drives me crazy how ignorant people can be. These people were planning on camping on a rocky beach fof a big logjam hole right on the creek. I don't understand how many people lack common sense. But back to the grind, typing this report out has made me decide to catch this evening's hatch Another report will follow tonight