Then, after a while, the sun was in my eyes, for I was driving west. So I pulled the sun screen down and squinted and put the throttle to the floor. And kept on moving west. For West is where we all plan to go some day. It is where you go when the land gives out and the oldfield pines encroach. It is where you go when you get the letter saying: Flee, all is discovered. It is where you go when you look down at the blade in your hand and see the blood on it. It is where you go when you are told that you are a bubble on the tide of empire. It is where you go when you that thar's gold in them-thar hills. It is where you go to grow up with the country. It is where you go to spend your old age. Or it is just where you go. It was just where I went.
Jack Burden,
All the King's Men
I have the habit of watching YouTube clips when I'm bored. Mostly, I like to watch old commercials, tv programs, etc - I guess like most people, I have a sense of nostalgia, a longing for the simpler times of youth. I was doing just that when, for whatever reason, I started watching
Gunsmoke
clips. I had forgotten just what a great show it was, and as I watched Matt Dillon clean up Dodge City, an notion was planted:
I must go West
. I felt this incredible pull to head out there - unfortunately I had two problems. I was committed to coaching an indoor soccer team for most of the Summer, and my girls informed me that they didn't want to go to ANY mountains this year - they wanted the beach. Still, the compulsion to head toward the setting sun remained. Fortunately, some brief windows of time opened up, just before the kids had to go back to school (8 August - that's almost criminal, but that's another topic). I had just enough time to bring the girls to Panama City Beach for a few days - not my first choice for a vacation, but I had a good time with them, and more importantly, they had a good time. I also had JUST enough time to squeeze in a trip for myself, before school started. So, a few days after coming back from the Emerald Coast, with some of that sugar-white sand still shifting around in my shoes, and with the last indoor game completed (with a victory!), I pointed the car west on I-12, and started to satisfy the compulsion.
I got off to a bit of a later start than I had hoped, which made the first goal that much more pressing - get past the Dallas "Metroplex" before morning drive time. I made it to I635 by 4AM; an hour later, and I would have been battling traffic with no benefit of sleep.
I snatched an hour or so of shuteye on the way to Wichita Falls, enough to refresh me. I stopped at a few other rest stops along US 287. I found the informational signs to be very interesting:
I also found the scenery, the endless sea of grass extending to the horizon, to be liberating; without trees or other objects to frame the view, the sense of perspective is delightfully warped:
I finally left the Lone Star state, and crossed into New Mexico. My original plan was to fish some of the streams in the Pecos area, for one of my goals was to catch some examples of both Rio Grande and Greenback Cutthroats, and it looked like the best opportunity for the former was in that area. However, as July dragged on, the Santa Fe National Forest remained closed, due to the many wildfires. I was forced to modify my plans, and by the time the all clear was posted for the forest, it wasn't practical to modify my route again. So, I headed to Raton.
This picture doesn't quite capture just how violent a thunderstorm lay directly in my path. The local radio station was issuing countless flash flood warnings, and they did not exaggerate; as I crossed Raton Pass on I25, I saw tremendous chutes of mud and water cascade down the slopes scarred by the recent Track wildfire. I had a death grip on the wheel until I started descending toward Trinidad, Colorado, and the rain tapered off. It was quite a welcome to a state new to me.
I stopped in Walsenburg to get a license, then headed through LaVeta Pass to the San Luis Valley: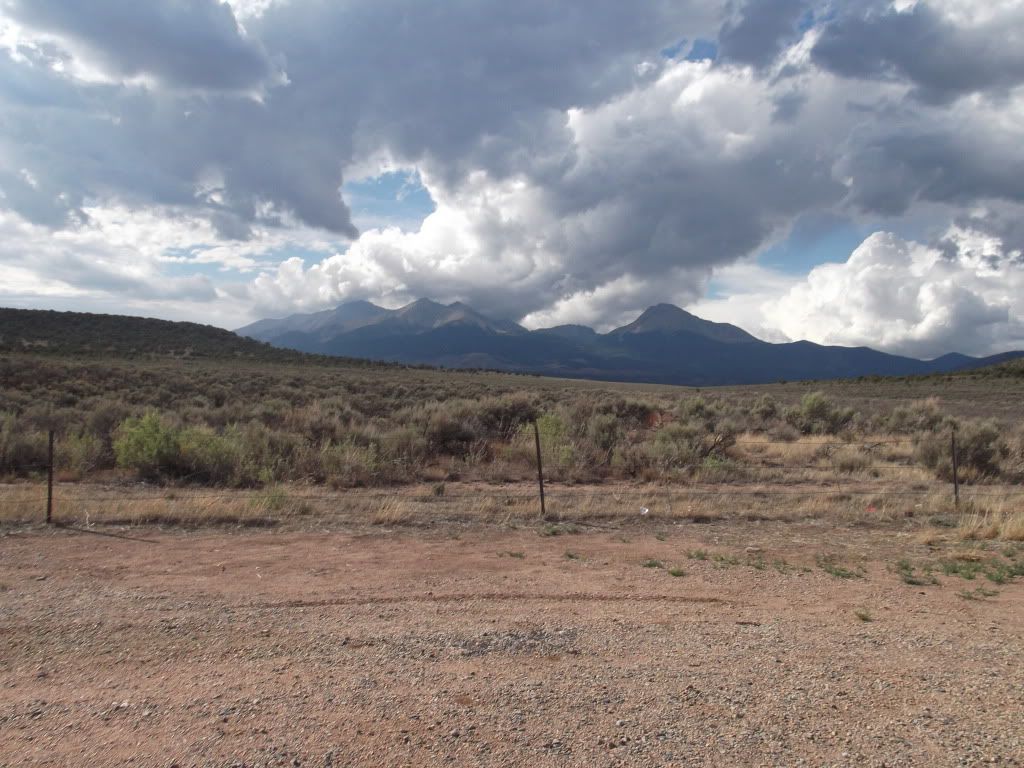 My goal for the evening was a small stream outside of Del Norte, Colorado. From looking at the topographical maps of the area, it didn't look like much, but it was listed in one of the conservation studies as a core conservation stream for the Rios. Unfortunately, I got there with only about an hour of daylight left, and I inadvertently wasted some more time by going up the wrong branch of the stream for a bit. I ended up in a meadow area, where I drew exactly one strike, which I promptly missed.
The fishing part of the trip wasn't off to a promising start. To be fair, I would imagine this stream would improve the higher I went, but I just didn't have the luxury of time to explore it more - the Weminuche Wilderness beckoned on the new day. I trudged back to the trailhead and stretched out in the back seat - one day complete, with the next promising to be better.
Continued in Part II