As I headed down from the trailhead, the first rays of the new day peeked over the looming wall of the Sangre de Cristo range across the valley:
I headed through Del Norte, then South Pass, where I turned on Colorado 149 - the Silver Thread highway:
I was heading to the area above the Rio Grande Reservoir, about 10 miles from the headwaters of that fabled stream. Specifically, I was headed for the trailhead of the Ute Creek Trail in the Weminuche Wilderness. I had done some online research on this area, and it seemed promising, especially for someone like me who was searching for some isolation from everyone and everything, even if it was to be for a brief time:
The trail required an immediate crossing of
Rio Bravo Del Norte
...I'm glad I brought my felts along with the hiking boots: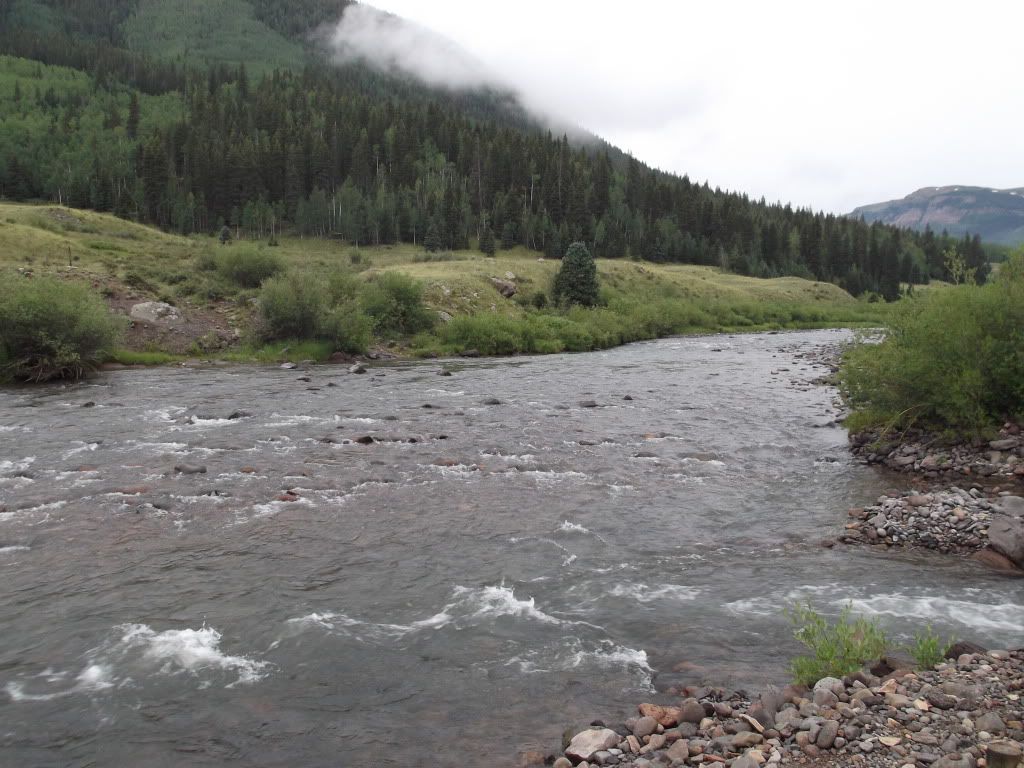 As I moved up the trail, I realized I was probably over-packed. After a while, my shoulders were threatening the rest of me with abuse charges. I did make it a fair ways up the trail, and when a promising flat area loomed off to the left, I declared myself home. I set up the tent and hung my bag of food well away. I was just about ready to get rigged up for some dry fly action when the thunder started. The monsoon season was well underway, so this wasn't unexpected. I retired to the tent to wait it out...no rain, and the thunder died away. So, I was up and about again, but not for long - the thunder returned with a vengeance, and this time with liquid accompaniment. I huddled under a dense grove of trees by a small feeder stream until it let up.
This feeder stream gave me an idea; at this point, Ute Creek could be heard but not seen - it was at least 300ft below me in a steep canyon. This little tributary might flatten out the path down there, enough so I could fish the canyon, where the trout no doubt had seldom seen an artificial fly. After 45 minutes of bushwacking, I came to a waterfall with about at 75 foot drop, and declared
no mas
. I took this as an omen: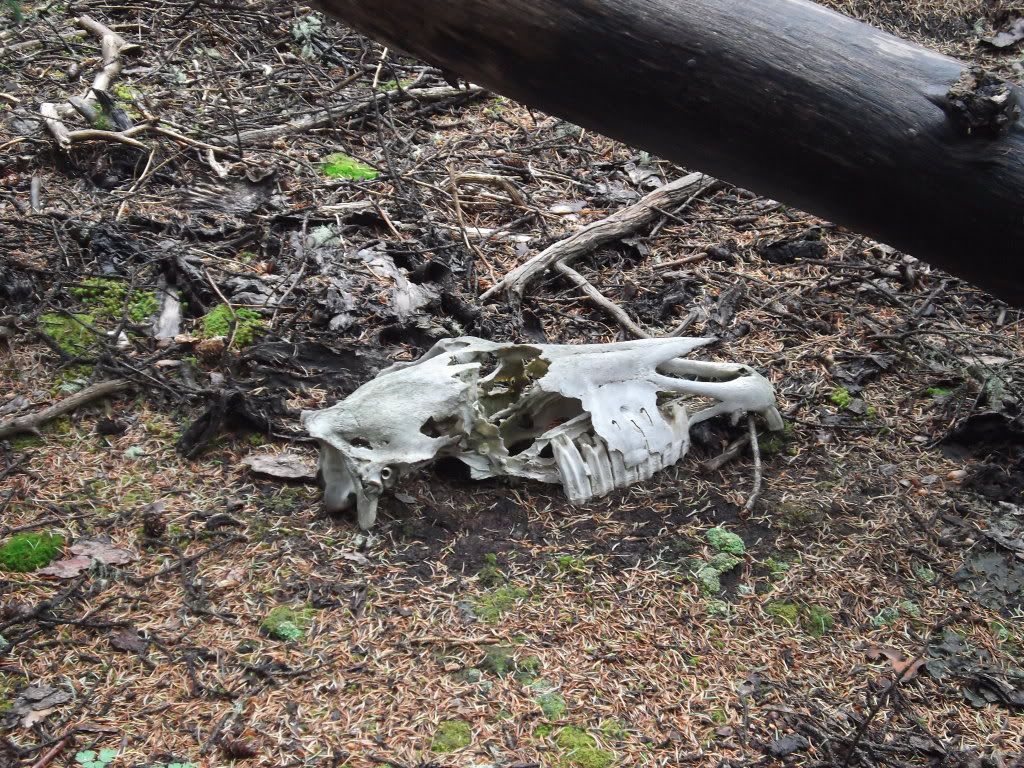 I was cold, wet, and discouraged, but not defeated; I knew the trail and stream bed met and flattened out up ahead, and indeed it did:
I was finally fishing, and within 3 casts, had this little fellow on the line: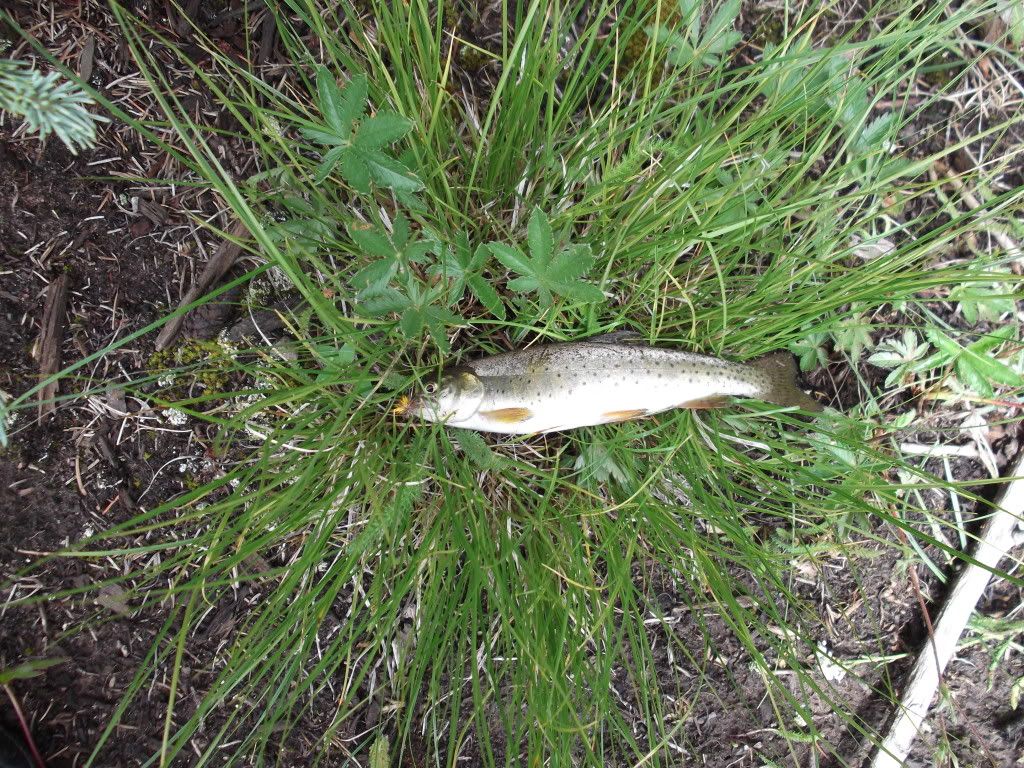 It was a hybrid of several cutthroat subspecies, with probably a little rainbow thrown in for good measure. Little did I know that this one, and one other, was to be the only representatives of his species that I would bring to hand - in between were some 25 brook trout, most of decent size and some a little beyond that:
At the time, this was the largest brookie I had ever caught - easily 12 inches. The record lasted about 90 minutes. I had one come completely clear of the water, smash my Mr Rapidan dry, then use every bit of the strong current for resistance. He was every bit of 14 inches, and even had a hint of kype in the jaw - quite a contrast to the 7 inch specs I'm used to from Cosby.
At this point, I was completely exhausted, darkness was approaching rapidly, and I was three miles from camp, so I trudged back. I was so tired I didn't even feel like eating - I was asleep within minutes.
The next day, I decided to break camp and head for a new location - while I enjoyed catching those brookies, I didn't drive 1200 miles to catch transplants - I wanted true natives, and that meant cutthroats. I wanted a crack at some Greenback cutthroats, and I knew were some where - just outside of Leadville. That was a bit of a drive, so I packed up and headed back to the trailhead. Within a few hours, I was back on the road. I ended up crossing the Continental Divide twice that day - the first time afforded this view of the Uncompaghre Wilderness outside of Lake City:
Along the way, I passed the Collegiate Peaks, and Mt Massive:
Continued in Part III