Wapsi makes a clear tubing material that's very similar to the beading stretch tubing material, although the Wapsi material isn't quite as colorful and certainly isn't "neon". The bright "neon" material has gotten harder to find at Hobby Lobby. You can get the clear material at Wally World in white and clear and in .5 mm and 1 mm diameter. Look in the beading section and look under the cording materials display and you will find cards with multiple diameters and colors on them. In general, the bright and colorful material is getting harder to find at the craft stores.
The following were tied with clear stretch tubing from both Hobby Lobby and LRO. I have changed out the thread under-structure with varying results.
Incidentally, I was hoping for some high degree of flotation factor with this stuff since it is a hollow tubing and the act of tying traps air inside the tubing material. Unfortunately (or fortunately depending on your goal and needs), this stuff sinks like a rock. I don't think you can tie any type of emerger pattern and expect it to hang in the film without using a ton of deer hair, snowshoe rabbit or some other high-flotation material above it.
So here we go: first up, an Olive midge tied on a Tiemco 101, #18 with a Danville light olive 210 denier thread base with a thread head. Note that the body takes on a slight taper based on tension applied while wrapping. In subsequent examples there is no tension applied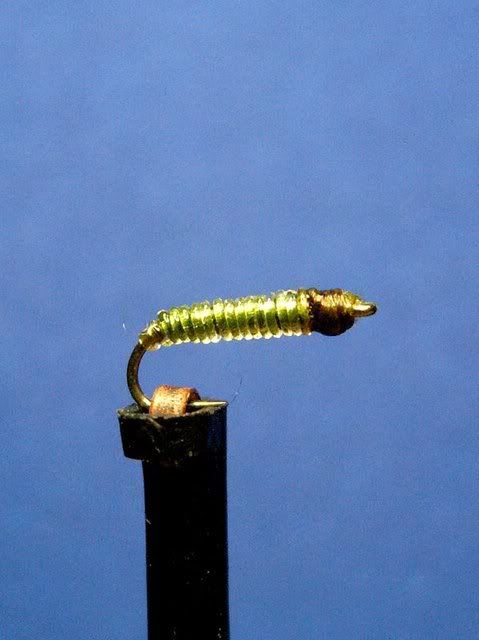 Next, a clear tubing over a foil base tied in with a Coats & Clark 406N thread base and a thread built head, also on a Tiemco 101 size 18 hook...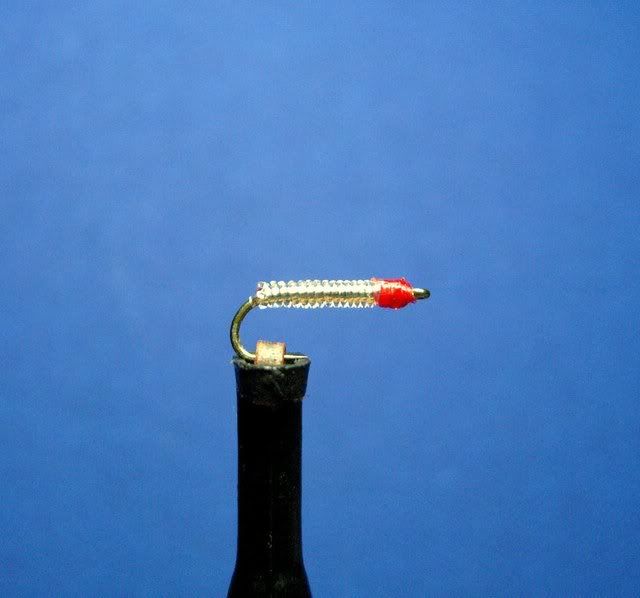 Next up, a clear tubing wrapped over an alternating red/black thread base tied on a Tiemco 206 BL size 16 hook:
And finally, a variation of the process. This is an Iko Caddis tied with clear D-rib material over an olive thread base. Just to show that Hareline D-rib material does pretty much the same thing if you can't find the Hobby Lobby stuff.