So far I have been out on the road a lot here this year and with my busy schedule the last thing I anticipated was having a chance to chase steelhead again until at least September...
When I was requested to attend my grandmother's surprise 90th birthday party up in NY a few weeks ago, it got me thinking... what if there was a way to slip out to the creeks to try and nab a spring steelie or two? To say the least, I would have been more than happy just finding a way to make getting on the water a reality, regardless of catching any fish. Luckily for me, one of my VT fishing buddies was on his way to the lake this particular weekend and we made it happen for a few hours. Even though the water was up everywhere we looked, we actually managed to tangle with a few steelhead. However, it was mainly an effort in hooking up and not much else as trying to battle the big fish in the fast water and strong currents was heavily weighted in the fish's favor!! One turn downstream from a big steelie in these conditions and you could kiss both the fish and your fly goodbye... I did manage to bring in one of about a half dozen fish to the net for a quick picture. Overall it was a great time even if just for the afternoon and it would be a lie if I said I wasn't already counting down the days till fall even with spring just barely here...
My friend making an attempt to follow a fish... notice the water??
I finally landed this respectable female. A nice fresh fish...
My friend managed to get this beauty to the net as well...
Perfect steelhead conditions but still high water even on the little creeks...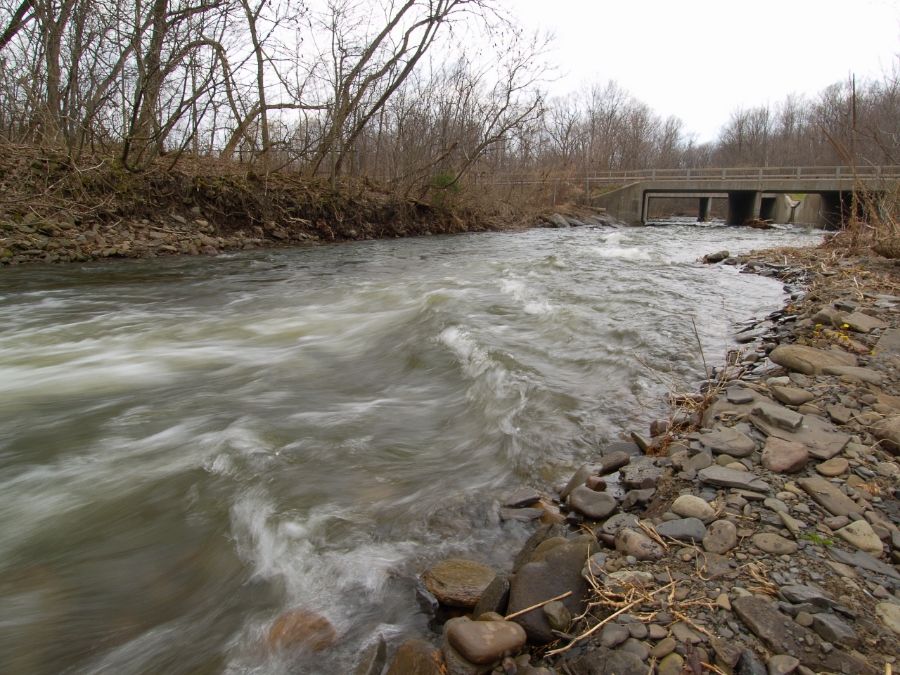 Tight Lines,