I got real lucky Memorial Day Weekend and was able to fish 3 out of 4 days
Monday I was able to take out a newby fly fisherman. Time for pay back for all those that helped me along the way. I'm not sure if Ben is a Junior or Senior in high school, but I do know he is very excited about fly fishing, and seems to be already quite addicted to the sport. I met him through Steve Darnell, who is my Acid Decomposition team leader for the water sampling in the Park, and who has been teaching a few people some fly tying on Monday evenings at his church. Ben has been fly fishing for at least a year now, and is over his initial curve of not catching fish, but is still working on reading the water and presentation. He is very enthusiastic and I'm sure will soon be a major threat to the trout in our area. He and his Dad have been out with Roger Lowe a few times, and both seem to make an effort to get out to the Smokies on a regular basis. I'm sure glad I was able to take him for some fishing. I had my best numbers day all year, and he caught 20+ saying it was the most trout he ever caught on a dry fly.
The plan was to fish a Brookie stream. We drove there, rigged up, and hiked in. Put in on an awesome section of stream, and was shocked when I arrived
LOW WATER - Seems like we are going from a high water Spring straight into Summer lows
We fished a few hundred yard stretch.
Caught a few of these guys, but fish were spooky, and most seemed to be in hiding. Ben got a few also
There were several perfect pools with no action, I decided it was time to head for bigger water. We hiked back to the van drove for a while, got a Bar-B-Q sandwich and drove to the trailhead. We hiked in a ways to try and avoid other fisherman, then crawled through the rhodo to the stream. Water levels were much better here.
One of the better fish of the day
In just a few weeks the stream will be lined with flowers
Nice stretch of water - eh
And their rewards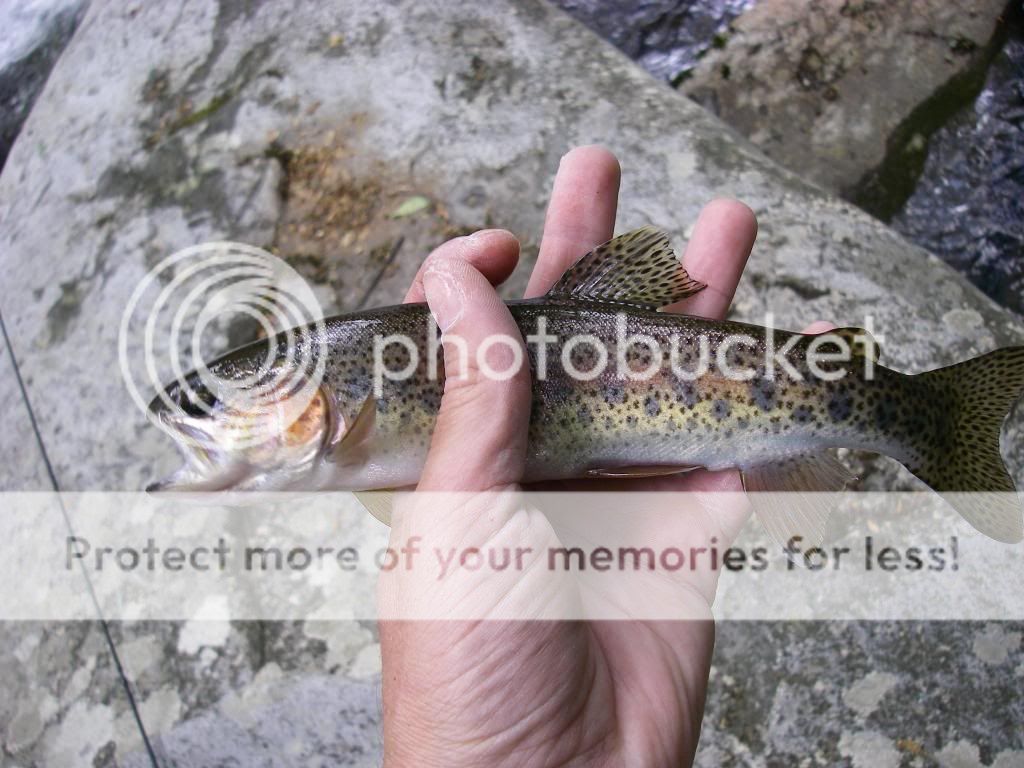 My lousy attempt of trying to get artsy
Not just rainbows - lots of these guys too