I had the the good fortune last night to attend the Steve Moore retirement party here locally at River Planatation Conference Center. I thought it was next week and just getting back from Colorado on Wednesday, I am glad I called LRO on Friday to ask about details and found out it was this Saturday. I knew there would be a crowd but over 200 people showed up to honor and share in the retirement of Steve and his long history with the National Park Service.
Most of us would be lucky to have a handful of people to show up at our retirement, so to see over 200 people show up from across the country was amazing. The speakers ranged form our own East TN. of Heartland TV fame, Bill Landry (hilarious), to a range of officals from the Park Service, national Trout Unlimited office, his past and present co-workers, friends and associates.
The tables each had a program at each chair, that I will try to include here, and the most compelling part was a list of over 190 people who have been mentored by Steve as sesosnal and full time employees during his years with the NPS. Yes the stories we have heard only scratched the surface with their retelling, but the one thing that stood out all night was the respect and yes love they have for Steve. I was lucky to share a table with a family who both as young people had worked for Steve and now had come back with their three children all the way from Middle Tennessee to share in th night, also at the table were a couple who were members of Steve's church.
That was the continous thread all night of the people who had worked with, were friends or associates of Steve, or had met him thru TU events or park expeirences. All wanted to be there for his big night and share the moment, yes he was roasted unmercifully, but there was always a level of respect for him and the vast body of work he has done for the park, especially the Smokies.
I am glad during the video tribute, the house lights were down, because if you were not touched with pictures of his work, family, and friends; set to the music of Bob Seger's "Like a Rock" song you probably need some therapy. I was also happy to see he and his wife will continue to live here in Wears Valley, to have such a resource and a man and his family with such love for the Smokies cannot be expressed in dollars or words.
Thanks Steve and I look forward to continue seeing you in th Park!
(If you have a Steve Moore quote or story please feel free to drop on here)
The boulders in pic below were actually strawberries with grey icing, very cool!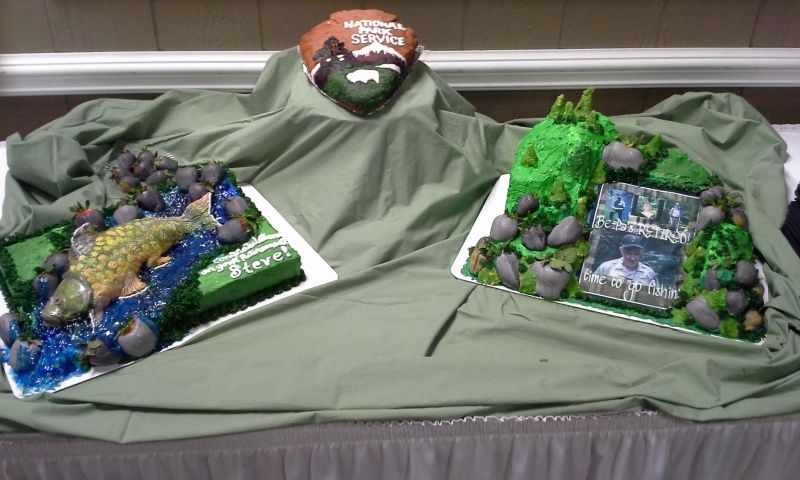 It only took him 30+ years to catch this one.
This picture makes a not so subtle reference to how he will be spending time with his grandchildren!
THE FACTS:
Not a bad resume for a fisherman and outdoorsman.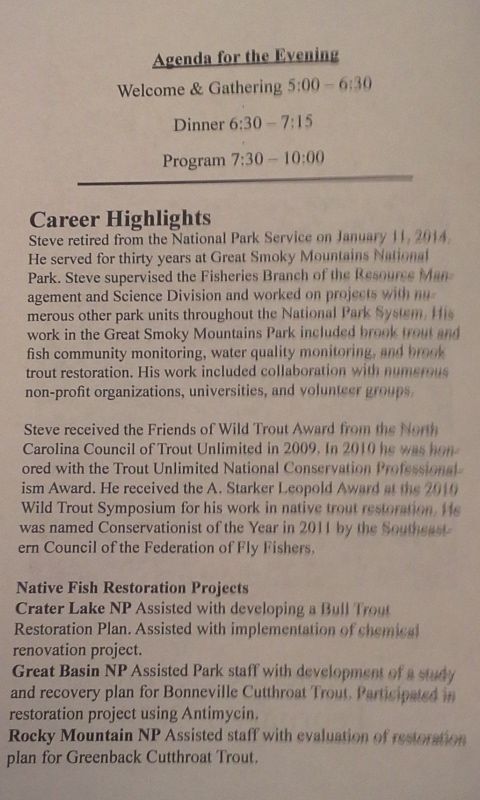 AND OF COURSE THE MYTHS!