OK, so I just got back last Wednesday from a Colorado ski trip at Winter Park, Colorado, but just as much to plan a bucket list trip for warmer times to fish cutthroat's on the western side of the Rocky Mountain National Park area. I hope to soon fish the Fraser, Blue, and Big Thompson rivers and anything in-between, the good news on this trip even with skiing everday still managed to do some research and planning.
It turned out the ski shop in Fraser where we picked up our skis, turns into a fly shop spring thru fall. Winter Park resort which is I think the only ski resort partially owned by a city (Denver) is also the home of the Little Vaquez creek which is a spawning area for Colorado River cutthroat. As we came off the mountain one day we actually saw Colorado Wildlife staff taking water samples right outside our condo in a strream covered in snow barely four feet wide. right at the base of the lifts. On the mountrain one of the mountain hosts showed us as we rode the lift the source of Little Vasquez which literally you could step over in one stride. Below is an excerpt from a cutthroat report from 2011 concerning the creek.
Does not matter I guess wherevever you go whether Lynn Camp here or Colorado there is always a battle over enviormental rights!
"Cutthroat Trout passage at Winter Park
Little Vasquez Creek is home to Colorado's native cutthroat trout. In 2011, Sulphur Ranger District replaced a culvert that Forest Service fish biologists determined restricted movement to these native fish. Although a genuine effort to remedy the issue was made in 1990s, the solution still did not provide the habitat and flow conditions needed for a seamless connection of 1.5 miles of habitat in Little Vasquez Creek. This project was successfully completed in October 2011 and satisfied conditions set forth by the U.S. Fish and Wildlife Service for the Winter Park vegetation management project in response to mountain pine beetle. We would like to issue special thanks to the contractor Frontier Environmental Services who performed well and accommodated changes. ".
Coming in on the first Wendesday you can see how the roads looked below: change to come.
Top of Parsenns Peak Elevation 12,500 ft, right before we drop into the bowl:
The Bowl:
Okay, so onto the main event: High quality craft beer, so we asked everyone where is the best place in the town of Winter Park to get great beer and burgers. Everyone said the same thing "The Library"!
So we walk in, sit down at the bar and I asked the bartender what do you have in bock or amber and he said I have a new brown ale we just made, so we said let it rip!. We order a burger and after a few minutes we say wow this beer is great "What is this?"
You have to look close for the name of the beer in the next picture , it is fuzzy or maybe it was just me!
Look hard and squint like us at the last name: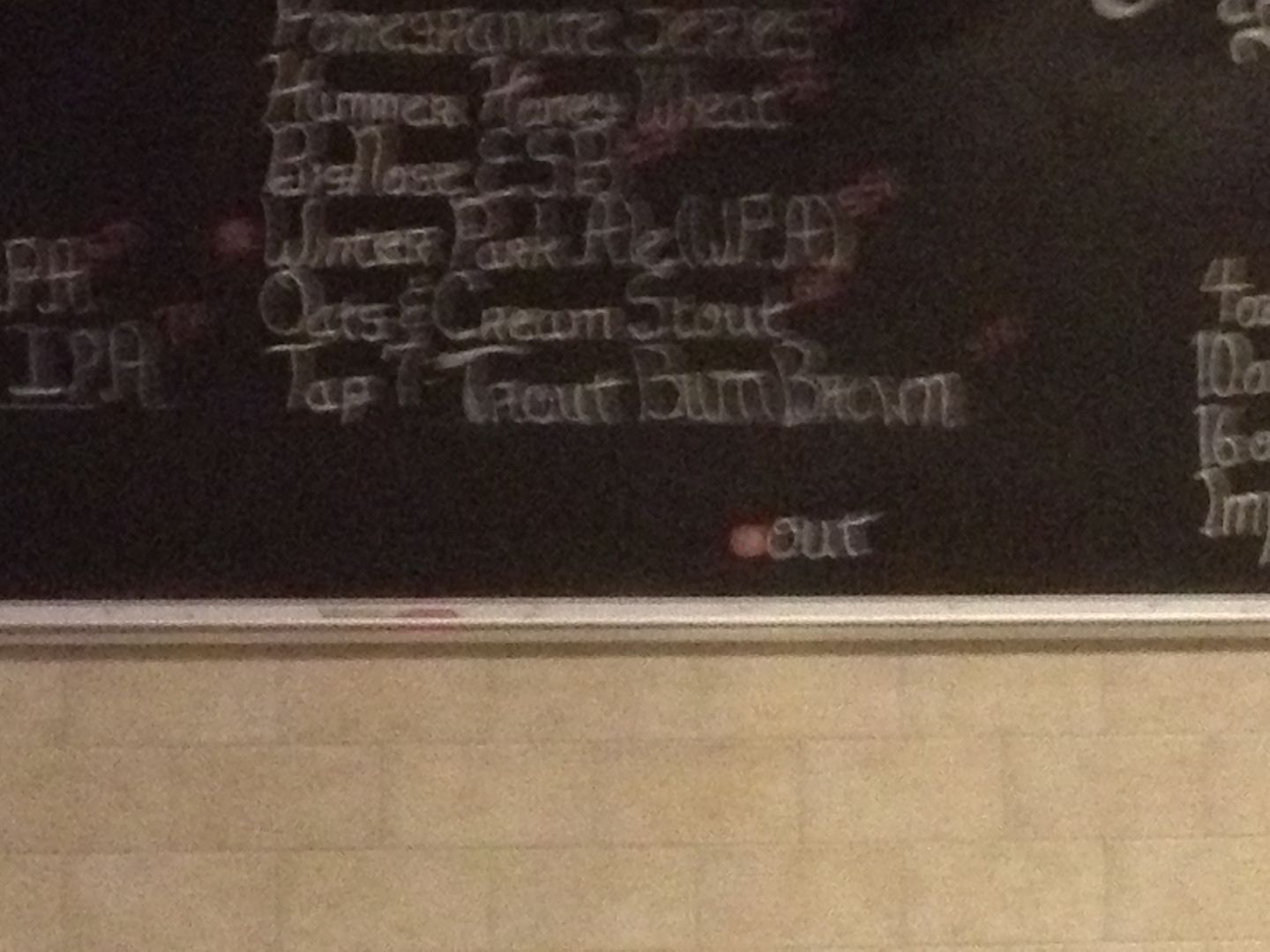 TROUT BUM BROWN!
We were home, nirvana, the eagle has landed!
After falling off our stools laughing, my first question to the barteneder was. "Does your brewmaster fish?" His response was "Hardcore and so do I!"
So now we know where to buy flys, good idea whcih streams to fish and most all where to get a cold craft beer.
Here is a pic of the same road Hwy.40-24 miles long to I-70 six days later, different section and 200 yard visibility during a ride back to Denver 5-9 % grade drops. The front hood on the vehicle I am driving in the shot below is to a full size 4wd 2014 rented Explorer. Yikes! Just remember, if you buy one do not argue over the electronic M- six gear transmassion or engine and hill assist option. I touched the brakes maybe four times over 24 miles down and nobody tried to pass me, they were all happy to let me be the first to plunge over the side. The snowbanks on the side were 10-15 feet high in places!.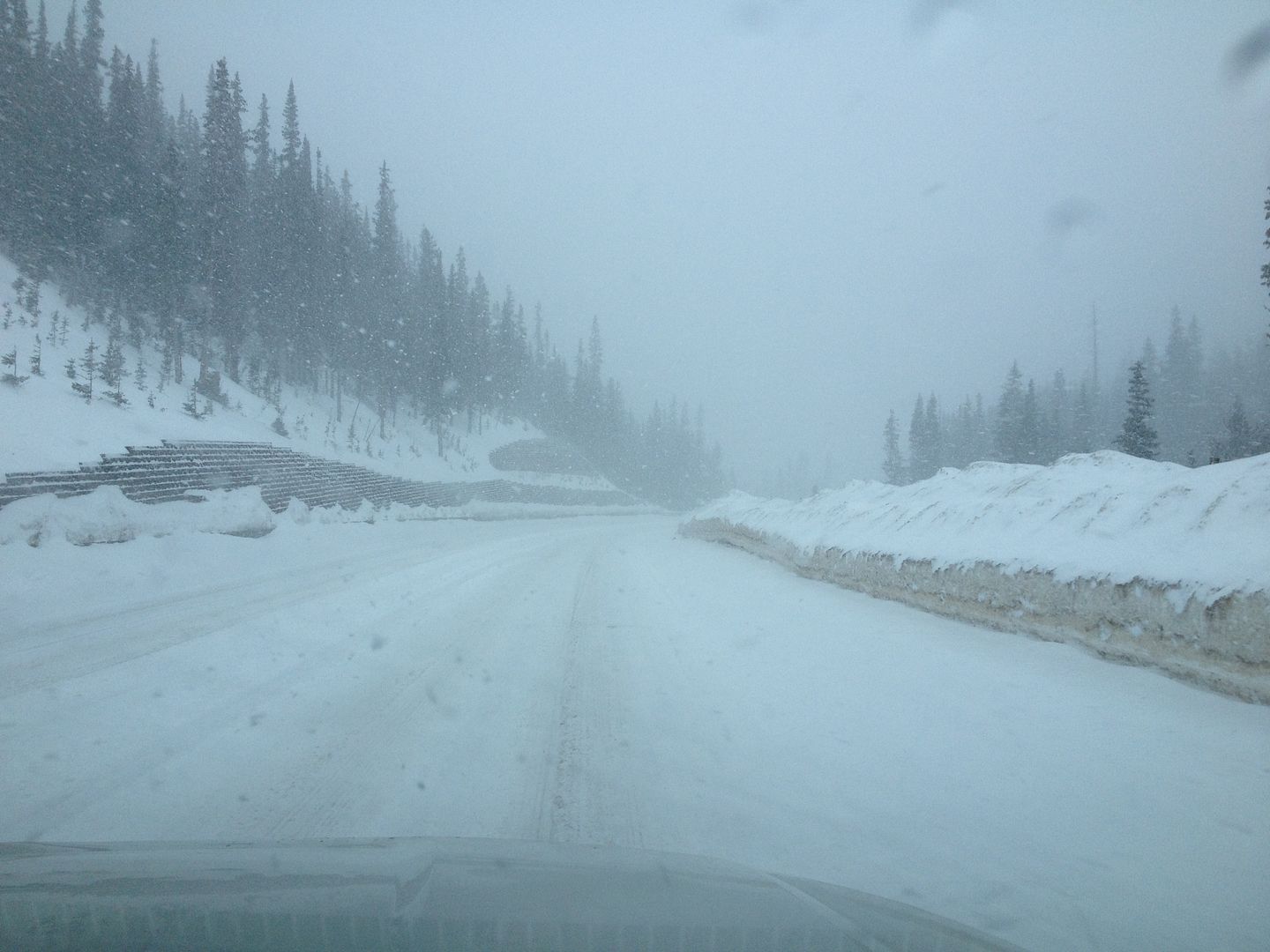 So now I am coming back to Knoxville area after landing in Nashville, racing another storm, but could not resist a final shot at the rest stop on I-40. Many of you have seen this sign I am sure.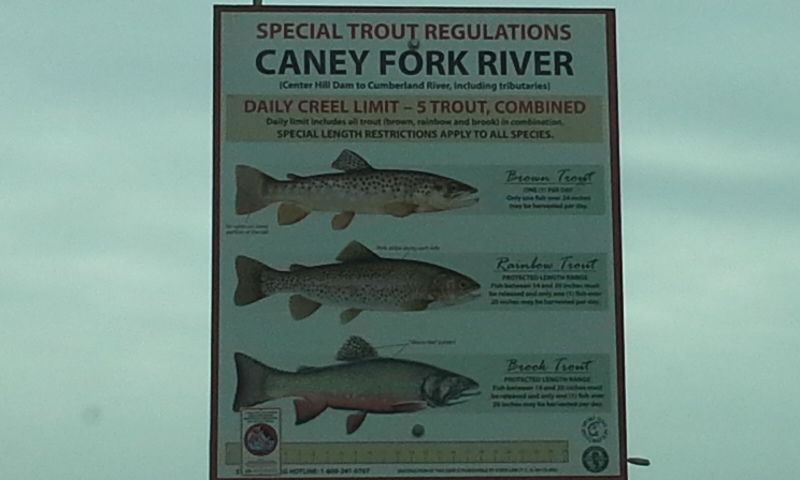 Long story short, big fun, big country, even bigger beers, looking forward after all these years of skiing the West to a summer bucket list trip!