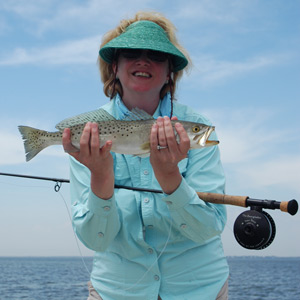 Paula uses her Temple Fork 9' 9 weight for almost all saltwater and salmon fishing. It is fairly light, casts well and has enough backbone to fight large fish but make for an enjoyable fight with this small speckled trout.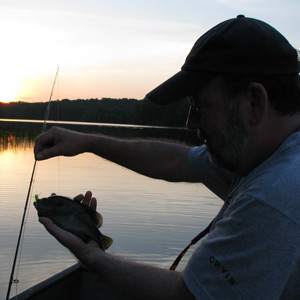 Though the Temple Fork Professionals are great trout rods they are also ideal for lake fishing for bluegill and bass. If you happen to drop one overboard you are not out an arm and a leg. They are available in line sizes #2 through #10. They stopped making the 12 weight.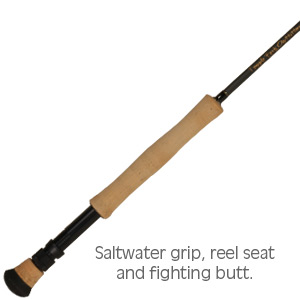 Gear Review Temple Fork Professional Series Fly Rods by Byron Begley
Lefty Kreh arrived in Knoxville after a flight from Baltimore. We had not been together in a few months so we did a lot of catching up on our drive from the airport. He walked in the shop as usual and looked around. After walking upstairs and looking at the rod selection he turned to me and said, "Where are your Temple Fork Rods?" My answer was "We don't sell them". He returned with, "Why not?" I didn't have an answer.
Lefty informed me that the Sales Manager from Temple Fork would be calling me on Monday. I thought Lefty would forget about it. But sure enough, on Monday morning I got a call from the Sales Manager at Temple Fork. I ordered a rack of 24 rods, they came in a few days later and about a week after that we ordered some more to fill the spots on the rack left empty from customers buying them. I was amazed.
Since then we have placed an order on Monday every week except during the slowest times of the year to re-fill that rack. Later I came to know Rick Pope the President of the company. He has visited the shop two or three times. We became friends. Sometimes when I need advice I call Rick. He gives great advice. And, when I asked Rick to help us out with Troutfest 2009 he said "I'll be there and I'll bring Lefty". That is a several thousand dollar commitment. What a guy. You will enjoy meeting him.
So what is it about these rods? Lefty was involved in the design for one thing and his name appears on most of them. The Professional is my personal favorite. When customers step outside to cast them I usually end up making a cast or two. I liked the way they cast. You can't ignore the price. At around $150 the Professional is a bargain. They are all 4 piece rods. The unusual practice of not including a tube with the rod is really a good idea if you think about. There must be a lot of people like me who have multi-rod tubes. I don't need any more tubes. But if you want one we sell a triangle TFO tube for $19.95. I like them because they don't roll.
Paula broke her favorite St. Croix 9 weight in a battle with a king salmon. She didn't get it replaced. So one day we were packing for a trip to Florida and she bought a Temple Fork Professional 9' 9 weight. We were to be fishing at Port St. Joe, Florida with Captain Gary Taylor.
We were in a large school of redfish and catching them frequently on a Sand Shrimp pattern. I hooked a big one on my Scott 8 Weight and he broke off. To save time I picked up her new Temple Fork. I really liked it. I caught a redfish or two on it and decided I needed a 9 weight outfit. I bought one too as soon as we got home. I also later had the urge for a lightweight 12 that would cast short to small tarpon so I bought another Temple Fork Professional. It didn't have the backbone to turn a large tarpon but I loved the way it cast. Temple Fork has other 12 weight rods that will turn a big tarpon.
Two years ago Paula and I started fishing Fall Creek Lake for bass and bluegill. This lake is in the State Park and you have to rent their jon boats. You can't bring your own boat. I hated the idea of my Winstons and Abel reels banging around in a jon boat. And if we dropped one over the side we would be out some serious money. So we bought three Temple Fork Professionals, a 5, 6 and 7 weight. We bought some less expensive Orvis reels and those three outfits are what we use now on Fall Creek Lake or anywhere else we are fishing for bass or bluegill. They are great. We love them.
We use our 9 weight TFO Professionals exclusively when fishing out of kayaks. The 9 weight doesn't wear you out but they cast well in the wind. I still like my old Winstons for trout. I'll probably never change. I've been using them for about 10 years. And I guess I'll stick with those Temple Fork rods for some saltwater use and all bass and bluegill fishing. I'll be sure to send Lefty a copy of the Little River Journal. He will enjoy reading this.
You can check out the selection of Temple Fork Fly Rods Here.
Byron Begley