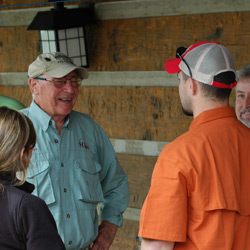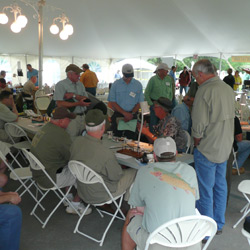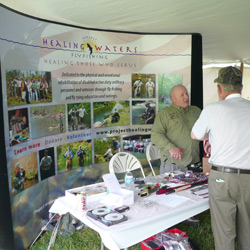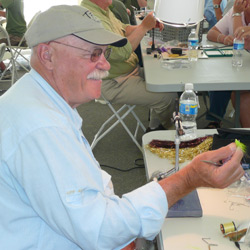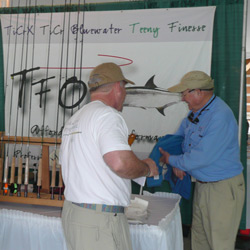 Troutfest – The Opportunity of a Lifetime
Put these dates on your calendar and start planning: May 14th, 15th and 16th 2010. Troutfest is the one opportunity of a lifetime to see, meet and learn from the true modern legends in our sport. Maybe they will all be back next year and maybe not. But don't let this one get away. Like last year, Lefty Kreh, Joe Humphreys, Bob Clouser and Stan Bogdan will be here the whole weekend. How often does something like that happen? This year will probably make it the second time. I think last year was the first.
Troutfest is presented by the Little River Chapter of Trout Unlimited. This will be Troutfest 7, the big one. This event is a fundraiser to raise money that funds fisheries efforts in Great Smoky Mountains National Park. Last year we raised over $34,000 and got a grant from Trout Unlimited for $10,000. This year we got another grant from TU for $7,500 and we hope to make more money at the banquet and exposition than we did last year. We think another big success is forming and will be presented to you soon.
People wonder how we pull this off. First, we have a committee made up of talented, motivated and hard working people. They are the best at what they do. They don't ponder the negative, they focus on the positive. The committee is made up of members of the Little River Chapter, other TU Chapters, Friends of the Smokies, fly shop owners and National Manufacturers. Up to 125 volunteers will donate their time and skills to make this happen. Many of those volunteers come from other states, as far away as Florida and Texas. They volunteer because this is an exciting, rewarding and fun way to give back to the fishery and be part of the success.
Most of the National Tackle Manufacturers make this happen. They and other interested companies and people donate money and auction items. The banquet is something to experience. This year we are planning to feed 400 people in the 7,000 square foot tent. You will see some new faces too. Jim Casada will be here. He wrote the latest book on fly fishing in the Smokies. Ron Ellis just finished his new book, which is a collection of work by Harry Middleton, some of which is unpublished. We should be selling copies of that at the Exposition. Allen McGee, author of "Tying & Fishing Soft Hackle Nymphs" will be here. Kevin Howell will be here. Owners and staff from our fly fishing tackle manufacturing companies will be here. And all these people, including Lefty, Joe, Bob and Stan will be at the banquet talking to you. You will meet the Superintendent of Great Smoky Mountains National Park. And you can meet Chris Wood, CEO of Trout Unlimited. Meet the Fisheries Biologists who manage the fishery. The food will be excellent as always. Banquet tickets are only $50 each and you can order them online HERE. Don't wait too late. They may sell out sooner than you think.
The Exposition on Saturday and Sunday is free. You might want to make a small donation at the parking lot but you don't have to. Actually we raise a lot of money from parking donations. There will be three big tents with vendors, national manufacturers, non-profit organizations, TWRA, the Park Service, rod makers, boat builders, fly shops, outdoor and hunting/fishing stores, guide services, artists, you name it. There will be 7 food vendors so you can eat on site and stay all day. Bluegrass bands will be entertaining you on the stage. There will be 32 fly tyers, tying in shifts throughout the weekend. We'll have seminars. Lefty, Joe and Bob will do free casting seminars. Joe and Bob will be tying flies. Jim Casada will give a talk on fishing in the Smokies. You can visit with the tackle manufacturers and see all the new gear. Orvis is sponsoring a kids casting class. Almost all of their endorsed guides from the area will be in their booth. Authors will be signing books. You can also buy their books at the Expo. There will even be a casting contest each day. There will be a charge for that. It is a fund raiser.
So, that is a brief description of Troutfest. We have a whole website dedicated to Troutfest and the relationship between TU and the Park. Check it out by clicking HERE and we'll see you in May.

Be a Volunteer! If you would like to donate four hours of your time during Troutfest weekend and become a volunteer, contact Ron Becker by e-mail by clicking HERE. Please give him your name, contact information and T-Shirt size. You will receive a special "Troutfest Volunteer" T-shirt. He will get back to you and arrange your schedule and duties.

Your volunteer hours will be counted as an in-kind donation to Great Smoky Mountains National Park Fisheries Department. Your hours will be leveraged along with everyone elses to obtain grants and matching funds. Just a little time makes a big difference when we are talking about this many people. Some of our volunteers work as much as 300 hours on this event. Please give this some thought and contact Ron who is our Volunteer Chairman.