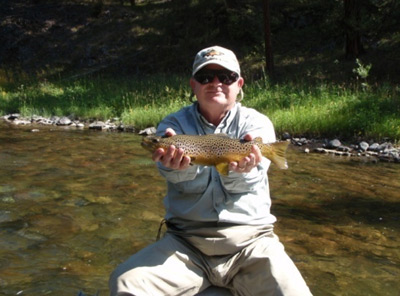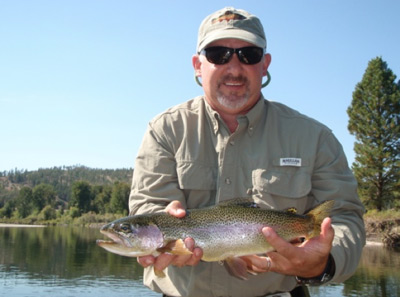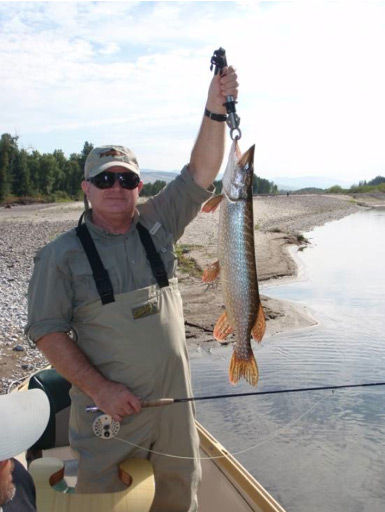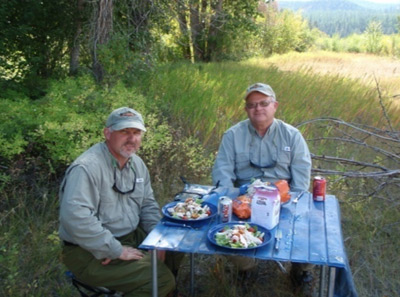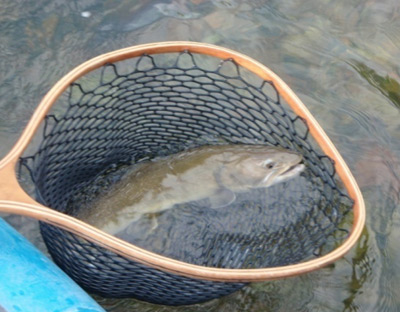 Clark Fork

The next morning we met Drew at the shop a little before eight. We loaded the equipment in his 4Runner and headed to the Clark Fork. We had fished the Clark Fork before with Drew, but this time we crossed the river and traveled several miles on a gravel road before launching the drift boat off a bank that I thought would be impossible to do so. The trailer and boat were backed down an eroded bank at about an eighty degree angle without his truck leaving the safety of the road. Soon, we were heading down a river that contains the strongest trout pound for pound that I have ever hooked. Steve immediately caught a fish and I told Drew," oh no, I hope it is not going to be one of those days." We have all had them. A day when it seems you can't catch a fish regardless of what you do and your fishing buddy can't stop catching them even if he feels sorry for you and tries. We did catch a lot of fish on this day including a thirty-four inch Northern Pike that Steve landed. We caught fish all day and by the late afternoon, I was having trouble hooking the striking fish. I blamed it on fatigue. We fished longer than I expected and arrived back in Missoula around seven thirty. We headed down the street to a Mexican restaurant that Drew had recommended. It was good, and I ate too much food.

On Wednesday, we were on our own. We decided to try an upper section of the Bitterroot. We left the hotel early, stopped at McDonalds on the way and arrived at the recommended spot around eight in the morning. After rigging up, we headed down the river to fish some of the riffles. Before too long, we decided that we had made a mistake. We should not have wasted this time on the learning curve for a new river. We had fished this river two years ago floating with limited wading time, and I had floated the river twice. However, we had not fished the river long enough to gain the necessary knowledge to be proficient in fishing it. We decided to head back to Rock Creek. We caught fish all afternoon at Rock Creek. I think we will always fish this steam when on our own in the future.

Blackfoot

The next day, we were in the shop talking about fishing Rock Creek with some other guys. They were talking about what a tough stream it was to fish. Later in the day, we asked Drew about that since we always had good luck there. He said that the Bitterroot is probably the easiest of the four major rivers in the area to fish which provided us a humbling moment. However, Rock Creek is more like the streams we fish at home. He explained that he had guided a couple of the guys we were talking to in the shop and they probably did not catch any fish in Rock Creek. Wednesday night we talked about looking forward to the next day. I had fished in the Missoula area twice, but I had not had the opportunity to fish the Blackfoot river. We had no idea that night just how great it would be, and we needed to get some sleep. We met Drew and headed up the road to the upper portions of the Blackfoot. The drive alone was a reminder of just how majestic Montana is. At that point, we had no idea what a beautiful float we had ahead of us. We would be fishing Sculpins trailed by nymphs most of the day. We did fish some with hoppers and emergers when the situation dictated their use. This trip was epic in terms of my fishing floats. The river was painted with unbelievable scenery, and the fishing was sensational. Traveling down the canyon we caught brown, rainbow, cut-throat, and bull trout. To quote again from the famous movie, "yes, it's quite a day." When we came to the end of the canyon, the scene was indescribable. Later, I caught the largest trout in terms of length that I have caught to date. It was a twenty-three inch bull trout that came after a rainbow that I had hooked and was fighting. The bull trout instead grabbed the nymph that was trailing the Sculpin. After that, the rainbow was able to escape, and I won the battle with the big bull.


Bitterroot

The next day we were to meet Drew for our last day of fishing. Neither of us discussed it Thursday night, but during discussions at the shop while waiting for Drew we realized that both of us had been thinking about how it would be impossible to top the previous day's fishing. That day we fished the Bitterroot which is a great stream. However, the scenery and, as it turns out, fishing quality for this day just did not compare to the previous day. We did get a grand slam for the stream, as we did with each steam we were guided on, and had a great time, but following the Blackfoot is like watching a minor league game the day after watching a World Series game. It just does not compare. After a good day of fishing, we headed back to the shop, provided Drew what we hopped was a good tip, said goodbye, and headed to Spokane for our flight home the next day.

Reflections

The flight home gave an opportunity for reflection on five days of great fishing. Even the worst day was a good day. Montana is called Big Sky Country for a reason. It could also be called big trout country or big dream country because it is a place where many of my dreams have come true. I cannot imagine a grander place. While on the plane, I was thinking of the day on the Blackfoot, and I remembered some of those special moments when, although very slight, I heard the words. Just as Norman Maclean's father said, "If you listen very hard, you can hear the words." And, the words said, this is beautiful and you now have it captured in memory to relive as you choose – remember it well.


Grizzly Hackle
215 West Front Street
Missoula, MT 59802
406-721-8996
Guide: Drew Miller