Troutfest Update
Troutfest will be held May 15th through 17th, 2009. The event is the brainchild of the Little River Chapter of Trout Unlimited. However, other TU Chapters and organizations have become involved this year. All proceeds benefit Great Smoky Mountains National Park. 2009 marks the 6th year for the event and the 75th birthday of the Park. All profits fund the Park Fisheries Department projects including Southern Appalachian brook trout restoration.
Troutfest 2009 has been well funded by national fly fishing tackle companies, individuals and other businesses. Our auction and banquet will prove to be an event you will not want to miss. Dinner including our traditional menu and spirits will be held at the Townsend Visitors Center. Many special guests including Lefty Kreh, Joe Humphreys and Bob Clouser will be there. You will be dining with owners of several tackle companies and the National Sales Manager of Orvis. Most of the Sales Reps in our region will be there.
The auction and raffle will be unprecedented by all standards. Some of the prizes include an heirloom bamboo rod made by Charlie Downs. This item alone brings in $2,500 in ticket sales. We have a new Bogdan 5 trout reel. If you were to order one it would take years to get it, the waiting list is that long. Abel Reels just contacted me and they are sending an Abel Super 5 which has a retail value of $650. Orvis is donating $2,500 in merchandise, Sage is donating a Flight rod, Little River Outfitters will donate $1,000 worth of merchandise and we have fine art and great items that are unique and collectable. One piece in particular is a trout carving by Jim Wiley. It is a beautiful brown mounted on driftwood and designed to be mounted to the wall. I think he said the trout was 14" long. It has a value of $700. See photo below. We will have accommodations at lodges and other fine establishments to be auctioned. We are erecting a tent, connected to the Visitors Center and outdoor pavilion that will give us approximately 8,000 square feet under roof. We have capacity for 400 people. Banquet/Auction tickets are available online (click on the box at the lower left of this page), at Little River Outfitters and Orvis Sevierville. Ticket price is $50.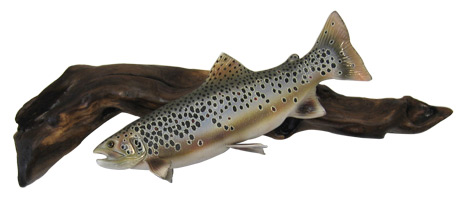 Visit www.troutfest.org and find a list and links of accommodations including cabin rentals, motels, lodges, campgrounds and bed & breakfasts.
On Saturday morning May 16th the Fly Fishing Exposition begins at the Vistiors Center. There will be a lot of activities running concurrently all weekend. The tying tent will have 40 different fly tyers demonstrating in shifts of ten at a time. A weekend pass to the tent costs $10 and this will be donated to the Park. Lefty, Joe and Bob will be conducting casting, tying and other classes both days. There will be a casting contest each day. Vendors and artists will display their wares. Guide services and fly shops will have booths. National companies including Orvis, Temple Fork, Scientific Anglers, Winston, Abel, Fishpond, Chota, William Joseph, St. Croix, Waterworks Lamson and others will have representatives or owners in the National Manufacturers Tent. Everything is free except the tying tent and casting contest.
Our Education Tent will have non-profit organizations and government agencies there for you to meet. They will include Friends of the Smokies, University of Tennessee, Casting for Recovery, Tennessee Wildlife Resources Agency, Great Smoky Mountains National Park, Project Healing Waters. There will also be a beginner fly tying hands on demonstration for kids. Other non-profit groups will be set up in the Education Tent.
The Troutfest store will sell books written by Lefty, Bob and Joe. There will be scheduled book signings so you can have the authors sign them. You will also be able to purchase Troutfest memorabilia including the 75th Anniversary T-Shirt and Troutfest caps. Troutfest accepts Mastercard and Visa at the Banquet/Auction and the Troutfest Store.
There will be many activities going on all weekend. We will have food vendors available on the Troutfest site so you don't have to leave to eat or buy refreshments.
Everything is running very smooth and we are expecting a big crowd. We have sold banquet tickets already to people in several states. This is an event worth traveling to Townsend to be part of.
And, one more thing. The fishing is great in May. We have 800 miles of fishable trout streams in the Park alone. The Troutfest site is a little over 2 miles from the entrance to the Park. Little River is only two blocks away.
So, think about being part of the largest fundraiser ever held for the Fisheries Department at Great Smoky Mountains. Also, think about how important it is for you to be here and support this event and pay back for the fun and memories you have had fishing your favorite Smokies stream. Your support this year is critical. If our turnout is good, these large companies will probably continue to come back and make the Troutfest Fly Fishing Exposition an ongoing fundraiser for our Park.
Thank you,
Byron Begley