Making poppers with foam cylinders is easy. Based on Bob Clouser's EZ Popper these work extremely well for many species of fish, freshwater and saltwater. Read how to make them HERE.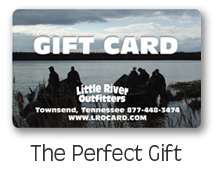 Our Gift Cards make great gifts for Holidays or Birthdays. You can buy them in the shop, order them by calling Toll Free (877) 448-3474, local (865) 448-9459 or order online HERE.
Tying the Foam Yellow Jacket by Steve Yates
This is a very effective fly this time of year. It is easy to tie if you use Steve's instructions. Read how to tie it HERE.
Gar Fishing Without Lefty
by Gary McCown
Above is our friend Wayne Everbach with a gar he caught on a fly rod fishing with Gary. Learn how it is done and what not to do once you land the fish. Read Gary's story HERE.
Improving Your Odds in the Summer by David Knapp
David makes some excellent points in Part II of this series about fishing during the summer. He spends a lot of time on the water in the Smokies and developed a strategy that works. His no-nonsense approach to fly fishing during these months is right on target. He has obviously given a lot of thought to low water, warmer temperatures and trout behavior.
Read his ARTICLE HERE.
Casting Accuracy by Lefty Kreh
Lefty has a way of getting his point across in the columns he writes for the Little River Journal. He always writes about important points we never think of. He has done it again here. Learn from this article about the importance of an accurate cast and how to make one. Read Lefty's ARTICLE HERE.
Lynn Camp Prong Restoration by Byron Begley
This project is the largest native brook trout restoration in Great Smoky Mountains National Park and in the Eastern United States. In July the Park Service began the re-stocking process of our native Appalachian strain in this special river. Read the STORY HERE.
The Making of Memories
by Don Winningham
Don has figured out why we fly fish. It's not about the fish, or is it? Don knows. Read his great story HERE.
Fishing the Clinch River
by Gary Verholek
Gary loves to fly fish and write about is days on the stream. Gary fishes lakes, saltwater and trout streams and is an avid advocate for conservation. He is a new contributor to the Journal. Read about his day on the Clinch River HERE.
Order from us and we won't charge you for ground shipping or handling. We do charge for expidited service if you ask for it. We've been doing this since before it became popular. Heck, maybe we started it. Call us toll free at 877-448-3474 to order or visit our online catalog HERE.
The lucky winner of the Chota Roc Lock Wading Boots is John Pavoncello of York, Pennsylvania.