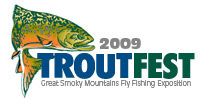 Troutfest Raises
$36,000 for
Great Smoky Mountains National Park Fisheries Department
Troutfest 2009 was one of the largest fly fishing events in the Eastern United States. Attendance counts were estimated to be 4,500 people. Anglers came to Townsend from as far away as Florida, South Mississippi, Alaska, Colorado and other far away places. Headliners were Lefty Kreh, Bob Clouser and Joe Humphreys. The banquet and auction drew a large crowd and proceeds more than doubled any previous Troutfest. Over 100 volunteers worked to make this happen. The final tally was a profit of $36,184.
Read More HERE.
Do we still need to disinfect the new rubber soled boots? We think so.
READ MORE HERE.
Register to win a pair of Chota RocLock
Wading Boots
How to Register: The link below will send an e-mail to Byron. You must type in your name, address and daytime phone number then send the e-mail. Your entry must be in by July 29th. If we draw your name we will contact you and announce the winner in the August Journal.

REGISTER HERE
Increasing Your Odds in the Summer
Part 1
by David Knapp
Summer fly fishing can be difficult unless you know how to change your strategy from what you were used to doing early in the Spring. This is a different season and we have to realize that. David's article offers some good advice for catching trout during these months. He will tell you which flies to use and when to fish. Learn more HERE.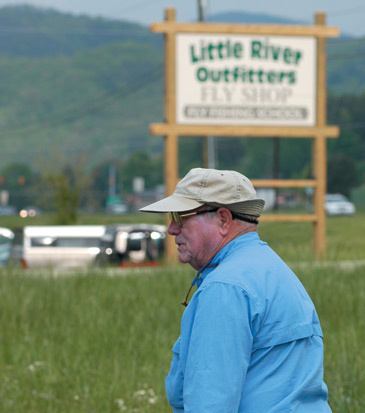 The Weenie - Not So Green
by Lefty Kreh
I remember the day Lefty and I walked into my office and Brian Courtney was tying Green Weenies. Lefty immediately engaged Brian and they talked about how well this fly works in trout streams. Lefty told Brian the Green Weenie was among his top ten trout flies. Lefty has been experimenting with the Weenie and has some interesting things to say as he usually does. You can read his article HERE.
The AK Best Winged Beetle by Steve Yates
Following the advice of Harrison Steeves, Steve Yates knows the importance of beetles as trout food. One of his favorite beetle patterns is this one that was designed by AK Best. It is easy to tie and great for trout, bass or panfish fishing during the terrestrial season which you will find is probably longer than you think. Learn to tie this beetle and read Steve Yates article HERE.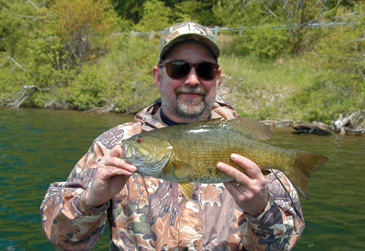 The Stealth Bomber by Byron Begley
This fly was invented by Kent Edmonds, a guide and friend who lives in Georgia. The fly's reputation has spread to people all over the Southeast and will soon find it's way into the fly boxes of anglers all over the Country. It is deadly for bass and bluegill.
Read about it and Learn To Tie It HERE.

The lucky winner of the Simms Headwaters Chestpack is John N Jones from
Clinton, Tennessee.