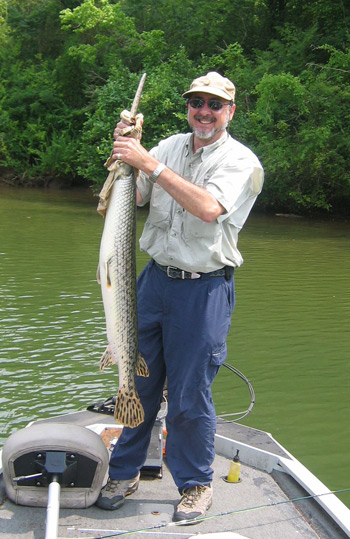 Gary learned how to catch very large gar on a fly.
Back to the point of all this, maybe my sanity is creeping back because I have found a new thrill with the long rod. That's what I love anyway, fly fishing. Not just trout fishing. I've always enjoyed catching different species of fish on a fly rod. Besides, I cut my teeth on bluegill and bass before I graduated into the upper eschelons of trout fishing. Just as most of you did too, I imagine.
Anyway, I've sort of gotten into seeing how many different types of fish I can catch on a fly rod. Shad (river herring), rock bass, white bass (stripe), black bass (largemouth), brown bass (smallmouth, maybe the ultimate fly rod quarry), crappie, mooneye and upteen other panfish. Even carp. This summer I added a six pound channel catfish. But the latest thing is gar fishing!
Don't hang up on me now. John Gierach in his book, Even Brook Trout Get the Blues, devotes a whole chapter to gar fishing so he must have a clue what I'm talking about.
I quote Gierach: "How could you call yourself a fisherman and not want to go try and catch one of these things, especially when you hear, in a roundabout way, that they can be taken on a fly rod?" He said "He'd fished all over the world, in both fresh and salt water, and that he'd never caught anything that fought like a big longnose gar."
Well, I'm here to tell you its true. The last Saturday in August, my son, Paul, and I got out the bass boat, complete with a full complement of spinning, casting and fly rods to go bass fishing on Watts Bar Lake. It is still too hot and the bass weren't biting in daylight at least. So we motored up to Ft. Loudon Dam to try the striper fishing (haven't landed one of those on a flyrod yet). We struck out there too.