We call it a turkey hunt. We go every Spring. And, we do actually shoot some wild turkeys. We have the pictures to prove it. But to us it's just another excuse to be with each other. We usually stay four days and we have the time of our lives.
I met Frank in 1957, the year of the Chevy. We lived across the street from each other in Richmond, Kentucky. We met and found out that day that we would both start the first grade together the next day. We have fished and traveled all over the country together and though he still lives in Richmond we talk almost every week.
I met Brad about the same time, maybe earlier. He was one year older than Frank and I but all through grade school and high school we were friends. During the summers Brad would fish with me and we all got into golf for a while. That didn't last very long for me. I preferred hunting and fishing.
Steve Hall and Wayne Parks went to different schools but living in a small town like Richmond, all the kids knew each other. We started hanging out when we were teenagers. We have always called Steve "Mouse". When we were young we called Wayne "Squarehead" but now we refer to him as Dwayne. Together we are all the "Buddy Boys".
I met Jack when we got into the fly shop business. He grew up just outside Townsend. His grandparents lived in Cades Cove but had to move out 75 years ago. Jack is the best fly fisherman I know. He is also my good friend. Jack talked to me one day about going to Yellowstone. One of the guys he was going with backed out and they had an extra airline ticket. That was back when you could just show your ticket and get on the plane. I went and on that trip I met Ronnie Becker. Ronnie is another excellent fly fisherman but he is also an accomplished hunter. He and his wife live near Maryville.
Frank served as a Kentucky Wildlife Commissioner and became interested in hunting through that position. He bought a farm near Richmond but it is in the middle of nowhere. To get there requires 5 stream crossings, through the water, not over a bridge. There is no electricity. Someone lived back there in the 1950's without power. Frank built a barn and a two bedroom cabin using generators for the power tools. The barn and the cabin have hot water fed by two different water tanks at a higher elevation. There are two showers, one at the barn and one at the cabin. Lighting in the cabin (which is still under construction) is provided by propane and battery power. Propane runs the refrigerator, stove and oven and a heater. There is also a woodstove in the cabin. What he has built for the hunting camp is all we need for turkey and deer hunting.
Frank and I started turkey hunting there each Spring. We knew nothing about it. After two years of absolutely no success we invited Ronnie Becker to join us. Ronnie knew how to hunt wild turkeys. Ronnie showed us how to use the calls. We will never be as good at calling birds as he is but on our first hunt together I called in some turkeys. Frank and I were in a blind together. One of the Jakes stepped out into a perfect spot for me to shoot. I did. Evidently when I shot another one stuck his head in the line of fire. We looked out of the blind and there were two turkeys flopping on the ground. Frank and I ran out and jumped up and down too. Finally, we had succeeded. We thought shooting two turkeys with one shot was something that probably had never happened. Since then it has happened three more times. Ronnie did it once and it happened twice to Frank. We never tried to do it. Actually it is illegal. It was an accident all four times.
Brad, Wayne, Jack and Steve started coming on the trip. I quit hunting two or three years ago. I just show up and relax. One morning a couple of years ago I slept in. These guys leave the cabin about an hour before dawn. I woke up a little after daylight and made the trip to the outdoor facilities. When I returned there was a dead turkey at the bottom of the steps at the cabin. I was sure Ronnie and shot his bird early. I walked in the cabin and Brad was sitting there. I couldn't believe it. Brad went out on his own and shot a turkey. Actually, Brad got into the blind and was busy setting up his equipment. He got out his binoculars, turkey calls, coffee and was just getting comfortable. He looked out and there was a tom just standing there. Brad picked up his shotgun and got him. When we cleaned the bird we could not find any area of penetration from Brad's shot. We assumed the poor bird was scared to death. We started calling Brad "Killer".
Wayne had never been turkey hunting. We paired him up with Ronnie for his first day out. Ronnie and Wayne were in a blind on top of a huge hill with a vast view of a field. Ronnie was calling right at daybreak. Wayne looked out a window on his side of the blind. A gobbler was standing there. "What do I do" he asked Ronnie. "Shoot him", Ronnie whispered back. Wayne did. The turkey dropped in his tracks. But there were other wild turkeys in the area so Ronnie told Wayne he needed to stay in the blind and wait. Wayne had just killed his first wild turkey and had to wait 45 minutes before he could walk out and see him. Ronnie did call in another turkey but I can't remember if he shot one or missed it. Wayne was proud. We were all proud of Wayne.

Jack doesn't hunt. He does catch some smallmouth bass in the creek. He cooks and relaxes just like I do. The food is usually prepared by Jack, Frank, Ronnie and Wayne. I wash dishes. The meals are huge, non-healthy and wonderful.
We've been doing this same thing for over 12 years. I guess we'll do it from now on. I will probably never shoot another turkey but I hope to be there with my buddies for years to come. We are all in our mid 50's to 60 years old. We act just like we did when we were teenagers, laughing all day long for four days.
Two weeks have gone by since our last hunt. We are already talking about next year. I'm planning to cook a fresh seafood dinner one night, deep fried of course.
Byron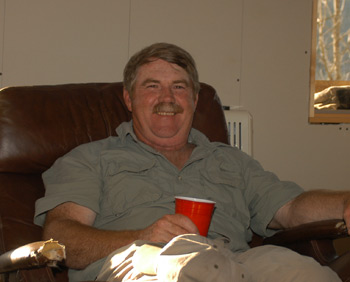 Jack Gregory