Above: A 20" brown trout from the Beaverhead River near Dillon, Montana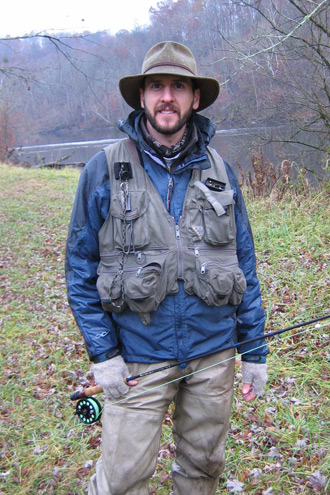 Paul McCown. A cold day on the Clinch River 12/29/08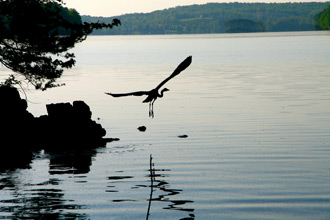 Flying Herron Watts Bar Lake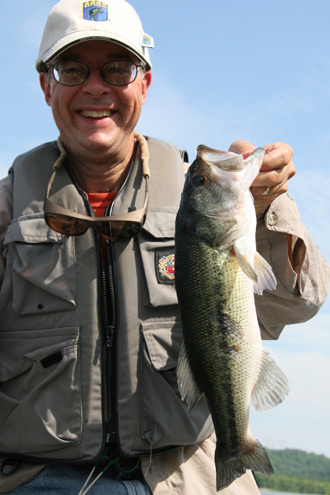 Wayne Everbach, Largemouth Bass
Chicamauga Lake 7/4/09
Fishing & Photography by Gary McCown

Things have changed.

The last time I wrote about outdoor photography was an article for the "Little River News" in February of 1994. That was over fifteen years ago and just after the LRTU chapter was formed. (I wish someone had an archive of all our past newsletters. I don't.)

That article was all about film cameras. The cameras were good but there was no "instant gratification" like we have now. Digital cameras have changed all of that but there is still a learning curve to getting great photographs. I don't feel qualified to teach a lesson on the technical aspects of photography but I will tell you that good photographers have read the manual that comes with their camera and then they have learned how to use that camera to its potential in different situations.

It used to be Tri-X 400 (B&W) and Fugi 100 (Color Slide) film for me. If you don't remember those or Kodak Ektachrome, then you are just too young to have fished the "Little T" with Eddie George, Larry Crisp, David Scates, Ron Jennings and the rest of us "old farts" during the "golden era" before Tellico Lake. (Some unfortunately no longer with us.)

Nor have you ever had a trout dinner at Holly Flats on Bald River, prepared by Price Wilkins, past TWRA biologist, in that huge cast iron skillet of his! (We members of Great Smoky Mountain Chapter were helping to restore the Henderson Branch brook trout watershed. That effort still abides.)

I digress. This has turned into a TU history lesson. I do have photos of all these fishermen and the events surrounding those days but they fall into the "snapshot" category, not what I would call good photography. Still, they are important to me and I'm glad I had a camera with me.

I quote a few paragraphs from the1994 article:

"For as long as I have been trout fishing, I have been carrying a camera with me. I have enjoyed combining the two hobbies and I thought I would share some of what I have learned along the way.

"Putting it all together and getting good photographs in the out-of-doors takes practice like anything else. Shoot lots of film (now digital) and keep records of your exposures (modern digital cameras do it for you). You will soon be correcting your exposure errors and getting lots of good photos.

"I cannot imagine taking that great summer vacation without being able to remember it in pictures. The best part of fly fishing vacations can be sitting back next winter showing your friends some of the beautiful photos of the places you visited and all those trophy fish you caught."

Jim Shea, one of my fishing partners, gave me a book for my recent birthday: "Thirteen Moons" by Charles Frazier, the author of "Cold Mountain".

There is a quote from this book about writing that strikes me as the same for photography:

"Everything that happens is fluid, changeable. After they have passed, events are only as your memory makes them, and they shift shapes over time. Writing a thing down fixes it in place as surely as a rattlesnake skin stripped from the meat and stretched and tacked to a barn wall. Every bit is stationary, and every bit as false as the original thing. Flat and still and harmless."

Photography is no different.

But I still cherish the living memories.

Take a camera with you.

Push the button often.

Share those flat memories with us.

We enjoy them.

You will remember the rest.

I do.