The big news around the shop right now are these two books. They just came out and they are selling like crazy. Jim Casada's 440 page lifelong project about fly fishing in the Smokies is the one we've been waiting for. He named it "Fly Fishing in the Great Smoky Mountains National Park: An Insiders Guide to A Pursuit of Passion." And "Southeast's Best Fly Fishing" by James Buice is another hot new book. Read about them HERE.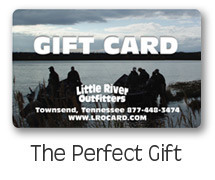 Our Gift Cards make great gifts for Holidays or Birthdays. You can buy them in the shop, order them by calling Toll Free (877) 448-3474, local (865) 448-9459 or order online HERE.
Here is another new release. This book was originally written in 1948 by Jim Gasque. Collectors and other Smokies outdoor enthusiasts held on to their copies and we only got an occasional peek at one. It has been re-printed and it is available to you from us. Read more about this book HERE.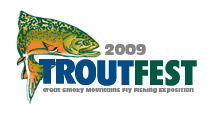 Troutfest 2010 will be held again in May. The banquet will be on Friday May 14th and the Fly Fishing Exposition will take place on May 15th and 16th. This year Troutfest raised $34,634. The Little River Chapter of Trout Unlimited also received a National TU, $10,000 Embrace-a-Stream grant. $40,000 will be donated to Great Smoky Mountains National Park Fisheries Department. You can see how the mony was raised and a profit statement of the event HERE.
Test Cast a Orvis Helios Rod at the shop and get a free Helios T-Shirt. More information HERE.
Lefty knows fly fishing like nobody else. And he likes fishing for bass. In this article he talks about making noise and movement to bring about the exciting, explosive strike of the largemouth bass.
Read his ARTICLE HERE.
Tying the Modified Chaos Hopper by Steve Yates
Steve has come up with a version of the easy to tie but one of the best hopper patterns on the water. This is one of those flies anyone could tie. All you need is some very basic skills and a few materials. Read Steve's article HERE.
Tying the Puglisi Threadfin Shad by Byron Begley
Right now the stripers, trout and bass are feeding on this little shad. This pattern is most important when fishing in clear water where realism is essential to success. This method of tying baitfish can be used to duplicate a realistic three dimensional fly for any freshwater or saltwater use. This is a two page article with lots of photos describing the tying steps. Read Byron's ARTICLE HERE.
Drowning Nymphs Part One by David Perry
David is a tailwater guide in Middle Tennessee. Here he offers some sound advice about why and how to fish nymphs. Read his ARTICLE HERE.
Order from us and we won't charge you for ground shipping or handling. We do charge for expidited service if you ask for it. We've been doing this since before it became popular. Heck, maybe we started it. Call us toll free at 877-448-3474 to order or visit our online catalog HERE.