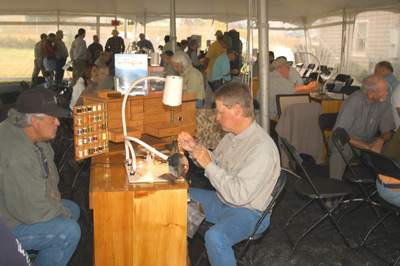 Roger Lowe from Waynesville, North Carolina demonstrates his fly tying skills 10 years ago at Fly Tyers Weekend in Townsend. Roger is a third generation Smoky Mountains fly fisherman and fly tyer. He will be demonstrating at Fly Tyers Weekend 2014.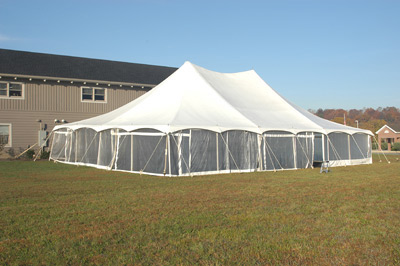 It all started here in 2004 behind Little River Outfitters. This tent and our classrooms in the shop housed the fly tyers and attendees. Our facility was packed for two days.
Things have changed. First, I became friends with Wilson Riynolds who is an avid fly fisherman. Then Wilson bought the lodge. He asked me to come up with some events to be held at the lodge. Fly Tyers Weekend is the first one I thought of. By holding the event at the lodge, we save about $1,500 from what I can remember. That was the cost to rent the heated tent with a floor, tables and chairs. We are holding it at Wilson's conference center at no cost. This center is beautiful and perfect for a large event. It is the only event center in Townsend, large enough for Fly Tyers Weekend. Plenty of parking is available there, and at the Townsend School and City Hall, very close to the event center.
Second, our business is growing again. I am excited about that. I think we'll be doing more free events in Townsend, teaming up with Tremont Lodge and Resort.
Third, we have the internet now. Our website is visited by 3,000 to 4,000 unique people each day. Other websites devoted to fly fishing have appeared. Other websites will be advertising Fly Tyers Weekend. In 2004 through 2006, we spent several thousand dollars using direct mail advertising to market our event. Now, the cost is zero.
Anthony Hipps, who has been one of the strong leaders in the Fly Fishing Federation is helping us line up fly tyers, some of them, people who I have never met. He is continually giving me advice. We have close to 40 fly tyers lined up so far and it is just now August. I think the most we had back in the old days was 32 fly tyers. Wilson's friend, Scott Sanchez from Jackson, Wyoming is coming this year. He is someone a lot of people want to meet.
Early November is an excellent time to be in Townsend. Fishing can be very good. The weather is normally mild though I admit, we have had frost and snow in early November. Usually, that time of year, the days are warm enough to melt snow. Travel is almost never a problem. Three things can adversely affect the Smokies fishing during the Fall, high water, cold water and too many leaves in the water. Should that happen, the tailwaters nearby would make a good backup plan.
I believe we will have a very successful Fly Tyers Weekend and this will become an annual event. I hope you can be here and enjoy it. You don't have to be a fly tyer to benefit or enjoy Fly Tyers Weekend. The demonstrators are excellent fly anglers from all over our region. Click on the menu titled "The Fly Tyers". You will be talking to some awesome anglers all weekend. So will I. We will all learn from this experience and certainly have a great time. We all hope you can be here.
Byron Begley