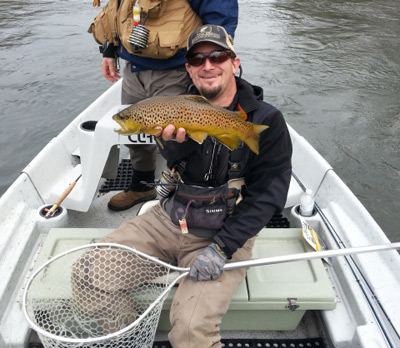 Jeff Wilkins - Summerfield, North Carolina

Fishing has been something I have enjoyed for over 40 years now. In addition, I have enjoyed flyfishing for the past 30 years, and professionally for 27. I am a Federation of Fly Fishers Certified Fly Casting Instructor, and have taught fly fishing and fly tying curriculums at both the University of North Carolina Greensboro and Guilford Technical Community College. Both schools for the past several years have offered a great medium in which to share skills with others. In the past 27 years I have taught hundreds of people to cast a fly rod, and today it remains one of the most enjoyable things I do.

Fly tying is a passion of mine as well, as I believe that sometimes the fly is what makes the difference. Frequently I tie commercially for sale or hire, and I do lots of special orders. My specialty is flies for tough, selective trout, especially emergers and nymphs. Some of my favorite patterns are published, most recently in Trout Flies of the East by Ted Leeson and Jim Schollmeyer. I also tied the flies for the commemorative print of Charles Kuralt, painted by Bob Timberlake, entitled Kuralt at Whites Creek.
I guide anglers for all species of trout here in the East (brown, brook, rainbow), smallmouth bass, largemouth bass, musky, and all species of panfish. I guide the waters of Western and NW NC, SW Virginia, and East Tennessee. I spend a good deal of time guiding and floating the TN tailwaters South Holston and Watauga, and have for over 25 years, and the New River for smallmouth bass for about the same time.
I work each August in Wyoming running two wilderness camps doing backcountry excursions up to 20 miles in by horseback and guiding anglers to wild cutthroats in the rivers and streams and high mountain/alpine lakes in and around Turpin Meadows in the Bridger Teton Wilderness.
I have fished and guided the Southeastern and Rocky Mountain areas of the west and have extensive experience in fishing and tying flies for each. As a part of my work, I am also an artist, and enjoy doing pen and ink renditions of my favorite flies.

Website: jeffwilkinsflyfishing.wordpress.com