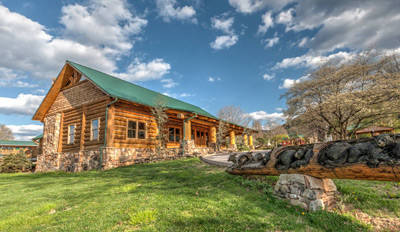 Tremont Lodge and Resort, is a beautiful and totally remodeled property in Townsend. The lodge is perched on 16 acres, right in the middle of town. It consists of 132 rooms and suites. Waterfalls, an indoor swimming pool, and beautiful conference facilities are on the property where Fly Tyer's Weekend will be held. Walk or ride your bicycle to restaurants. The paved bike trail runs through the resort. Tremont is the ideal place to visit the Great Smoky Mountains during the fall. Fly fishing is usually excellent in early November.

Call 865-448-3200 to make a reservation.
Visit Townsend and the Great Smoky Mountains in early November and experience the Fall Event you will remember forever. We have assembled some of the best fly anglers and fly tyers for you to visit with and learn from. They will be demonstrating their fly tying skills, while telling you how they fly fish with these particular patterns.
Fly Tyers Weekend promises to be filled with fun, knowledge, experience and skill. You will learn from people who enjoying sharing their experience and what they have learned on their own and from others.
Relax and take in the scenery at beautiful Tremont Lodge and Resort. Enjoy our restaurants, heritage, beautiful trout streams and of course, the National Park, including Cades Cove nearby. Fly Tyers Weekend is back and better than ever.

This mini website within a website will tell you all about Fly Tyers Weekend, talk about the people who will be demonstrating their skills and hopefully lure you to Townsend this Fall. Learn more about Little River Outfitters and Tremont Lodge and Resort.

Fly fishing in the Smokies can be excellent in November. Brown and brook trout may have spawned, depending on the temperatures. Rainbow trout are active. Cold water, high water and too many leaves in the water can be a problem for anglers during the Fall. Hopefully that won't happen.You may see snow in the mountains and possibly frost in the valley.

You can stay in a lodge, campground, motel or cabin but the center of activity will be at Tremont Lodge and Resort.