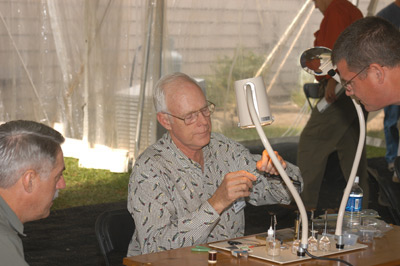 Rex Wilson, a North Carolina based Smoky Mountian fly tyer demonstrates at Fly Tyers Weekend 2005 in Townsend.

Fly Tyers who have committed so far:
(This list will be updated daily)

Mike Adams, Walter Babb, Brandon Bailes, Jeff Barrett, Gene Barrington, Reid Benton, Mike Bone, Bill Boyd Jr., Bill Boyd Sr., Phil Brandt, Mike Bryant, Buzz Buffington, Dean Campbell, Dave Carson, Michael (Rocky) Cox, Jack Cummings, Rob Fightmaster, Clayton Gist, Paul Gruver, Anthony Hipps, Tim Ivey, Denise Jenkins, Gary Jones, David Knapp, Tyler Legg, Roger Lowe, David Macburnie, Shawn Madison, Stacy McDaniel, Allen McGee, Jack Patterson, Josh Pfeiffer, Larry Rogers, Scott Sanchez, Brad Sprinkle, Gary Troutman, Jeff Wilkins, Josh Williams, Rex Wilson, Steve Yates.

CLICK HERE TO LEARN MORE ABOUT THESE FLY TYERS!