Townsend, Tennessee - Fly Fishing in the Great Smoky Mountains National Park, East Tennessee and Western North Carolina

Welcome to the Fishing Report. It is overcast and 38 degrees in Townsend this morning. We will probably get some rain today. Looking at the radar, the precipitation appears to be light rain, so far. Traffic is light too. After all, it is a weekday during the Winter.
Little River is flowing at 214 cubic feet per second (cfs). Median flow for this date is 292 cfs. The water temperature at 8:00 am was 40.7 degrees.
All of these conditions are going to change. First, it is going to be very warm over the next few days. We'll see high temps in the 60's to almost 70 degrees on Saturday. The streams will warm up considerably. Second, we are going to get some rain. The chances are 40% to 60% through Friday night. Just how much rain we get and what affect that will have on water levels remains to be seen.
This could be a great week to fly fish in the Smokies, especially as we get closer to the weekend. I don't know what to expect but I do know this is an opportunity we don't usually see in January. I am hoping we have great fishing this weekend and lots of people with "cabin fever" can get out and enjoy it.
Right now, nymphs are your best choice until the water gets warmer. You might see some blue wing olive or midge hatches so by all means, tie on a dry if you do. Later this week, dry fly fishing might get better.
I hope this rain doesn't mess us up.
Josh Pfeiffer had a great day yesterday catching smallmouth bass while floating Little River in his raft. Josh is a trout and smallmouth guide. But he is crazy about smallmouth fishing. He sent me some pictures, which are shown below. One of the bass looks to be over 16". He said in his e-mail:
"Byron,
Floated the Little today and fished for some smallies. Here are a few fish from today. The strikes were very subtle and I missed about 10 fish. The fish were ice cold."
I didn't know you could catch smallmouth bass on a fly in a river when the water is 40 degrees. Josh can. I guess he is supposed to know how to do that. He is a guide. That is his job.
You can visit Josh's website by CLICKING HERE.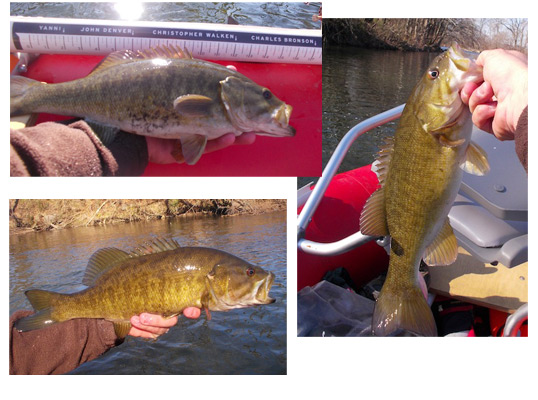 Josh will be here Saturday tying flies and talking to you about fly fishing. I bet he will be tying smallmouth bass flies. He will be here between 10:00 am and 2:00 pm. It's free, just come by.
Walter Babb will also be here on Saturday, demonstrating and talking about trout fishing. His trout flies are beautiful and Walter knows the history of the flies and how to use them. Saturday will be a great day here.
Lots of people from the Clinch River Chapter of Trout Unlimited were here yesterday preparing for their Winter fly tying class. We donate the materials and they come here to assemble the packages for the students. This is a great class. I don't know if they have any openings but you could check their website by CLICKING HERE. These classes are held at night over a period of weeks. The instructors are top notch. The fly tying book they wrote is incredible. If you take their class, you will get one of those to use during the evenings and to keep for use thereafter.
Check out the Great Smoky Mountains Trout Adventure Camp. This camp is for kids who want to learn about fly fishing, aquatic entomology, fisheries biology, stream dynamics and fly tying. The camp lasts about a week. This camp is sponsored by the Tennessee Council of Trout Unlimited and held at the Great Smoky Mountains Institute at Tremont. The institute provides barracks, food and adult supervision. TU volunteers do a lot of the instruction and education programs. I think this is the third year. We get to meet the kids and I'll tell you this, they enjoy this camp and it can change their lives for the better. CLICK HERE to visit the website.
Caleb Abramson called me this morning. He just found out he is getting an assistantship at Penn State. He will be doing fish research while also working on his masters degree in fisheries biology at the university. If you have been a volunteer with the Great Smoky Mountains Fisheries Department during the last few years, you know Caleb. He's a great guy and deserving of this honor to further his education and continue his career path as a fisheries biologist. Good job Caleb!
Get ready for what might turn out to be an excellent week to go fishing here and lots of other places in the region.
Have a great day and thank you for being here with us.
Byron Begley
January 9, 2013
Respond to: byron@littleriveroutfitters.com